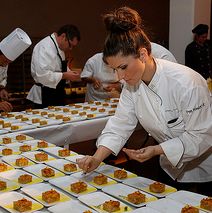 Plating "biznuts" like nobody's business.
Photo: Courtesy of Micky D's
If a top chef artfully plates McNuggets with an artful dollop of sweet-and-sour, they must be good, right? So goes the rationale behind McDonald's latest stunt, in which the chain goaded celebrity chefs like Dale Talde (on the McNuggets) into manipulating McDonald's ingredients into terrifying, "high-end" forms. Sure, anyone could get down with a Telemundo chef's "Tortilla Española With Garlic and Saffron Aioli" (translation: hash browns and eggs), but patty beef slow-cooked with blueberry-pomegranate smoothie base and French fry "gnocchi" just sounds like something improvised in prison.
Other than getting paid, you may wonder why any chef would agree to the farce, but like the reunited men's group in Sleepers, it turns out they all had preexisting Mickey D's connections: Talde has even cited the chain's burgers as an inspiration. Like the McWrap before it and whatever stunt that comes next, McDonald's night of white tablecloths is just another attempt to change perception of the chain. As Jessica Foust, the R&D; brains behind the pumpkin-spice-latte-syrup "Biznut," says of efforts to class up McDonald's menu, "We're helping people understand that it's food - that's all it is."
McDonald's Quality Ingredients Take Center Stage During Celebrity Chef Event [McDonald's]
McDonald's tries fancy food with celebrity chefs in NYC [LAT]