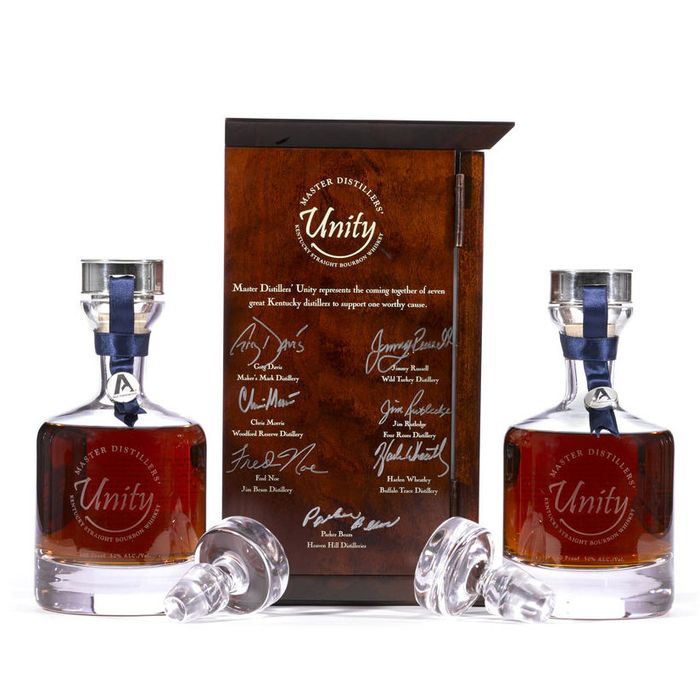 The stopper corks are sterling silver, too.
Photo: Courtesy of Bonham's
Heaven Hill Distilleries' master distiller Parker Beam established a fund for ALS research and patient support just after being diagnosed with the disease last year. This weekend, on October 13, Bonhams will put the very, very limited-edition 100-proof blend pictured above on the block as part of its whiskey, cognac, and rare spirits auction. Master Distiller's Unity comes two decanters to a silk-lined wooden display case and is so called because it consists of a blend of extra-aged bourbons supplied by distillery wizards at Heaven Hill, Buffalo Trace, Four Roses, Jim Beam, Maker's Mark, Wild Turkey, and Woodford Reserve.
In honor of the sixth-generation master distiller, proceeds from Sunday's auction benefit the Parker Beam Promise of Hope Fund for research and ALS patient support. The estimate for these two beauties is $1,800 to $2,500, but just in case you don't keep that kind of cash lying around, there are two other ways to help.
Tomorrow night at the American Whiskey Bar, the ALS Association Greater New York Chapter will host a tasting of seven kinds of bourbon with representatives of Heaven Hill Distillery. Tickets, which include a talk on bourbon history and tastes of pre-Prohibition style and bottled-in-bond styles, are $40 and are available here. Proceeds will benefit the Parker Beam Promise of Hope Fund, part of The ALS Association's Global ALS Research Initiative.
The second one is more flexible: All proceeds of any American Whiskey during the next month (starting October 14 through November 13) will benefit the ALS Association at the Brandy Library in Tribeca.

Evolution of Bourbon Tasting Benefit [Eventbrite]
Master Distillers Unity Set from Heaven Hill [Bonhams]