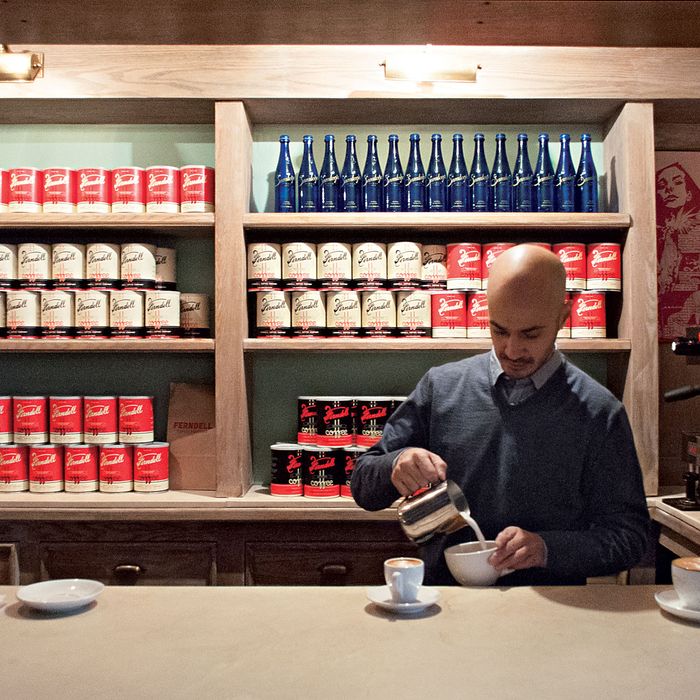 Photo: Jenny Westerhoff/New York Magazine
Hotel lobbies have become fertile ground for stylish coffee bars: The Ace has its Stumptown, the High Line has its Intelligentsia, and now the Marlton, brought to an unsuspecting West 8th Street by scenemaker Sean MacPherson, has its Ferndell. If you're not familiar—and you wouldn't be—the original Ferndell Coffee Company dates back to 1862 in Chicago, but the business had been defunct for decades before Ryan Yacura, a Los Angeles-based private-label roaster, acquired the trademark this year. Until then, Yacura had been working in relative obscurity, co-packing beans for supermarkets and servicing restaurants like MacPherson's Swingers diners, where Eric Rosenfeld, now the Marlton's head of food and beverage, once worked. The reborn Ferndell has everything a boutique hotelier could ask for in an espresso-bar brand: exclusivity, a bit of (appropriated) history, dapper retro retail packaging ($12 per ten-ounce can), and "accessible" roast profiles that deviate from the current trend toward highly nuanced, light-roasted single origins. (Not every hotel guest is a coffee geek, after all, and Stumptown is right up the street.) The kiosk serves two drips—a medium-roasted "house blend" and a darker "French roast"—plus an Italian-style espresso made with beans from Brazil and India, a country whose coffee Yacura deems "underrated and overlooked." As a private-label roaster in a name-brand business, he can identify.
The Marlton Espresso Bar, 5 W. 8th St., nr. Fifth Ave.; 212-321-0100
*This article originally appeared in the November 4, 2013 issue of New York Magazine.