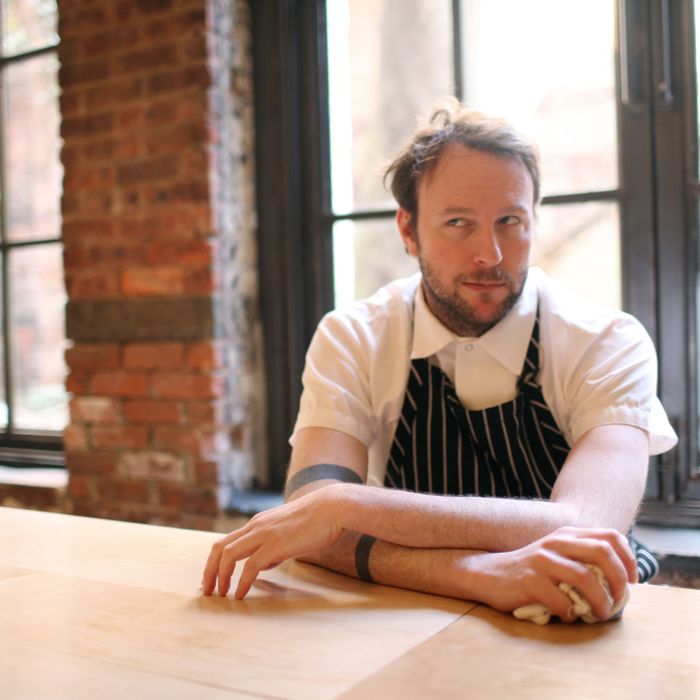 Congrats to Le Restaurant's chef, Ryan Tate.
Photo: Melissa Hom
The Underground Gourmet headed to a new "throwback luncheonette" on St. Marks, Archie & Sons. While "the bacon is not artisanal, the bread is not house-baked, and nothing is vaguely seasonal," it does offer "no-frills comfort in unfussy surroundings," earning it two stars. The duo also ate taquitos, the only dish served at Taquitoria, one of New York's newest "single-item-menu" establishment, to which they gave three stars. There were plenty of other three-star reviews this week, including one for the Elm. Read it all, straight ahead.
Le Restaurant, located in the basement of All Good Things in Tribeca, received two stars from Pete Wells. The $100 tasting menu is not posted in advance, substitutions are not allowed, and the name's weird — but it is "absolutely worth it." Wells enjoyed dishes like "airy fennel-seed meringues" and gooseneck barnacles that "tasted a bit like the necks of steamer clams, but they were far more tender and much sweeter." Other noteworthy dishes include the skate ("so rich and tender I thought Mr. Tate had found a part of the piscine anatomy that nobody had noticed before"), the agnolotti topped with a "seductive" almost-liquid egg, and any dessert from the hands of pastry chef Amadou Ly. But the service isn't great: "The greeting and the first few minutes of my meals were so rocky that I wasn't completely sure I was in a restaurant."
Daniel S. Meyer gave Shalom Japan in Williamsburg three stars. Its rare breed of Japanese-meets-Jewish cuisine is comforting, but it "doesn't transcend its cultural inspirations." Standouts include the challah "made with nutty sake yeast," which he deems "the most elegant expression of the Asian-Sephardic mash-up," and the "seductive" and "bone-warming bowl of matzo ball ramen." The falafel-wrapped "Middle Eastern facsimile of a Scotch egg" is a perfect example of where ambitions "outpaces execution." Overall, it's worth a visit if you find yourself nearby, but "it need not spur a devoted epicurean trek."
Ryan Sutton headed to the Elm, Paul Liebrandt's oft-reviewed restaurant, to explore the menu on which "trendy meats cooked sous-vide co-exist with $18 burgers." The burger in question is worth ordering with a "$9 Allagash White brew" for a "beer-budget dinner from a Champagne-quality chef." Sutton notes that "the Elm is Liebrandt for everyone, Jackson Pollock taking a turn at the Spin-Art wheel." Foie gras with peanuts and a Concord grape gelée is essentially a "PB&J; for grownups," and other hits include the steak tartare, hake fingers ("chicken fingers of the piscine world"), and the fruit tart, which serves as a reminder "that Liebrandt is back, very near the top of his game." Three stars.
Joshua David Stein went uptown to review the Cecil, "a new and tremendously exciting restaurant on 118th and St. Nicholas." Although the Cecil is "not on a hot block" and is headed up by opera singer turned chef Alexander Small, who, according to Stein, "is similarly not hot," the restaurant is the "anti-Red Rooster" — something he quite appreciates. The "Afro-Asian-American" dishes are "stately but also perplexing and exciting." His favorite dishes include the "godamned great macaroni and cheese casserole," as well as the "internationalized" Brazilian feijoada meat-and-bean stew with oxtail and lamb merguez. But the wok section of the menu "exerted just about as much pull over [him] as a poker machine at a titty bar."
Amelia Lester of The New Yorker headed to Glasserie, Greenpoint's newest Middle Eastern restaurant housed in a former glass factory. She encourages diners to bring many friends solely for the $72 rabbit feast in which the "rabbit is prepared three ways: as chewy kebab-style chunks, for drizzling with a tahini sauce; on a leg bone, well matched with lightly pickled vegetables; and in an umami-rich onion stew, the perfect excuse for eating more 'flaky bread,' essentially a paratha that leaves a satisfying film of grease on the fingers." Other hits include the thick labneh and a grilled-tomato-and-sweet-corn pudding streaked with Thai basil. While the "health-conscious, vegetable-heavy, pan-Mediterranean food' works well for Glasserie, the cocktails and dessert "are not always on the mark." Same goes for the "deeply uncomfortable" thrifted folding chairs diners must endure for the meal.
Stan Sagner reviewed the "humble Arthur Ave. institution" Estrellita Pobalana III, heading to the Bronx to feast on its enormous plates of cheap "regional [Mexican] specialities." Must-orders include the "homey" Sopa de Res, which is made with an "astoundingly rich beef broth"; chicken empanadas that are "brimming with flecks of mushroom and fresh Cotija cheese"; and the "gusty" Mole Poblano, which "avoids the typical watered-down gringo treatment" in favor of a "haunting" and "velvety sauce." Three stars.
Steve Cuozzo reviewed a Brooklyn restaurant recently thrust into the spotlight for it's trendy silent dinners, Eat. While writers obsessively focused on the "gimmick," he writes, "none seemed to try the food." The restaurant, which claims to embrace "locavore and organic principles," falls incredibly flat and perhaps should trade its no-talking rule for one of "no tasting based on the amateurish dishes." Expect intolerable "viscous butternut-squash soup, cold flounder, and bony tout." Same goes for the vegan chocolate ice cream ("reeked of vinegar"). All in all, if it's silent eating you crave, it's better done at home, with a pint of ice cream.
Alan Richman opted to revisit Husk, which he once wrote was "beyond disappointing" after a trip to Charleston. This time, after visiting the recently opened Nashville outpost, his tune changed drastically, finding that "from the first course up to (but not including) dessert, Husk is impressive." Richman awarded it three stars for "the kitchen crew" that "is in a different league" and Sean Brock's "matured" recipes.