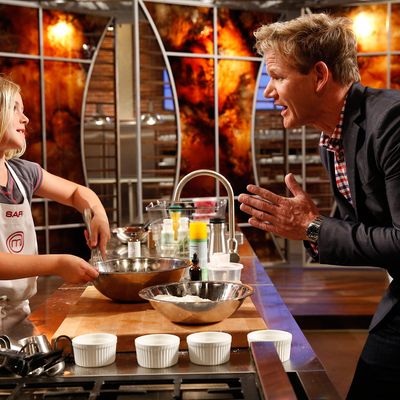 "Make sure you grab the Breville mixer and hold it logo out!"
Photo: Greg Gayne/FOX
This fall saw the debut of two kid-oriented cooking shows, Food Network's Rachael Vs. Guy: Kids Cook-Off and Fox's MasterChef Junior. (Bravo's Top Chef Junior, first announced in 2008, has yet to materialize.) The shows differ slightly — Food Network's angle is "Kids say the darndest things!" whereas Fox's is "Can you believe a kid made that?!?"— but they share a common aim. The real goal of these shows isn't creating some new form of culinary entertainment or finding a new crop of cheftestants. It's tapping into a new advertising market. 
The promotional appeal of Top Chef's formula is straightforward: Take cooks, have them compete for a made-up title, and sprinkle product placement everywhere you can (shopping trips to Whole Foods, driving around in Lexus SUVs, challenges featuring specific products, etc.). Seven years after it debuted, rival producers are still licking the batter from Bravo's bowl and pumping out all kinds of product-laden cooking competitions. These kids' shows aren't any different.
MasterChef Junior has only aired two episodes so far (and Fox won't divulge future plans for specific product tie-ins), but it's already clear the kids' show takes after its adult counterpart, where marketing is seamlessly integrated into the show via in-kitchen product placement "The kitchen is absolutely identical," producer Robin Ashbrook says of the kid version. "The show is the show. You can't do MasterChef in a modified kitchen … You have the sharpest knives, you have the best equipment, and that's exactly what the kids have."
This also means kids interact with brand-name products.
On the first episode, an 8-year-old named Nathan lugs a Breville mixer across the set. Furthermore, nearly every shot of the kids in their kitchen includes the prominent Boos branding on their cutting boards, the same boards displayed in the adult version. In case you think this is simply an unavoidable coincidence, notice that grocery items are scrubbed of recognizable branding before being used in the show, evidence that those companies didn't want to pony up for placement.
This is exactly the type of product placement that would raise flags on kids' TV — where guidelines from the Children's Advertising Review Unit limit in-program advertising — but on Food Network and Fox, advertisers have a slightly older audience and more leeway to expose kids (and their parents) to specific brands.
Here's why it matters: Dr. Jennifer Harris, the director of marketing initiatives at Yale's Rudd Center for Food Policy and Obesity, points out that the majority of our brand preferences are established before we turn 20 and that the research indicates we don't even need to notice a product placement to be affected by it. When Nathan carries a Breville mixer on television, he's selling that specific brand to people his age that are watching the show — even if that's not his intention.
Food Network is even more blatant with its product integration. One episode of Kids Cook-Off featured an entire challenge based on the movie Cloudy With a Chance of Meatballs 2. During the challenge, the trailer was spliced between shots of three of the contestants smiling and laughing, with one exclaiming, "This is so cool!" By the end of the episode, the judges and contestants say the full name of the movie seven times, a movie poster appears in the background of the set, and the kids make food that integrates concepts from the movie, all while competing for a chance to see it.
Marketers increasingly see the age demographic of the contestants on the show as a sweet spot for advertising (it's estimated that kids make up $1 trillion in spending power). "Companies that used to target younger kids are now really going for this tween market — the 12- to 14-year-olds," Dr. Harris says. Why? "Because there are fewer restrictions on how they can advertise to that group." (MasterChef Junior's contestants are all between the ages of 9 and 14.)
"One of the principles of advertising to children is that you don't mix the advertising content with the editorial content," Harris points out. "It's outrageous that they would be targeting children with product placements." She adds, "Children have a harder time recognizing advertising that's hidden in this way than adults do. Something like Cloudy With a Chance of Meatballs 2 — that's clearly targeted to children. I just think it's underhanded."
This isn't the first time marketers have tried to widen the boundaries of the cooking world to include kids. "Every decade, a movement comes about to get kids to prepare their own meals," says Harry Balzer, vice-president of consumer market research for NPD Group. He has been studying Americans' eating habits for 35 years, and the thinking, according to Balzer, is "We've been successful in getting men to cook more meals, why not kids?" Nonetheless, he thinks the narrow appeal and novelty of kids' cooking competitions will cause them to fizzle out. "This isn't Breaking Bad," he says.
 
Still, it's great exposure for the products, since the kids themselves make cute, keen pitchmen: They ooh and ahh at celebrity judges; they grant interviews; they engage in social media, where for the first time they have platforms that can be used to market products. Take this example, from one Kids Cook-Off competitor's Facebook page: "It was fun seeing my friend Cole tonight at the screening of Cloudy with a Chance of Meatballs 2."
Kids might not always be able to identify advertising, but it's simple to cook up a recipe where they take part.