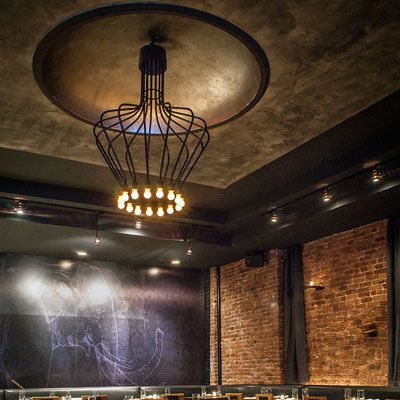 One star.
Photo: Courtesy of Khe-Yo
Adam Platt gave three stars to the first New York outpost of the popular Philly-based Sichuan restaurant Han Dynasty for its "economical, [and] generally exemplary menu." Two new South East Asian haunts garnered one star each from Pete Wells, while Steve Cuozzo gave a one-star review to a modern-American newcomer. Read it all, straight ahead.
Pete Wells explored niche Southeast Asian cuisines at Andy Ricker's Whiskey Soda Lounge NY and Khe-Yo, giving each establishment one star. Whiskey Soda Lounge "feeds the city's appetites for both spice and novelty," but the "pig snout was so leathery that chewing on it was like getting nourishment from an old football." Other hits: the cocktails ("fun and refreshing"), the khai luuk khoei ("a deep-fried Thai analogue to Scotch eggs"), and the hot-and-sour pork broth soup deserving of a "Nobel Prize for aromatic sciences." He was more disappointed in the flavors at Marc Forgione's Khe-Yo, except for the sauces, where "the most intriguing flavors hide out." Misses include the "lackluster" grilled chicken, "excessively mild-mannered laap salads," and very "meek" papaya salad. He recommends that diners hungry for Laotian food head to Mangez Avec Moi instead.
Daniel S. Meyer was quite impressed with the "New American plates with the flavors of Italy and Korea" at Hudson Street newcomer, Piora. He notes that the dining room is "serene" with a "pastoral air," a sentiment that carries over into the food filled with "striking vegetation." Must orders include the confited chicken nuggets that "stand poised to steal the show," artichokes "laced with white wine that levitate the buttery dish," rigatoni "infused with red wine [that] is earthy and acid-tinged," and the "showstopping vegetables" in chef Chris Cipollone's "signature salad." Four stars.
Hannah Goldfield of The New Yorker reviewed the Jewish-cum-Japanese cuisine at Shalom Japan, located in South Williamsburg. While the name of the restaurant "sounds almost like the punch line to a joke," the food definitely isn't: It showcases "fusion in the truest sense." Most dishes are successes, such as the unique matzoh-ball ramen, miniature challahs "made with yeast left over from sake brewing," and the "winning nod to both schmalz herring and sashimi." Dessert, on the other hand, is "pure fun," and Goldfield highly recommends the "sheets of mochi" filled with ice cream that serve as a "spiffy spin on the blintz."
Steve Cuozzo filed a review on Greenwich Project this week, giving it just one star. He writes, "Some restaurants are out of touch with customers. New, modern-American Greenwich Project is out of touch with itself." Chef Carmine Di Giovanni is "talented" but "over-reaching," which has resulted in a restaurant that "has yet to tame its over-complicating ways." Definite misses: Sweet potato soup that "tasted mainly of marshmallows," the peach-asparagus salad served with a "mystery foam," and the bone-riddled salmon. The "Heritage Farm double-cut pork chop," however, showcased "what Di Giovanni can do when he keeps things simple," resulting in one of the "deepest -flavored cuts" Cuozzo has eaten in "ages."
Michael Kaminer headed to Long Island City to review the "vibrant" Southern Mexican food at Casa Enrique. The dining room is pleasantly "cliché-free" and the food has a "sophisticated spirit." The "chunky" guacamole is "spicy and vibrant" and the fluke ceviche "sings of lime, onion and habanero." Three stars.
Alan Richman also did not file a review this week. Instead, he expounded upon the "highly ritualistic" New York power lunch and offered up a guide to the best ones in the city: Carbone and Del Posto. He writes, "the New York power lunch is somewhat like the junior high school cafeteria lunch, where the best tables go to the coolest kids."