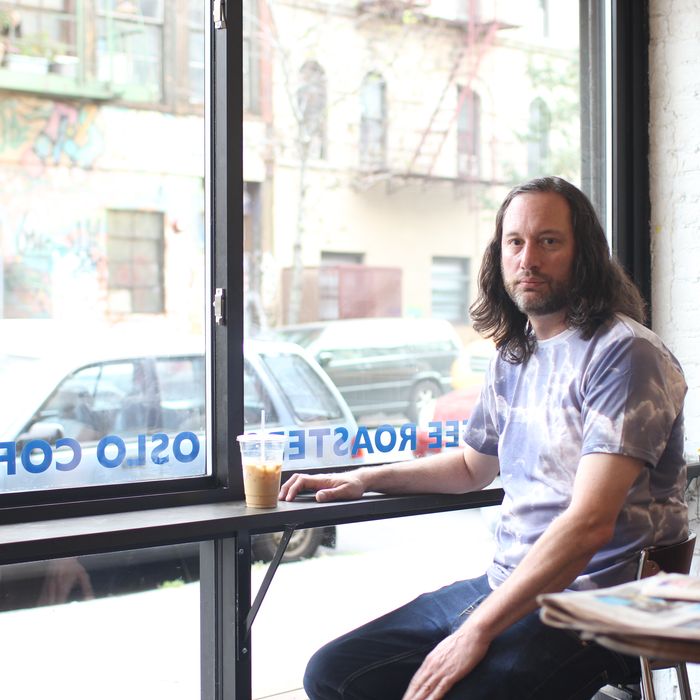 Mellman, at Oslo.
Photo: Melissa Hom
For the better part of his career, Kenny Mellman has toured the country — and earned a Tony nomination — as one half of the psychotic cabaret duo Kiki and Herb. But now he's the keyboardist of Kathleen Hanna's new punk-pop band the Julie Ruin. ("I always wanted to be in a band," Mellman says. "And at the age of 45, I finally get to!") And with all those years as Herb under his belt, Mellman is able to school his bandmates on the proper way to eat while on the road. "We were playing in Seattle, and we passed a Chipotle," he says. "Our bandmate Sara was like, 'We can just eat dinner there,' and I literally screamed on the street, 'NO, WE CAN'T!' I'm not going to be in Seattle eating at Chipotle, thank you," he laughs. But Mellman's back in New York while the Julie Ruin takes some time off before a West Coast tour and a sold-out show at the Music Hall of Williamsburg. Mellman spent the downtime tossing back Oslo coffee, sampling the East Village taco scene, and raiding his own freezer for incredible-sounding leftovers. Read all about it in this week's Grub Street Diet.
Friday, September 27
Drank four cups of coffee for breakfast. Oslo here in Williamsburg has a variety called Thor; we wondered why we liked it so much and then realized the flavor description includes "notes of tobacco and red wine." Ah, vices.
I must stop drinking so much coffee, but I am ridiculously jet-lagged from the band's West Coast tour.
For lunch I made myself an egg, ham, and cheddar sandwich on sourdough rye from Bakeri and had that with a bowl of green pozole I made last night. I ate this while answering some band-related e-mails and watching old episodes of Parenthood in the background.
My partner, Brendan Kennedy, came home around seven, and I made chicken enchiladas to go with more leftover pozole. He played Grand Theft Auto; I caught up on e-mails. The rest of the pozole went into the freezer. Later we used our new Chromecast to watch old eighties Disneyland specials off of YouTube. A thrilling Friday night.

Saturday, September 28
Woke up late. Two cups of Oslo Thor coffee. Got egg bagels from Bagelsmith and topped them with cream cheese, Acme lox, dill, capers, and avocado. Or rather, that is what I made for Brendan. I am a minimalist when it comes to bagels — just cream cheese and lox. Then another cup of coffee.
In the evening, I went to a movie at BAM, We Have An Anchor, which played with a live band; my bandmate Kathi's partner, Guy Picciotto from Fugazi, was one of the musicians.
Afterward, ate spicy beef and mango-fried rice at National with a $3 PBR. The fried rice was okay but not spicy at all, even though it was named "spicy beef and mango-fried rice." Late at night, I made a quesadilla.
Sunday, September 29
For breakfast I had coffee and a Bagelsmith bagel with cream cheese and two scrambled eggs. Had to go out to Gravesend Brooklyn to help Brendan's folks move some stuff out of their kitchen for a renovation. Afterward we stopped at Roll-N-Roaster for a treat and had a double-dipped roast-beef sandwich, cheese fries, and a lemonade. It was a toss-up between Roll-N-Roaster and Brennan & Carr, but Roll-N-Roaster won this time.
Then I performed a song with Stephin Merritt at the Bell House as part of the Eugene Mirman Comedy Festival and had a Kentucky Bourbon Barrel Ale. For dinner we ordered from Dieci Osteria back in the 'hood and got veal Parmesan and an arugula-fennel salad.
Monday, September 30
Breakfast was coffee — never mind how many cups! — and a slice of sourdough toast with butter and Anarchy in a Jar's strawberry balsamic jam. Delicious and local.
I skipped lunch and just had an iced coffee. Dinner ended up being homemade shrimp tikka masala with some Lumpia Shanghai that I made and froze a while ago.
Tuesday, October 1
Coffee, of course, and a couple of eggs with this habanero hot sauce I picked up in Portland, Oregon. Delicious. I am a sucker for strange packaged food products, and Jif just began manufacturing peanut-butter whip, which is like whipped cream cheese but peanut butter. Had that on toast with peach butter. I have to say, it spreads much better than normal peanut butter.
We had our pinball league, so we stopped on the way there and had five rolled tacos from Taquitoria on Ludlow, which were a pretty great approximation of San Diego rolled tacos. When the band played in San Diego, I took Kathi Wilcox and Kathleen Hanna to the best taco place, and they were like, "How did you find this?" Google! Google is your friend! But it's funny when people whose brains don't work that way are like, "Oh, there's a 7-Eleven."
Anyway, I was worried that this place would fancy the tacos up too much, but they were delicious. Went to shows at Glasslands and Death by Audio and had a lot of beer, so I got a deli sandwich to end the night: roast beef, American cheese, and Russian dressing on rye.
Wednesday, October 2
Coffee and breakfast courtesy of Brooklyn Standard: egg, sausage, cheese on a biscuit. Then had to go to rehearsal in Park Slope, where I grabbed a ham-and-cheese croissant. I'm doing a show at Joe's Pub with Erin Markey, so we rehearsed for a good four hours. Then I got an iced coffee.
That night, went to see Dita Von Teese at the Gramercy Theater because my friend Murray Hill was emceeing it. I'd never seen Dita Von Teese, nor had I ever eaten in Gramercy, but Google told me that Lamarca had good pasta. Google lied, because my cannelloni was too sweet, strangely, and not very good. Dita was amazing, though, and the set pieces, particularly the pink mechanical bull, were awesome. Had Bud Light tall boys, then went home and drank a glass of Malbec while watching Brendan play Grand Theft Auto.