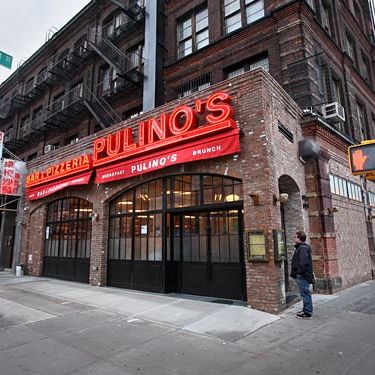 The Houston Street restauant opened in 2010.
Photo: Melissa Hom
The restaurateur tells Eater NY he plans to close his three-year-old pizzeria on the corner of Houston Street and Bowery in January to overhaul its interior and remake the place into something new called Cherche Midi. Recent rumors of landlord issues and rent hikes have cast doubt on the future of Balthazar and Pastis, two of Keith McNally's most cherished restaurants, but now McNally says Pulino's has long been his biggest problem.
The restaurateur was at one time considering spinning the pizza place off into multiple outlets, but not anymore. "Through no one's fault but my own," he tells the blog, "Pulino's hasn't fully worked and I've decided to change it quite radically." Balthazar's executive chef Shane McBride will team up with Daniel "Chino" Parilla on Cherche Midi, which McNally describes as a "small French restaurant."
Because of construction within its Ninth Avenue home, Pastis is scheduled to close in January of 2014, but McNally plans to reopen the place exactly as it was, in 2015. The revamp on Houston Street, by comparison, is expected to be short and sweet: Cherche Midi is slated to open in March of 2014.
McNally to Close Pulino's and Reopen it as Cherche Midi [Eater NY]
Earlier: Keith McNally Plans to Reopen Pastis in 2015