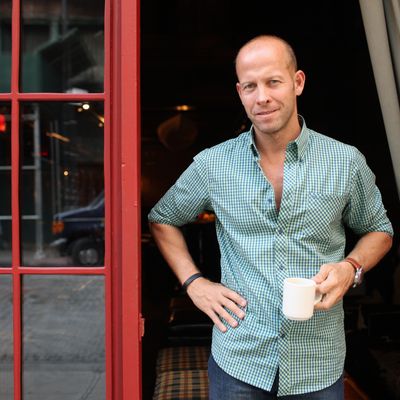 McDonald.
Photo: Melissa Hom
Eater brought it up as a rumor earlier today, and now John McDonald confirms to Grub Street that he'll be taking over the East 1st Street space that was last home to Veselka Bowery, which he and his partners will turn into a steakhouse and oyster bar.
The Lure Fishbar, Burger & Barrel, and El Toro Blanco restaurateur said this afternoon that while Josh Capon is his partner in the new endeavor, he's currently searching for a chef to head up the new East Village space. "I'm talking to a short list of chefs to spearhead and run the show," McDonald explains, adding that he's long admired the location where other restaurants have failed. "The entire area has changed greatly in the past two years, and now with Blue Ribbon Fried Chicken and L'Apicio open and David Chang opening [Momofuku Ko] across the street, the timing is perfect."
Veselka Bowery closed in April after a two-year run, and its as-yet-unnamed replacement will be designed by Will Meyer and Gray Davis, who also designed Lure South Beach, which is set to open next month.
McDonald says he plans to have the new place ready this spring. "We've had a seafood restaurant that happens to also be home to an award-winning burger — an off-menu item — and also an awesome steak. This will be the opposite: Major red-meat selection, which we'll partner with a big oyster bar and a few other twists."
Earlier: Momofuku Ko Is Moving
Related: MercBar Closes for Good