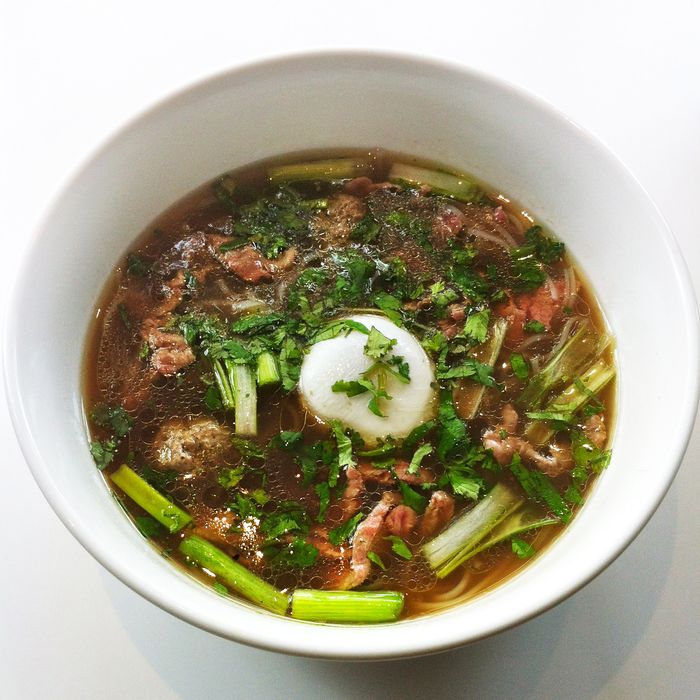 Put an egg in it.
Photo: Courtesy of Nightingale 9
Robert Newton and Kerry Diamond have been gradually adding more reasons to check out Nightingale 9. Back around the restaurant's February opening, it was all about the dinner menu's fusion of Vietnamese flavors with homegrown ingredients like Hudson Valley duck and soy sauce made in Kentucky. Beginning in May it was lunch, including a lineup of six Vietnamese sandwiches stuffed with things like pâté made from Virginia country ham. Now, starting tomorrow, the Carroll Gardens restaurant will serve breakfast, and the menu looks pretty great.
Here's some of what's cooking:

- Bánh mì with a fried egg.
- Fried eggs with sausage, onion, and herbs on a warm baguette.
- Breakfast Pho! With beef. (Add an egg to this.)
- Sliced market apple with coconut yogurt, black rice, ginger-cashews, and honey.
Diamond says the pho is based on a version she and Newton sampled in Hanoi. "People were lined up down the block for it," she says. "And it was one of the only times we saw people lined up like that for food."
The breakfast menu will be available from 9 a.m. to 3 p.m., Tuesday through Sunday. Lunch is available from 11 a.m. to 3 p.m.; everything on the breakfast menu is available for takeout. Servers will also be making Vietnamese coffee — Counter Culture beans, chicory, and sweetened condensed milk — à la minute with an AeroPress. Iced or hot, your choice.
345 Smith St., at Carroll St., Carroll Gardens; 347-689-4699