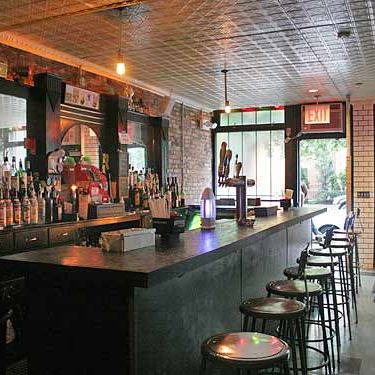 The bar has had its share of run-ins with the State Liquor Authority.
Photo: Shanna Ravindra
Ray Lemoine and Michael Herman, partners at Heathers, say that the locks have been changed illegally at the storied East Village bar and party space, signaling a premature end to the partners' two-year run on the space.
While they'd turned the tone of Heathers into a less rowdy one, playing a lot of what Lemoine termed as "obscure electronica" and "mellower" music, both Lemoine and Herman say they were gradually being pushed out of the bar, which came with a history of complaints and controversy. Initially, a cash settlement with the landlord established an end date of December 1, 2013 for the East 13th Street space.
Lemoine and Herman, formerly of Bowery Beef and Hole Foods, turned Heathers from a gay- and lesbian-friendly dive into a different kind of neighborhood enclave, where musicians, celebrities, and writers commingled, often with an all-vinyl D.J.-ed soundtrack
It wasn't uncommon to walk in and see Paul Sevigny spin an impromptu set to a packed room on a Tuesday, or to find the bar bursting with young men and women while the booth was filled with local rap crew the Money Boys. Devendra Banhart D.J.-ed a late-night set just Sunday prior to the closing, with rapper Chinx Drugs appearing the next night with the Coke Boys; J Spaceman stopped in late for a beer, too. There was no description for the mix of people, as it was a throwback to a time in New York when bars championed an eclectic crowd, rather than handpicking a demographic.
Lemoine says he hopes to relocate the bar in the upcoming weeks.