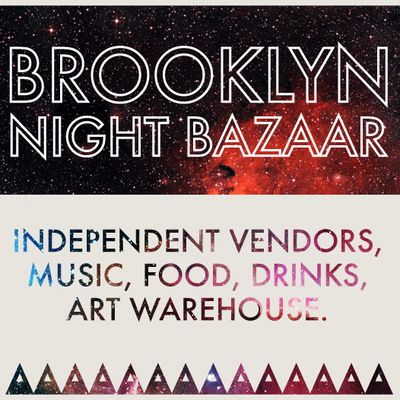 Brisketttown is going to be there.
Photo: Brooklyn Night Bazaar
Greenpoint residents quashed Aaron Broudo's ambitious proposal for a local night market modeled on similar setups he'd witnessed in southeast Asia back in 2011, but the Brooklyn Night Bazaar is back as a year-round weekend market beginning in November. Founder Broudo, also a former lawyer, signed a lease on a 24,000-square-foot space at 164 Banker Street, and current plans include the market opening from 6 p.m. to midnight Fridays and Saturdays, with the likes of Rosamunde Sausage Grill, Brooklyn Oyster Party, Briskettown, Morris Grilled Cheese, Oaxaca, Ample Hills* serving as food vendors.
Activities and attractions like mini golf, rock climbing, table tennis, pétanque, a Chinese tea ceremony, and, um, light installations will ensure that attendees don't confuse the venue with the Brooklyn Flea. And while the same citizens who put the kibosh on the move in the past still don't seem very happy about a commercial endeavor moving in on Greenpoint's industrial zone, CB1 Brooklyn's liquor license committee approved the plans last week. [DNAinfo, Earlier]
*Some vendor names mentioned in the original article have not yet been confirmed. This post has been updated to reflect that.