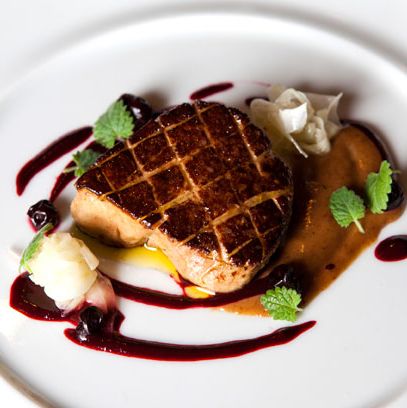 Not eligible for Prime.
Photo: Nicole Franzen
Animal-welfare rules already prohibit the production of the engorged, fatty goose and duck liver known as foie gras in the United Kingdom, but sales of the luxury product in the form of terrines and conserves and pâté hailing from neighboring countries is 100 percent legal. Last week, however, after an animal-rights group presented video evidence of animal suffering and other deplorable conditions, Amazon's U.K. managers made the surprising decision to ban foie gras products site-wide, putting many of France's storied old artisanal producers right there with those who peddle contraband "whale, dolphin, and shark parts."
As you may imagine, French government officials, who are regularly charged with preserving the endangered foodways, techniques, and ingredients considered inexorable to the country's history and culture, aren't too happy with the rejection, not to mention losing a prominent position in the marketplace. "I regret Amazon's decision," says Guillaume Garot, the agribusiness minister, who adds that French producers have engaged in efforts "over the years to maintain real product quality while respecting the animal's well-being."
Other producers maintain that their methods are not cruel, and even as the AFP notes that the expensive ingredient has been removed from the online retailer's pages (and also from the kitchens at the House of Lords), it's gaining in popularity in Japan.
But Amazon's decision to ban foie gras site-wide should be considered a significant instance in the way the ingredient is perceived in the corporate sphere, complementing bans and rules and government action elsewhere. A panel of three federal judges in California last month refused to overturn California's 2012 ban on the sale and production of foie gras, a law that used animal cruelty as its basis.
Amazon bannit la vente de foie gras sur son site britannique [Le Monde]
France protests Amazon UK ban on foie gras [Expatica]
Related: Federal Appeals Court Upholds California's Foie Gras Ban