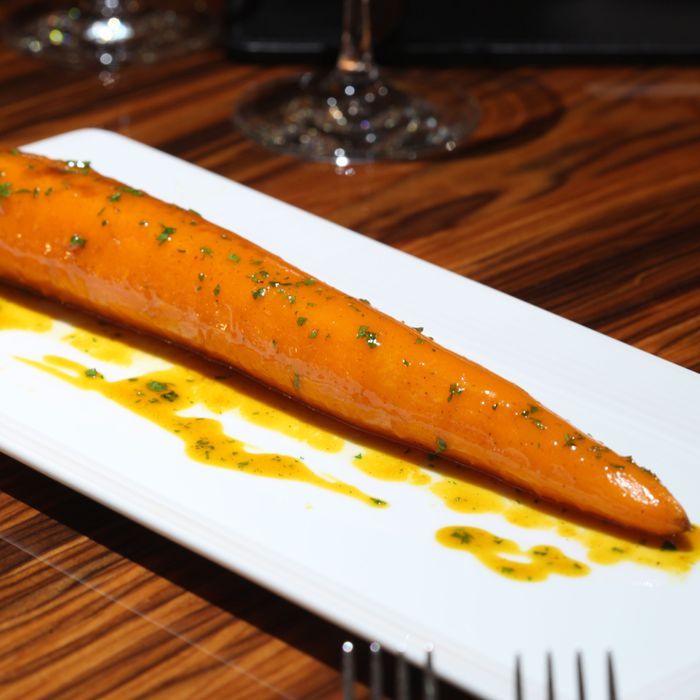 American Cut's infamous $10 carrot.
Photo: Melissa Hom
The restaurant side dish is the ne plus ultra of check pumpers: Steakhouses long ago perfected the practice of charging too much for things like potatoes and spinach in an effort to get customers to spend, spend, spend. Things haven't changed. And some brave restaurateurs are inching prices ever upward, betting that customers used to seeing $10 sides — a standard price around town — won't be put off by contorni that costs a few bucks more. But is $15 really a fair price to charge for potatoes? Here are 21 of the most outrageously expensive sides in town.
Carrot-Glazed Carrot With Mint and Maldon
Where: American Cut
Cost: $10
A hen-of-the-woods mushroom dish with chile honey costs $14 at Marc Forgione's new steakhouse, but this $10 carrot is, in fact, a single carrot. Think that's a ridiculous price to pay for a vegetable? Beware: It's the cheapest side dish in this Grub Guide.
Sautéed Market Greens
Where: Hearth
Cost: $11
It's one thing to charge $12 for a plate of foraged mushrooms, but $11 for sautéed greens is tough to swallow. (That's the price of a green juice, after all.)
Baked Pasta
Where: Quality Italian
Cost: $11
There's a reason why restaurants love pasta: It costs very little to make so margins are incredibly high. Quality Italian offers three baked-pasta "sides" (artichoke maccheroni, pasta genovese, rigatoni and meatballs) for $11 each, while "the next classics" like creamed kale carbonara and pistachio-pesto baby potatoes are $10.
Wild Arugula With Lemons
Where: Marea
Cost: $11
These are more expensive sides at Marea — $14 delicata-squash caponata, $15 wild mushrooms — but they still probably don't have a higher profit margin than this very simple salad.
Sautéed Corn With Manchego, Jalapeños, and Lime
Where: ABC Kitchen
Cost: $11
It's quite possibly the most expensive Mexican corn dish in New York, and it costs just as much next door at ABC Cocina.
Truffled Thick-Cut Chips With Parmesan
Where: The East Pole
Cost: $12
At this new Upper East Side restaurant, you'll find some of the most expensive potato chips in the city — and it employs a classic menu trick. Adding the word "truffled" to the description gives restaurateurs the liberty to charge whatever they want.
Cauliflower, Goat Cheese, Cilantro
Where: Reynards
Cost: $12
Considering this restaurant in the Wythe Hotel is reasonably priced (entrées are in the low $20s), it's odd that a side of veggies costs so much. That said, cheesy cauliflower is damn good.
Shishito Peppers
Where: Monkey Bar
Cost: $12
Graydon Carter does what he pleases, and high price tags will never deter his celebrity clientele. To give you some context, most izakayas charge $6, tops.
Hot Buttered Corn and Chanterelles
Where: Charlie Bird
Cost: $12
While this comforting dish is ideal for early fall weather, the $8 side of Italian "kimchi"-style escarole with anchovies and Calabrian chilies is equally delightful — and leaves you more money to spend on the excellent wine.
Roasted Brussels Sprouts With House-Smoked Ham and Malt Agrodolce
Where: The Marrow
Cost: $12
Harold Dieterle's sides are at least elaborate: Sweet-pepper risotto comes with a deep-fried egg, pecorino, and pickled hot peppers; and roasted Delicata squash gets paired with pepperoncini, oregano, and saba.
Funghi Misti
Where: Perla
Cost: $12
More expensive mushrooms: A better bet here is the side of soft polenta with pecorino and ricotta instead — a (relative!) steal for $10.
Crimini Mushrooms With Escargot Butter
Where: Bill's Food & Drink
Cost: $12
Just a guess: The emphasis is on the butter, not the snails. It's no wonder that Platt's meal at John Delucie's revamp of the old Bill's Gay Nineties townhouse cost $660.71 for four people.
Roasted Brussels Sprouts With Sweet Potato and Surryano Ham
Where: Commerce
Cost: $14
This West Village mainstay also offers $12 duck fried rice with sesame, ginger, and soybeans.
Champignons Poêlés
Where: Minetta Tavern
Cost: $14
All the famed potato dishes and most of the veggie sides cost $10 (and the pommes aligot are just about perfect), but if you're feeling spendy, opt for the $14 plate of rich, buttery wild mushrooms.
Asparagus Salad
Where: Il Mulino Uptown
Cost: $14
Looks like this Il Mulino outpost hasn't changed a thing since Platt's no-star review last year: Basic sides like roasted potatoes, broccoli rabe with olive oil, peas with pancetta, and zucchini with lemon all cost $14.
Funghi Trifolati
Where: Maialino
Cost: $14
This Italian mushroom dish is traditionally prepared with white wine and anchovies. In Danny Meyer's defense, all of the other contorni side dishes are priced at $8 each.
Grilled Asparagus
Where: Delmonico's
Cost: $14
The Wall Street steakhouse assumes that if you're already shelling out $49 for its signature Lobster Newburg, you won't blink at the $14 charge for asparagus with lemon, olive oil, and sea salt. A side of king-crab macaroni and cheese costs $18, too. Woof.
Dogana Potatoes
Where: Carbone
Cost: $15
Each side at Carbone costs a whopping $15, but this cross-cultural riff on the classic French dish, pommes Anna, is worth it. (Other $15 sides include charred broccoli, funghi trifolati, creamed escarole, and corn tartufo.)
French Fries
Where: Nello
Cost: $15
Of course restauranteur Nello Balan douses his thick-cut fries in truffle oil: This is the same guy who just sold a $95,000 white truffle to a Russian billionaire. He charges $12 for sautéed spinach, string beans, and broccoli, but steamed vegetables cost $10 (a bargain!).
Truffled Gnocchi With Parmesan Cream
Where: Arlington Club
Cost: $16
There's a reason why Platt called this steakhouse "grievously overpriced": Both the gnocchi and a side of wild mushrooms cost $16. Other sides, like crispy zucchini blossoms, sell for $14.
White-Truffle Risotto
Where: Craft
Cost: $95
The white-truffle risotto is in fact listed as a side dish on the menu at Tom Colicchio's flagship restaurant — and it's over $100 with tax. Whether the pricey rice is worth it depends on how much you value real truffles. Low-rollers might consider the $16 corn-and-bacon risotto instead.