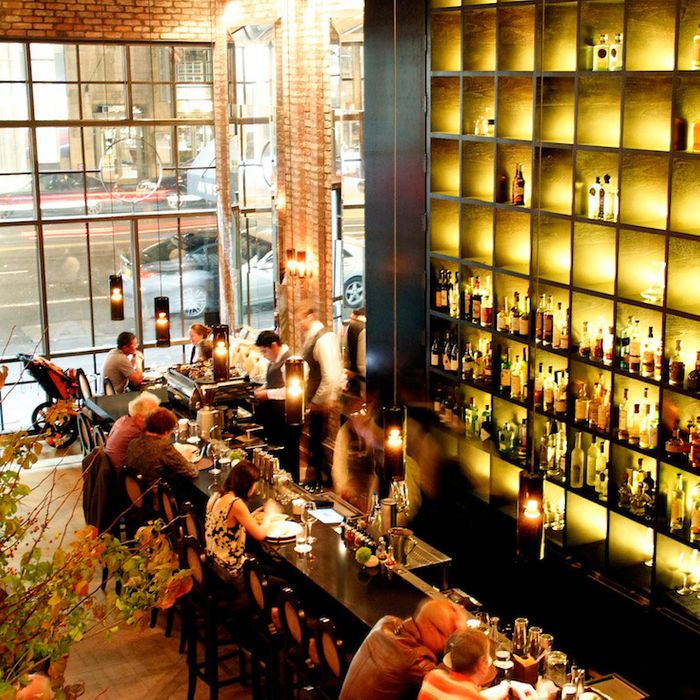 At Betony, all that glitters is like either edible gold leaf or some kind of fancy decoration.
Photo: Courtesy of Betony
Bibendum crossed the Hudson late last week on a raft of Michelin stars, Zagat affirmed its 2014 survey picks, and now it's time, of course, for Esquire critic John Mariani to drop the magazine's picks for the country's best restaurants. The critic falls hard for the "tantalizing whipped-foie-gras bonbons marinated in Calvados brandy" at Betony, which lands the top spot. He loves the Elm, where chef-owner Paul Liebrandt "now has shown himself to be a masterful avatar of what modern cuisine truly is," and Shaun Hergatt's "restrained but thrilling" work at Juni. Elsewhere, Mariani digs Ming Tsai's Blue Dragon in Boston and several restaurants in Chicago, Los Angeles, and then some. The whole list is straight ahead.

Restaurant of the Year

Betony, New York

Blue Dragon, Boston
Bronwyn, Somerville
Carriage House, Chicago
Del Campo, Washington, D.C.
The Elm, Brooklyn
Embeya, Chicago
Juni, New York
Hinoki & the Bird, Los Angeles
King + Duke, Atlanta
Mariza, New Orleans
MC Kitchen, Miami
The Ordinary, Charleston
Paiche, Marina del Rey
Rolf and Daughters, Nashville
Spoon Bar & Kitchen, Dallas
Stampede 66, Dallas
Trois Mec, Los Angeles
Virtù, Scottsdale

Chef of the Year
Michael Chiarello of Coqueta, San Francisco
The Best New Restaurants in America, 2013 [Esquire]
Related: Michelin Releases 2014 NYC Star Ratings