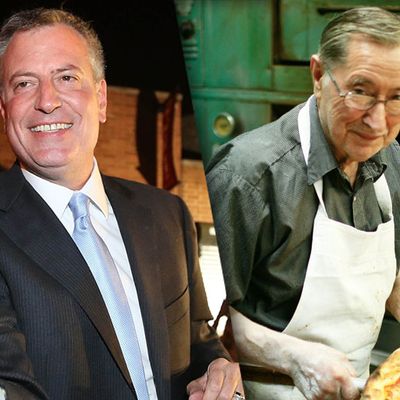 Bill de Blasio and Di Fara's Dom DeMarco.
Photo: Mario Tama/Getty Images; Courtesy of Di Fara Pizza
Brooklyn's Di Fara makes the best pizza in New York, affirmed Democratic mayoral candidate Bill de Blasio in his revealing Reddit AMA yesterday.
Here's what he wrote:
Di Fara Pizzeria in Midwood, Brooklyn. And to all the Manhattan foodies out there: it's not even close. This is clearly the best. And yes I'm from Brooklyn. PS: They use buffalo milk mozzarella, which is beloved in my grandfather's provence [sic] in Italy.
Give the guy credit for being confident enough in his own good taste that he's not worried about alienating his electorate with such a controversial question — or by pointing out that "Manhattan foodies" don't know any better.
I am Bill de Blasio, Democratic Candidate for Mayor of New York City. AMA. [Reddit]