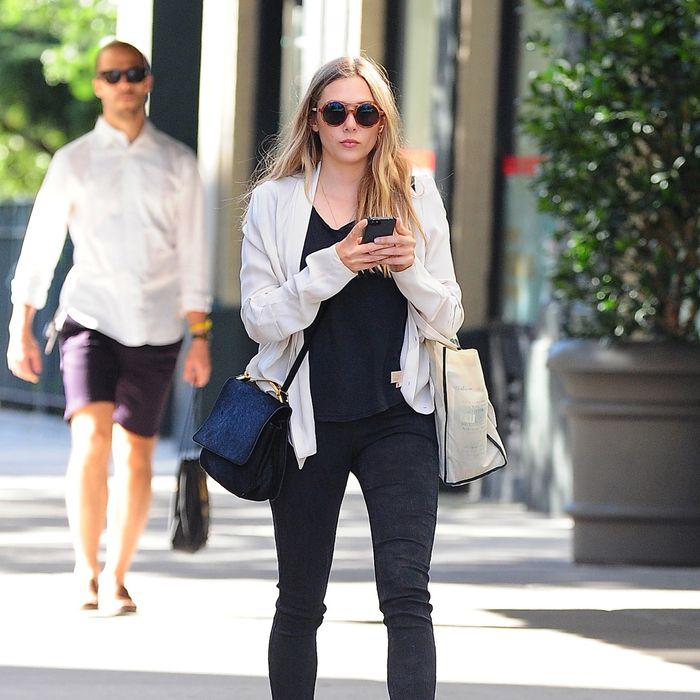 She heard it was closing.
Photo: Alo Ceballos/FilmMagic
This week, New York's dining rooms were thronged with fashion's elite, from birthday-celebrating Victoria's Secret models to designer Marc Jacobs. Miley Cyrus tucked into a late-night dinner at the Beatrice Inn, Michael Cera lurked in Cobble Hill, Steven Spielberg took the Williamsburg Bridge to Brooklyn Bowl, LeBron James partied in the meatpacking district, and Orlando Bloom treated his mom (we hope) to black-truffle duck at Hakkasan. Probably because she knows it's closing for a while, Elizabeth Olsen went to Pastis for a nice French meal. This, and more, straight ahead.
The Beatrice Inn: Miley Cyrus was spotted grabbing a late bite after the Night of Stars Gala. [Just Jared]
Brooklyn Bowl: Steven Spielberg was seen watching his kids play a set as part of the CMJ Music Marathon. [Page Six/NYP]
The Carlyle: Barbara Walters, Charlie Rose, Diane Sawyer, Matt Lauer, and Dan Rather were all on hand to celebrate the release of Piers Morgan's book Shooting Straight: Guns, Gays, God, and George Clooney. [Page Six/NYP]
Cipriani Downtown: Miley Cyrus, Kate Upton, Alexa Chung, and Marc Jacobs were all spotted at the Fashion Group International's Night of Stars Gala at the downtown hot spot. [Page Six/NYP]
Economy Candy: Christina Ricci was spotted shopping for wedding candy at this LES sweets shop. [Bowery Boogie]
The General: Dylan McDermott was seen celebrating the release of Scott Lipps's new book Poplipps. [Page Six/NYP]
GoldBar: Kate Upton was also spotted at the Little Italy venue with Mark Sanchez. [Page Six/NYP]
Hakkasan: Orlando Bloom dined on black-truffle roast duck and Chilean sea bass, of all things, with his mother at the trendy midtown eatery. [Grub Street]
Kingside: Katie Couric grabbed breakfast at the brand-new Marc Murphy spot in the Viceroy New York. [Page Six/NYP]
Lambs Club: Anna Wintour lunched with Les Moonves. [Page Six/NYP]
The Lion: Candice Swanepoel celebrated her birthday here with fellow Victoria's Secret models Adriana Lima and Doutzen Kroes. [Page Six/NYP]
Manon: Michael Strahan was seen sipping on overpriced cocktails at this MePa restaurant. [amNY]
Marquee: LeBron James and a couple of his Heat teammates were spotted at the meatpacking spot. [Page Six/NYP]
Osteria Morini: Kelly Ripa and family dined on plates of branzino and pasta for dinner. Meanwhile, Jennifer Morrison was also spotted doing an interview over lunch at the restaurant. [Grub Street]
Pastis: Actress Elizabeth Olsen grabbed lunch with a friend. [ Just Jared]
Palm TriBeCa: Jamie Foxx was spotted celebrating Paul Pierce's DuJour magazine cover.[Page Six/NYP ]
Strip House: Arnold Schwarzenegger and Sylvester Stallone were seen plowing through a magnum of cabernet as well as steaks and crab cakes with a table of Lionsgate executives. Also, sea bass. Why is everyone eating sea bass? [Page Six/NYP]
Swifty's: Sarah Jessica Parker and Blythe Danner drew a crowd while doing a photo shoot at the Upper East Side restaurant. [Page Six/NYP]
Tao Downtown: Sofia Vergara was seen at the newly opened trendy pan-Asian spot. [Page Six/NYP]
Ted & Honey: Seen dining at the Cobble Hill restaurant were Michael Cera and his "bearded pal." [Page Six/NYP]
The Waverly Inn: Diane Von Furstenberg was spotted at a party thrown by Graydon Carter for the release of Agnelli heir Lapo Elkann's capsule collection with Gucci. [Page Six/NYP]
Wong: The Asian eatery hosted a party in celebration of the new Broadway play Betrayal where the lead actors, Daniel Craig and Rachel Weisz, dined on shrimp fritters, duck buns, crispy duck breast, and flutes of Champagne. [Grub Street]