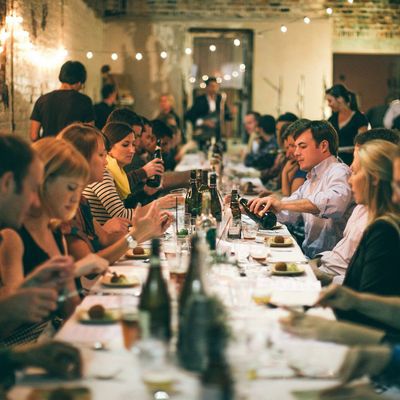 Pass the peas!
Photo: Courtesy of Dinner Lab
After launching in New York City last month, peripatetic pop-up supper club Dinner Lab announced it will expand to five more cities, giving diners in D.C., Chicago, Atlanta, San Francisco, and Miami the chance to grab one of the 300 memberships now available in each market. The members-only dinner series consists of multi-course, nontraditional dining adventures for $75 a pop, plus an annual membership fee.
Since its initial launch in New Orleans — it even had a cameo on last night's Top Chef season premiere — Dinner Lab has spread to L.A., Austin, and Nashville. But just like any good start-up, Dinner Lab's entrepreneurial ambitions go way beyond just bringing more fifteen-course raw Hawaiian feasts served in scrap yards* to even more cities: "Using the feedback we gather," CEO Brian Bordainick tells Forbes, "we can send chefs to other cities to test the market, and help them pinpoint where they could potentially open a restaurant or get a better job."

Dinner Lab Announces Expansion Into Five New Markets [Forbes]
Earlier: Hit Southern Supper Club Expands to NYC, Starts Accepting Members Today
*Not a real Dinner Lab event, but someday, maybe.