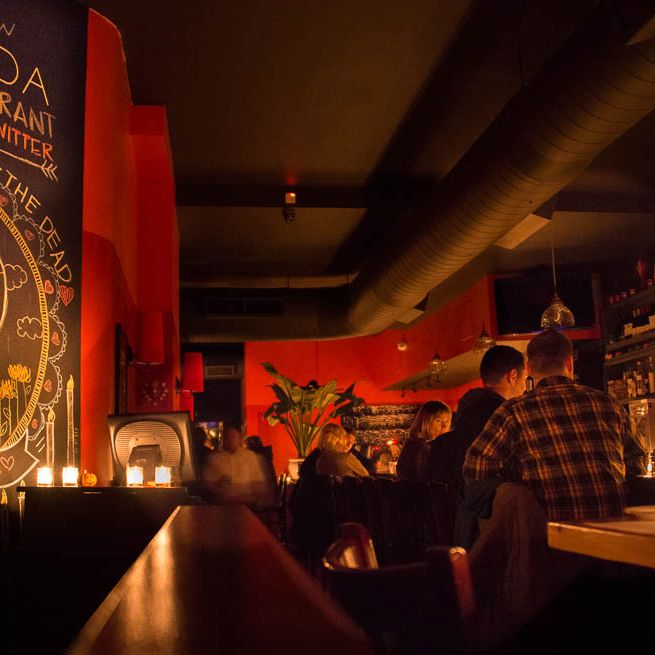 Fonda will host a mariachi brand.
Photo: Dinkins/De Jong
At many New York bars, Halloween can seem like SantaCon 2.0, but Mexican establishments know how to properly honor the holiday. Traditionally, Day of the Dead celebrations last two days, and involve setting up altars for the dearly departed with cempasuchil flowers, candles, photos, and — most important — the deceased's favorite foods and drinks, in hopes that they'll want to come back and visit for a couple of days and kick it like they used to, minus the threat of a hang-over. We've rounded up a dozen bars and restaurants throwing Día de Muertos parties, ensuring that you can enjoy plenty of mezcal and pan de muerto for days to come.
Fonda
When: October 31 to November 7
Cost: $7 to $21
The weeklong festivities honor the state of Tlaxcala with dishes like garbanzillas (quesadillas made with chickpea masa, string cheese, epazote, and green chiles), pato en chipotle (slow-braised duck carnitas with chipotle sauce), and La Newyorkina's pan de muerto. Plus: On November 3, a mariachi brand will perform at both the Park Slope and East Village locations.
Gran Electrica
When: October 31
Cost: $18 to $19 for food specials; $12 for cocktails
You'll find a traditional Mexican brass marching band, D.J. Kimiko, makeup stations, festive cocktails, and themed dishes at the Dumbo restaurant's annual dance party. Dinner service begins at 6 p.m. and the fiesta starts at 9 p.m.
La Camelia
When: October 31 to November 2
Cost: $8 to $30
After watching the Village Halloween Parade, head over to this nearby Downing Street eatery for a tequila-filled party with a D.J. and prizes for the best costumes. Over the weekend, the menu includes specials like pork tamales, braised-lamb-shank empanadas, camarones a la diabla, and pumpkin flan.
Hecho en Dumbo
When: October 31 to November 2
Cost: $40
Hecho en Dumbo is offering two prix-fixe menus: The "scary foods" option, featuring veal sweetbreads, bone-marrow-and-beef-tongue tacos, and blood sausage; and an alternate menu with tuna sashimi, chipotle chicken, and smoked shrimp in squid ink. On October 31, there will be a party with live music and an altar made by artist Xospa Tronik.
Los Feliz
When: October 31 to November 2
Cost: $14
There's one special here: chef Julieta Ballesteros's take on the classic Día de Muertos pozole, a super-hearty green stew with lamb, pickled cabbage, avocado, red onions, lime, and cilantro. Wash it down with $7 margaritas, $5 Don Julio shots, $4 tacos, and $5 beers.
Los Americanos
When: October 31 to November 3
Cost: $3 for tacos; $4 to 11 for drinks
This Tribeca spot is offering happy-hour specials from 9 p.m. until 2 a.m, including $4 beers, $6 glasses of wine, and $8 cocktails. Make sure to say hello to new mixologist Alex Strange.
Rosa Mexicano
When: Now until November 3
Cost: $9 to $29 for food; $12 for cocktails
All three locations of the restaurant are offering festive fall specials, including scallops with pumpkin-seed pipián, churros, and the Diablo Ahumado cocktail — an evil-sounding concoction of ancho-chile-infused Herradura reposado, blood orange, apricot brandy, and cinnamon.
Ofrenda
When: Now until October 31
Cost: $38
This restaurant is named after the Día de Muertos offering to the dead, so it has to live up to expectations. The prix fixe menu includes veal-head tacos and Oaxaca-style grasshoppers with chile-chilhuacle salsa, avocado, and corn tortillas.
Tortillería Nixtamal
When: October 31 to November 3
Cost: $2.50 to $12 for food; $3 for shots
The folks at this Corona favorite have set up an altar with candles, bread, and pictures of the staff's family members who have passed away. They've also prepared a menu filled with specials like shrimp in creamy chipotle sauce, butternut-squash soup, and strawberry-margarita shots.
Casa Mezcal
When: November 1 to 2
Cost: $4 to $23
One year ago, Casa Mezcal braved the post-Sandy blackout and opened its doors for a candlelit party. Now, it's going all-out, hosting electronic band Mal'Akh on November 1 and projecting old films. On November 2, follow the Aztec dance troupe on Orchard Street: It'll lead you to the restaurant's brand-new downstairs cocktail lounge, Botanic Lab.
La Palapa
When: Now until November 2
Cost: $8 to $24 for food; $14 for cocktails
This restaurant takes the "invite the lost souls" part very seriously, setting up altars for actress María Félix, poet W.H. Auden (who lived in the building for three decades), and Russian revolutionary Leon Trotsky, whose printing press was located right in the restaurant's space. Specials include pumpkin soup, braised lamb shank wrapped in banana leaves, and steak in mole sauce.