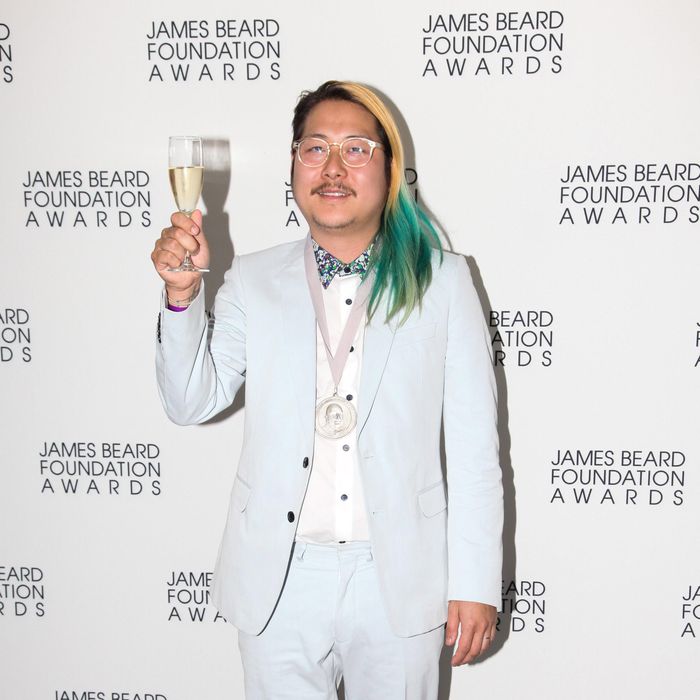 Cheers!
Photo: Paul Porter/BFAnyc.com
The Times gets confirmation from the illustrious Mission Chinese Food chef that his next project will indeed be a Mexican restaurant called Mission Cantina at 172 Orchard Street. We've suspected as much since July, and have been generally excited. The first few details do not disappoint: Apparently, Bowien and his chefs will channel their inner abuelas and will make their own Oaxacan cheese on-premise and nixtamalize Anson Mills corn for the house tortillas. Florence Fabricant also notes that a large, front-facing rotisserie will configure in the design, which will supply slow-roasted chicken and pork for tacos throughout the day. Just don't call the place a taqueria.
Bowien says that despite the appearance of tacos, the menu structure at Mission Cantina will be less rigid. "It will be our take on Mexican food. It's not going to be a taqueria, even though there will be tacos on the menu because we love tacos," he says, mentioning lamb ribs served over masa with pecan-coffee mole as an example of dish that will be served.
The restaurant will take reservations when it opens on November 20, which also happens to be Día de la Revolución in Mexico.
Danny Bowien's Mission Cantina Opens Soon [NYT]
Earlier: Mission Chinese Food Spinoff Reportedly Called Mission Cantina [Updated]
Related: Orchard Street Gets Even More Appetizing With These 18 New Restaurants