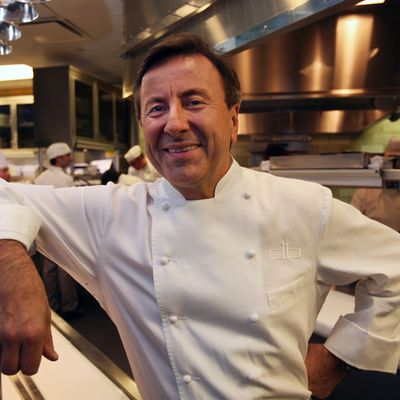 Boulud in the kitchen at Daniel, which he considers "home."
Photo: Owen Franken/Corbis
Next week, Daniel Boulud's jumbo new book, Daniel: My French Cuisine, goes on sale. The 400-page tome — here's the trailer — covers eye-popping restaurant plates, baroque old French dishes meant to be cooked Escoffier-gauntlet style, more relaxed lazy weekend recipes like tarte flambée, and one truflle-stuffed chicken cooked in an inflated pig's bladder. The cookbook also happens to mark the twentieth anniversary of the French chef's New York City flagship, Daniel. Grub Street spoke with Boulud about fine dining, Negronis, and 25 years of reviews, including that New York Times downgrade from four stars to three.
Congratulations on the Michelin results. I know you have had three stars, but that was great to see.
Thanks, I'm proud of that.
Also, this new book: You've done other cookbooks, but this one's so huge, glossy, and ambitious. It just seems so different from everything else you've put out.
With all the other books, I was trying to make them approachable, affordable, and makeable. [Laughs.] When I did my first cookbook, 24 years ago, 23 years ago, I wrote it all myself, and then took pictures with a young photographer who had done another book. Braise, Letters to a Young Chef, another called Chef Daniel Boulud in New York City, and the others had different purposes. I did a Café Boulud cookbook because I had closed the restaurant for a month and a half and I had all my brigade. We were working on all the concepts for the recipes and I felt, Why don't we do a book and capture that moment? I think it became a wonderful cookbook. But I had never written a book about Daniel the restaurant, and that was the idea, along with the milestone of the twenty-year anniversary.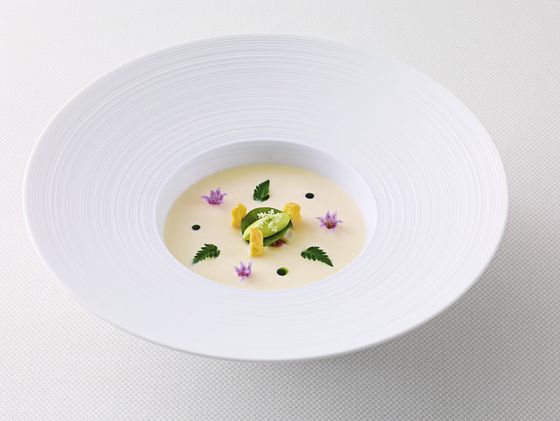 From the book: Chilled white asparagus soup, wild chervil, chive blossoms.Photo: Thomas Schauer, Courtesy Grand Central Life and Style

But the book not only covers the restaurant, but these really old-school, esoteric French recipes, and then home cooking.
The initial idea was to capture restaurant Daniel today, the cuisine we're doing and what we feel the restaurant represents for us, and also the food: some thoughts on truffle, on bread, on cheese, on wine, on different, recapping a little bit on seasoning and spice. All the fun parts of the book, of course, are about restaurant Daniel, and it's about me also, being very attached to restaurant Daniel, of course — it's also my home here and the kitchen, I will say, is where I live the most and spend the most time. Then, of course, after it was about the dishes I have been doing throughout my career. I have never really recorded them or had the chance to record them them, but we've cooked many of these majestic dishes, classic dishes, mostly for wine associations, for people like Robert Parker. Also, as well, I don't know if you have seen the show After Hours With Daniel?
I have.
Okay, so there, I was also always trying to make a great dish for the table. It was always making a classical dish, creating a masterpiece of a dish for a group of people. The idea of the iconic recipe was that I wanted to cook with Bill Buford. I admire Bill Buford as a writer, I admire Bill Buford as a cook, and I know that he has spent four years in Lyon cooking, but as a Lyonnais, he never spent time cooking with me. He cooked with Michel Richard and spent time cooking with Mario. So I thought, Maybe I'll provoke Bill and tell him to come and cook with me, and I gave him some ideas of what we were going to do, but I didn't know myself how it was going to end up. He was not totally sure he was going to be able to do it, either. We had a blast for two weeks; we cooked together for those iconic sessions. I didn't care much about the recipes; I care more about Bill's emotional translation of the recipes, his reflection on those recipes, That was more what I wanted.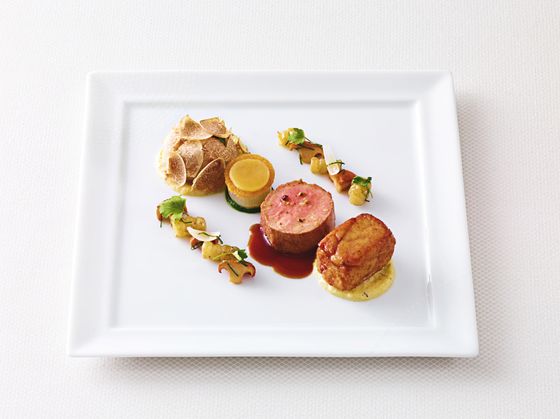 White truffle veal blanquette, polenta taragna, crosnes.Photo: Thomas Schauer, Courtesy Grand Central Life and Style

In 1993, when you opened Daniel, you said, "I would really like to know who are my customers. Not just now, when it is all new and frothy and everyone's interested, but who will go with me down the long road? … I want to be here for twenty years." It's twenty years later. How has it gone?
Of course, I think when you open your first restaurant and when you open a new place, there is all the fuss and all the focus, all the agitation, all the people who want to have a reservation, who fight to get in, and find any way to get in. Of all that, you wonder, who really cares to come back? [Laughs.] I really understood that it was important to have great service as well and to really be who we want to be and not pretending to be anything else but who we want to be. And to make the customer feel that we are very honest, and care about giving value, and giving care, and want them to be part of our journey in a way.
Do you have customers now, either ones who followed you from Le Cirque, or have been coming to Daniel since day one?
Of course, absolutely. One example is Joel Buchman, who has been following me for a long time. He's in the book. Many customers have split themselves between Daniel and Café Boulud, especially on the Upper East Side. Many customers have been with us for decades and decades. I have some customers from where I worked first in Westbury.
Service is so essential to what you've done at Daniel, integral to everything the restaurant is. But new restaurants are stripping away a lot of elements of traditional service — is service an endangered form?
I definitely do not think it is endangered. As long as service is genuine, honest, and educated, it will live on. You need well-trained waiters who are not putting up a gimmick and trying to entertain you. The key to excellent service is knowledge, professionalism, and skill — it's the most team-driven job in the restaurant because the service is the final, seamless coordination and technical approach between the chef and the diner. Many of the best landmark restaurants around the world have made their reputation on service, not necessarily the food. They may not always have the best chef, but they have something special about the service.
So it's changing.
Yes, you see evolution of service — cooks serving customers directly is maybe not the best idea, unless it's at the sushi bar — but it is not dead. To me, the art of service and school of service will have to continue to exist. Restaurants like mine are a school for service, teaching guest relations, guest comfort, guest communication, etc., and knowing we are in a business where customers feel the service is part of the cost, we strive to make it a true part of experience, not just to justify the cost.
I hear you're now opening two new Épicerie Bouluds.
Yes, I hope so. I think now that we have production kitchen downtown near DBGB it makes sense. We have the charcutier and the pâtissier, the boulanger. They produce most of those three. There is a chef at the Épicerie making all the salads and sandwiches, all the deli things, but also the deli production. Having a kitchen dedicated to Épicerie means we can open more.
Where will they be?
We hope to do that around the World Trade Center development, and then one around Rockefeller Center in the midtown area.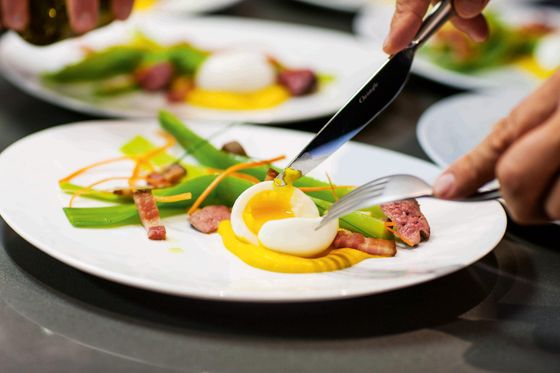 Modern salad Lyonnaise, with leeks, lardons, and oeuf mollet.Photo: Thomas Schauer, Courtesy Grand Central Life and Style

Have you been keeping tabs with your former employee Georgette [Farkas] on her first restaurant?
I'm very excited for Georgette, for this place — It's not like when someone leaves we should stop our relationship. I think she'll be wonderful in this element. She's always been wonderful as a person, warm and caring and passionate. I think she's realizing her life dream. I didn't know she had the life dream until she kind of popped the question. I was very happy for her and you know, we all take risks in life, and I think she decided to take one for herself, but it's much more rewarding to take the risk and be able to create something. She'll be very successful.
And I'm sure you've been following your former pastry chef Dominique Ansel's big moment downtown with the Cronut. Have you tried one?
Yeah, of course. I've had my Cronut. I was at the bakery last Sunday. He wasn't in, but said, "Don't worry, they're doing a good job for you." Dominique is wonderful and it goes back to what I said twenty years ago when I opened my own place. At the end, once the smoke clears, you want to make sure you have a solid, consistent base of customers who are loyal and really care for you and appreciate what you do and make you a part of their lives.
I want to ask you about your last Times review. In 2000, the paper took away a star and you got that fourth star back. Can you give me some idea of what's going on behind the scenes these days now that you're back to three stars?
Of course we're going to keep making improvements. I like to have a fair shot, you know what I mean? And I think the shot wasn't too fair because [Pete Wells] visited me in January and he wrote the review in August. I feel like he had six months to come back and have a second judgment. Fine. That's his decision, that's his opinion. One thing is for sure, we're not going to sit and cry. We are motivated to earn back our four stars. Because we think, definitely in New York, there are not too many restaurants like Daniel. At the end, it's the about the food on the plate, it's about the service, about the care we give to the guests. It's about the value, and it's about the experience. And I think that we are working very hard at that. And I hope one day the New York Times will understand what I mean.
[After] 25 years in New York — maybe more — 30 years in New York, dealing with the New York Times, I keep my course.
The writer Brett Martin is working a book on the chefs that have emerged from your kitchens in the last 20, 25 years, like Andrew Carmellini. Your kitchens have produced a lot of talent.
Have you read the book yet? What's going to be the title of that book?
It's like "fuck you" something. Fuck You, Eat This.
I know it's dedicated to the fuck-you generation, no?
I suppose it is.
[Laughs.] Well, I guess one day they'll get over it.
Earlier: Watch Daniel Boulud Get Right Down to Business in the Trailer for Daniel: My French Cuisine