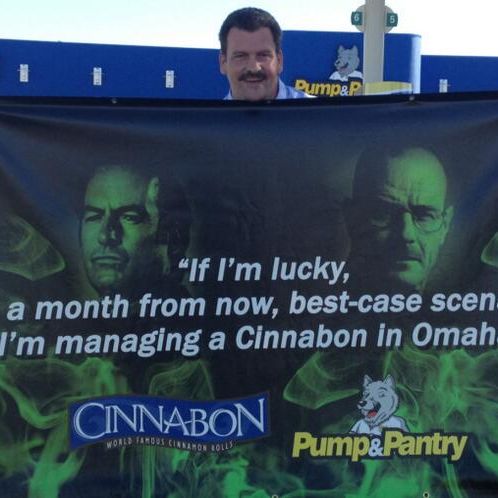 Photo: Courtesy of Consumerist
"If I'm lucky, in a month from now, best-case scenario, I'm managing a Cinnabon in Omaha," Bob Odenkirk's Saul Goodman says in the penultimate Breaking Bad episode, and in addition to the chain's desire to make this happen pronto in some side pocket fan-fic universe, a few real-life Cinnabon outlets have seized the opportunity to commemorate the shout-out. Straight ahead, the banner adorning a few Nebraskan locations in all its Heisenbergian glory.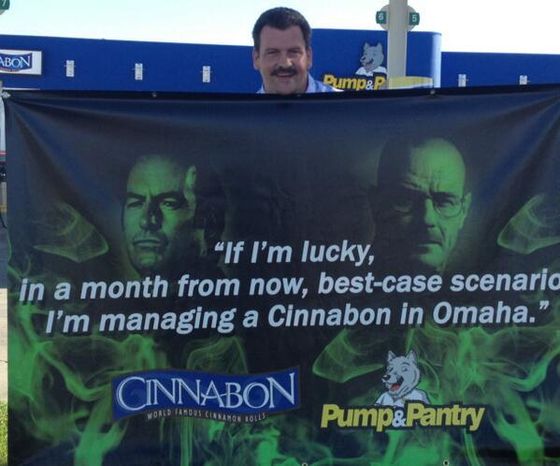 Saul's best-case scenario has come to pass.Photo: Courtesy of Consumerist

Consumerist talks to a local franchisee, who says Cinnabon corporate gave its "permission and blessing" for him to make the banners.
"Breaking Bad" References Reach Real Cinnabon In The Real Omaha [Consumerist]
This sign is posted in front of a Cinnabon here in Omaha [Reddit]
Earlier: Baking Bad: 14 Over-the-Top and Funny Breaking Bad Finale Cakes