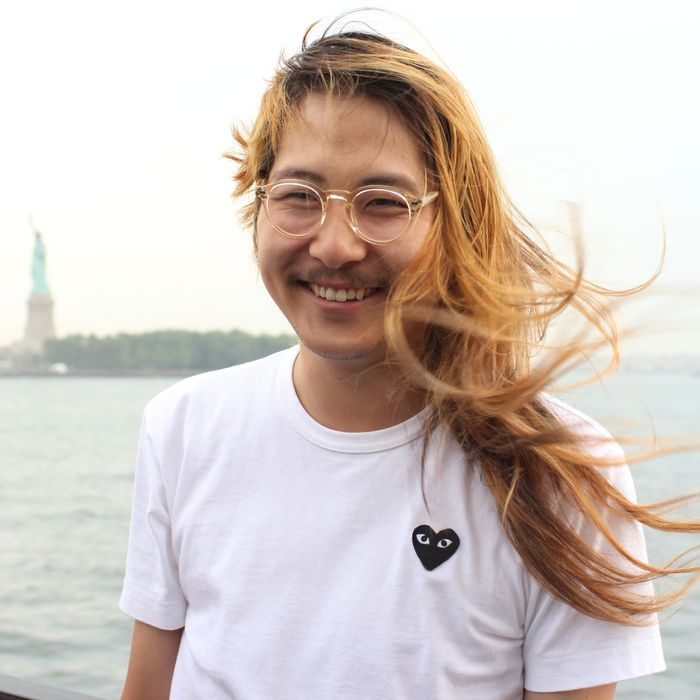 Bowien, showing his New York love.
Photo: Melissa Hom
Dozens of New York chefs have committed to buying more ingredients from New York–based farmers, Governor Cuomo announced this past weekend. The names behind restaurants like Mission Chinese, Fatty Crab, Altamarea, Union Square Hospitality, and Benchmarc restaurant groups signed on to the Pride of New York Pledge, agreeing to increase use of locally sourced food and beverage items by 10 percent, to educate staff on products made in New York, and to generally demonstrate that "seasonal products are delicious." (Even if the gesture is largely ceremonial, the message is still worth promoting.) The pledge was announced during the NYC Wine and Food Festival and is part of the governor's larger "TasteNY" initiative aimed at promoting the state's agricultural industry.
The ultimate goal is for people to stop associating New York produce with farm-leaning locavore restaurants and to just accept it as the norm. A rep for Union Square Hospitality Group tells Grub that the commitment to nearby ingredients is "just part of our regular protocol," but also delivered some bad news: She confirmed that contrary to the press release, the pledge only extends to the USHG's fine-dining restaurants, meaning Shake Shack is on its own.
Here's the full release announcing the pledge:
Governor Andrew M. Cuomo today announced that dozens of New York State chefs and restaurants have taken the Pride of New York Pledge to support New York State's excellent wines, beers, spirits, agricultural products and local foods. Together with the New York State Restaurant Association, the Governor reached out to restaurants, restaurant groups and chefs throughout the state to support the Pride of New York Pledge and increase their use of New York State products by 10 percent or more. The Pride of New York Pledge is an important new component of the Governor's Taste NY program and is designed to encourage the state's culinary industry to take advantage of the abundant food and beverage products the state has to offer.

"Many chefs and restaurants have already discovered that New York State offers some of the best locally produced foods, agricultural and dairy products, beers, wines and spirits in the entire country," Governor Cuomo said. "Taste NY is not just about promoting the outstanding food and beverages made in New York, it's about opening up critical markets for agricultural producers all across our great state. We are very proud that dozens of New York's top restaurateurs have pledged to increase their use of these products to help generate greater awareness of our local foods and beverages and in turn, help local New York businesses succeed."

Restaurant Groups and Chefs that have joined the Pride of NY Pledge include:

•Benchmarc, Chef Marc Murphy:
•Landmarc, Time Warner and Tribeca
•Ditchplains, West Village and Upper West Side
•Kingside
•Union Square Hospitality Group, Dan Soloway:
•Gramercy Tavern
•Union Square Café
•Blue Smoke
•Jazz Standard
•North End Grill
•Maialino
•Shake Shack (11 locations)
•The Modern
•Café 2 & Terrace 5
•Altamarea Group, Chef & co-owner Michael White:
•Marea
•Ai Fiori
•Osteria Morini
•Nicoletta
•Costata
•The Butterfly — Manhattan
•Fatty Crab & Fatty Cue: Rick Camac, Managing Partner
•Salumeria Rosi and Il Ristorante Rosi: Chef/Owner Cesare Casella
•Tribeca Grill: Martin Shapiro, Managing Partner
•Mission Chinese Food: Chef/Owner Danny Bowen [sic]
•Bistro La Promenade & Azure by Allegretti: Chef Alain Allegretti
•Jimmy's No. 43: Chef/Owner Jimmy Carbone
•Bogota Latin Bistro: Owner Farid Ali Lancheros
•Sylvia's: Jason Wallace, General Manager
•The Den: Owner Brice Jones
•Café Tallulah: Chef Matt Voffman
•The Cleaver Company, Owner Mary Cleaver (3 locations): The Green Table
•Black Shack & 67 Burger: Ed Tretter, Partner
•The Calhoun School: Executive Chef and director of Food Services, Chef Babbo
•Spike Hill: Trezia Jean-Charles, General Manager
•Sardi's Restaurant: Sean Ricketts, General Manager

By participating in the Pride of New York Pledge, each chef has committed to:

•Increase sourcing of New York State grown and made products and ingredients including products from New York's food and beverage producers for their restaurant(s) by 10% or more

•Feature, highlight and increase wines, beers, spirits, ciders and other locally produced beverages on their drink menus by 10%

•Utilize their team's expertise and talents to introduce new New York themed dishes demonstrating that locally sourced and seasonal products are delicious

•Consistently communicate with their commitment with suppliers, peers and the public so others will support New York State food and beverages

•Educate and maintain staff knowledge of New York State's locally grown and made products

The Pride of New York Pledge was announced in conjunction with Taste NY's first participation in the prestigious Food Network New York City Wine & Food Festival presented by FOOD & WINE and held October 17-20, 2013. New York State foods and beverages were sampled at the Grand Tasting Tent as well as at a special brunch held today, October 19th. The pledge was developed in consultation with leading chefs, restaurateurs, agricultural leaders, and the Cornell Cooperative Extension. All proceeds of the Festival and Brunch benefit the Food Bank of New York and Share our Strength charities.

Governor Cuomo and the NY Restaurant Association will continue to encourage chefs and restaurants to join the Pride of New York Pledge. See: http://nysra.org/associations/2487/files/TasteNYPledge.pdf

One of the first chefs to join the Pledge, Marc Murphy, is co-owner and Chef for the prestigious Benchmarc Restaurants including Landmarc, Ditchplains and Kingside restaurants. "As a New York City chef and restaurant owner I'm proud to support our great state and all of its amazing offerings, from the best farms, butchers, brewers, distilleries and wineries," said Chef Murphy. "I'm committed to supporting local products and offer a variety of local items at my restaurants Landmarc, Kingside and Ditch Plains. This pledge is a fantastic way for our industry to come together and continue to support and showcase the best from the Empire State."

David J. Skorton, President, Cornell University said "As I've had the pleasure of saying many times before, Governor Cuomo understands the great assets we have here in New York, and he shows great leadership in bringing them together. These restaurateurs are making a pledge that will benefit Upstate producers and restaurant patrons alike. And importantly, we believe this new initiative will serve as a model for an agricultural economic development strategy for the nation. I'm particularly proud of Cornell's College of Agriculture and Life Sciences, and the extensive Cornell Cooperative Extension network in New York City and Upstate, who have been matching Upstate growers with downstate chefs and using 'Market Maker' food hubs to bring fresh produce to the City's neighborhoods for years. They helped create this model of mutual cooperation and benefits in New York State, and it's a thrill to see Governor Cuomo lead it in another giant leap forward."

The Governor's Taste NY program is a joint marketing initiative of the Empire State Development Corporation and Department of Agriculture and Markets that focuses on branding and expanding New York's food and beverage industry by making the wide variety of foods and beverages made and grown in the state readily available and recognizable to New Yorkers as well as to the hospitality industry and public nationwide. Part of Governor Cuomo's efforts to promote agribusiness across the state, Taste NY is being marketed through a range of promotional efforts including Taste NY tents at important events, Taste NY stores in transportation hubs and a dedicated website, www.taste.ny.gov.