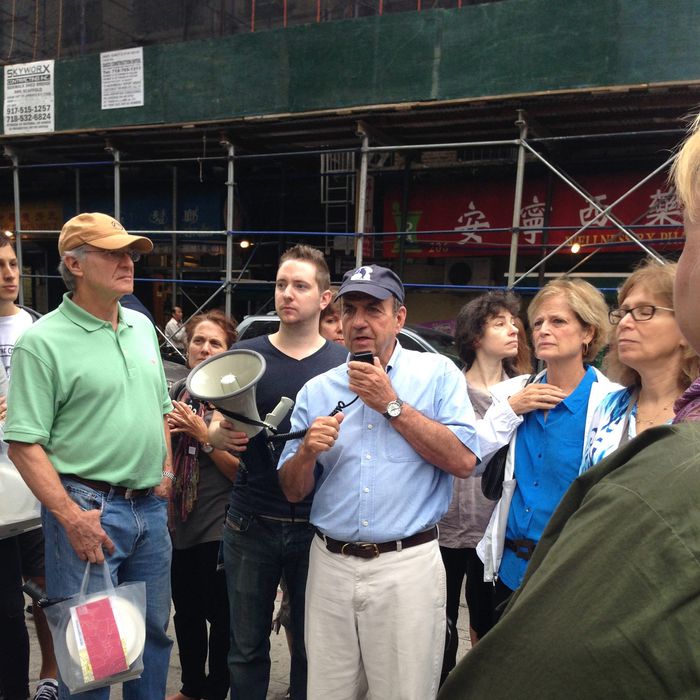 He rocked a Russ & Daughter's baseball hat.
Photo: Sierra Tishgart
Gaining admission to Calvin Trillin's eating tour for The New Yorker Festival is pretty much the real-life, adult equivalent of scoring a golden ticket to Willy Wonka's chocolate factory. The 40-person event always sells out online within seconds (though several lucky attendees actually scored tickets in the last-minute standby line). The latest tour took place yesterday, and the group included food- and literary-obsessed folks from all over the country, many of whom proudly proclaimed the experience was on their bucket lists. Trillin led everyone from Greenwich Village to Chinatown over the span of three hours, pausing to snack at his favorite shops, markets, and parks while narrating New York's culinary history. The stops on the tour have changed over thirteen years, but recent additions include Xi'an Famous Foods and Full House Cafe. For anyone who wants to re-create the tour themselves — or simply would like some recommendations for awesome places to eat — check out the full list, straight ahead.
Stop 1: Murray's Cheese Shop and Faicco's Pork Store
To Eat: Pecorino Toscano and soppressata
Trillin's Take: "I used to go to a meat shop around here where the guy would spook customers by popping pieces of raw pork into his mouth."
Stop 2: Blue Ribbon Bakery Market
To Eat: Savory matzoh cracker
Trillin's Take: "If matzoh actually tasted like this the Jews would have never left Egypt!"
Stop 3: Delivery from an unidentified store at Forsyth and East Broadway
To Eat: Greens sandwich
Trillin's Take:"I don't actually know what kind of greens are inside. Some people love it, and some people hate it. The sandwiches used to cost $1 — not that there's a big profit margin on this trip."
Stop 4: Despaña
To Eat: Tortilla Despaña
Trillin's Take: "The biggest change in eating in America was the Immigration Act of 1965. If you're excluding the Chinese and allowing English people, it's sort of suicidal. It made it okay for middle-class kids to become farmers and chefs."
Stop 5: Saigon Vietnamese Sandwich
To Eat: Vietnamese summer rolls with peanut sauce
Trillin's Take: "Most summer rolls taste like grass. These people make them as they go, so they're not sitting in the fridge for days."
Stop 6: Di Palo's
To Eat: Fresh mozzarella
Trillin's Take: "One of the other things that I used to get here is butter inside of cheese. It's an old way of preserving butter. We used to do this when we had parties: If you cut it in half, you can serve the butter and then eat the provolone cheese."
Stop 7: Bánh Mì Saigon Bakery
To Eat: Vietnamese pork sandwich
Trillin's Take: "Bánh mìs are really the only good argument for colonialism."
Stop 8: Xi'an Famous Foods
To Eat: Spicy lamb burger
Trillin's Take: "This young man [Jason Wang] is very entrepreneurial!"
Stop 9: Full House Cafe
To Eat: Soup dumplings (and a side of jellyfish!)
Trillin's Take: "I heard about this place from reading a piece by Robert Sietsema from the Voice about the soup dumplings here … and eating jellyfish is [my] revenge for whenever they've frightened me."