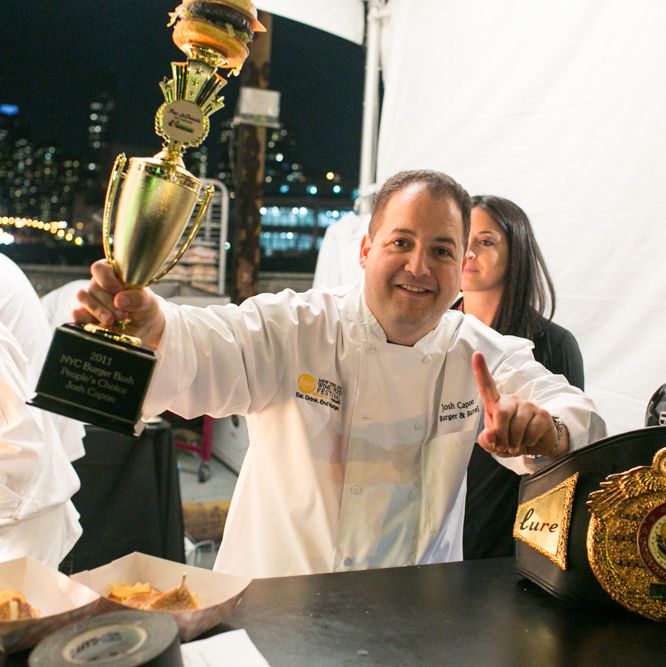 Josh Capon (
Burger & Barrel
) flaunts his bling from recent years.
Photo: Huge Galdones
On Friday, the New York City Wine & Food Festival hosted its annual Blue Moon Burger Bash, and Josh Capon proved he's still the chef to beat. His famed Bash Burger, served at Burger & Barrel, won the People's Choice award for the fourth consecutive year, but in a shocking upset, it tied with Guy Fieri's Bacon Mac 'n' Cheese Burger (it's as gross as it sounds: applewood-smoked bacon, four-cheese mac and cheese, ground beef, lettuce, tomato, onion, pickle, "super-melty cheese," garlic butter, and toasted brioche). Le Rivage's Paul Denamiel took home the Judges' Favorite award for his French-Onion Soup Burger. Check out a few photos from the event, straight ahead.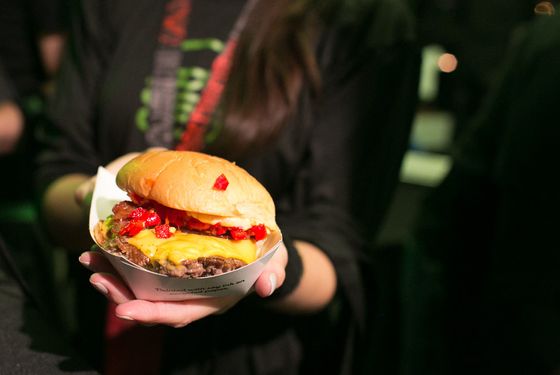 Shake Shack's SmokeShack cheeseburger was topped with applewood smoked bacon, chopped cherry peppers, and ShackSauce.Photo: Huge Galdones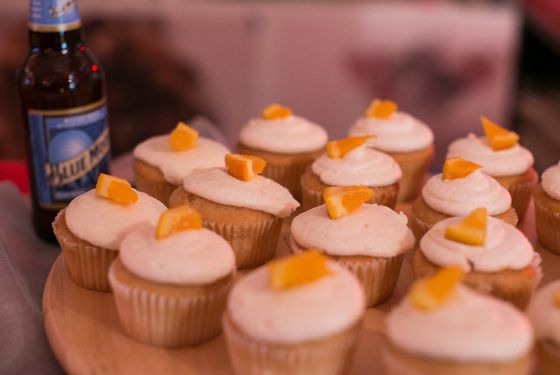 Betty Crocker went out on a limb to serve Blue Moon cupcakes.Photo: Huge Galdones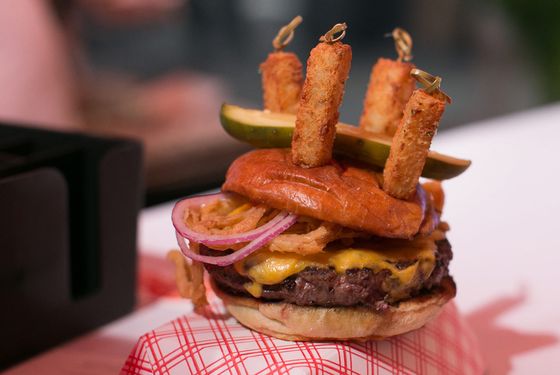 Distilled served its meat with organic American cheese, poblano relish, and crispy fried onions.Photo: Huge Galdones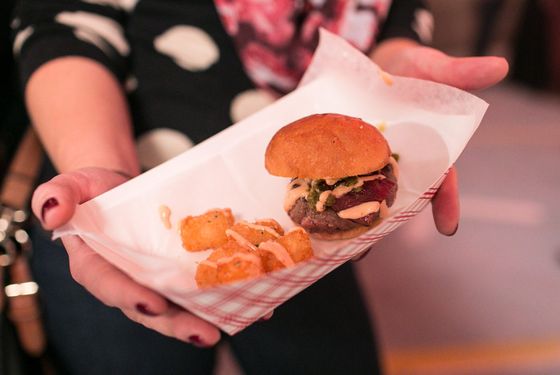 "The Wisco Bacon" from Franklin Becker (last year's winner) of Cast Iron topped with Joe Widmer's Wisco cheese whiz, jalapeño pickles, special sauce, and Nueske's bacon.Photo: Huge Galdones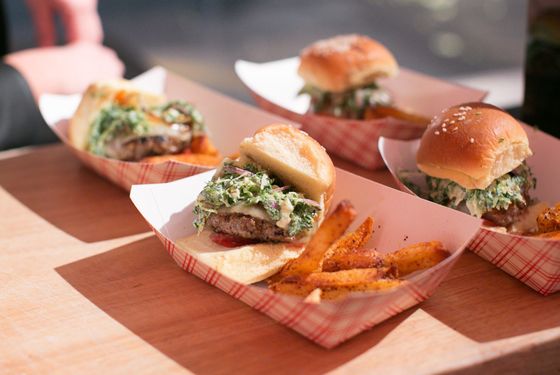 The ilili Shawarma burger: cardamom-sesame bun, special sauce, beef patty, red onion, roma tomato, Lebanese jalapeños, sumac, and Aleppo pepper.Photo: Huge Galdones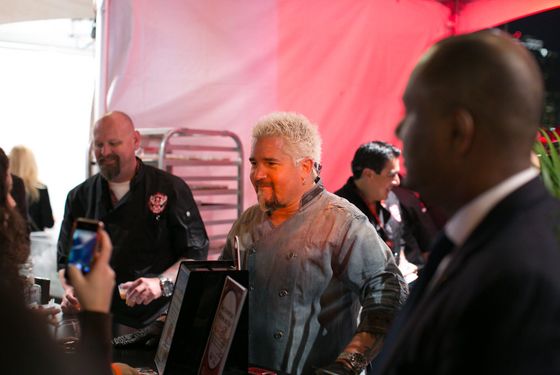 Flanked by two bodyguards, Guy Fieri manned his station and successfully hustled votes from the crowd, landing him victorious (tied with Burger & Barrel).Photo: Huge Galdones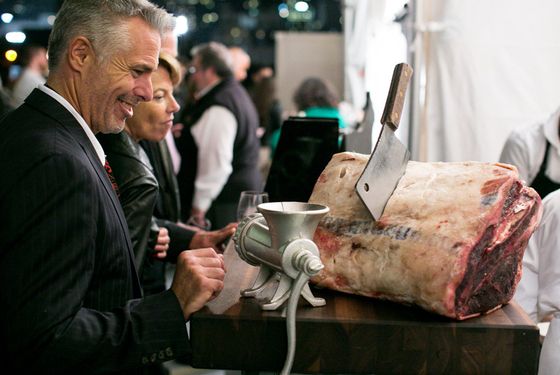 A raw display from Smith & Wollensky's.Photo: Huge Galdones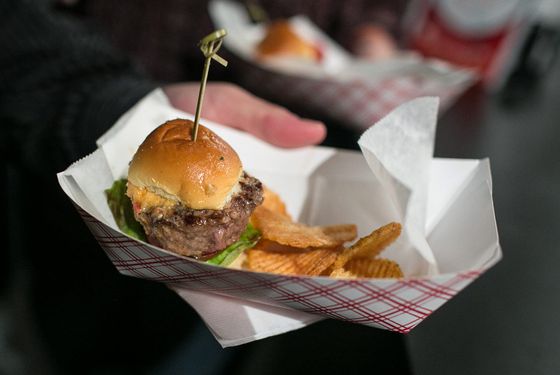 Turf & Surf burger from Porter House New York: dry-aged beef patty finished with Maine lobster butter; served with waffle-cut potato chips in Old Bay spice.Photo: Huge Galdones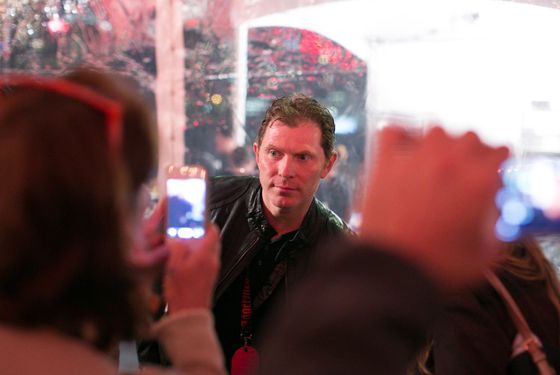 The line to see Bobby Flay and taste the Carolina Burger (smoked cheddar, mustard barbecue sauce, and green onion slaw) didn't end.Photo: Huge Galdones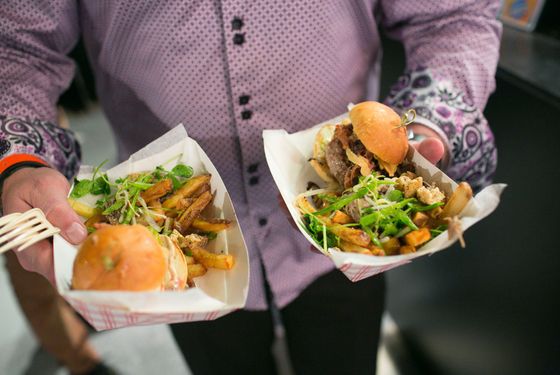 The Uncommon Bacon Cheeseburger (Hudson Common), with miso bacon, wasabi Peppadew white cheddar, spicy kimchi slaw, fermented garlic aioli and pickles, was served with a Szechuan Poutine (duck fat fries, Kung Pao duck confit, Szechuan slaw and black-bean vinaigrette).Photo: Huge Galdones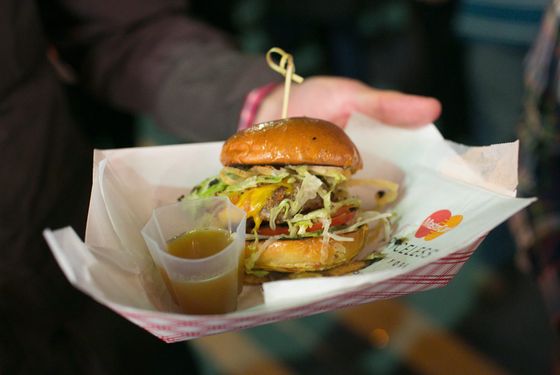 Guy Fieri's winning Bacon Mac 'n' Cheese Burger (Guy's American Kitchen & Bar).Photo: Huge Galdones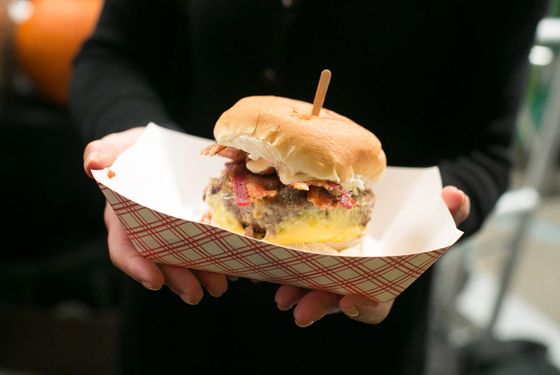 Schnipper's Smoky Double Bacon Cheeseburger with American cheese, caramelized onions, smoky bacon, and bacon mayo. This was photographer Huge Galdones' personal favorite.Photo: Huge Galdones