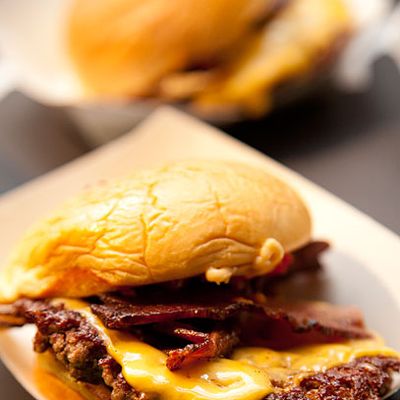 Can Shake Shack steal the crown?
Photo: Dominic Perri
The New York City Wine & Food Festival's annual Blue Moon Burger Bash is on October 18, and while the $225 ticket price is steep, this year's lineup is stellar. Participants include old favorites Burger & Barrel (Josh Capon's a three-time winner) and Bobby's Burger Palace, as well as some new additions like Cole's Greenwich Village and Distilled. Plus: Rachael Ray is hosting, and besides burgers, there's Sichuan poutine and Ooey Gooey Butter Cake ice cream. Take a look at the complete menu, straight ahead.
Ai Fiori's White Label Burger: white label blend, bacon marmalade, American cheese, and McClure's pickles
Bonus side: cacio e pepe tater tots
Bobby's Burger Palace's Carolina Burger: smoked cheddar, mustard barbecue sauce, and green onion slaw
Burger & Barrel's Bash Burger: caramelized onion and bacon jam, shaved pickles, American cheese, secret sauce
Bonus side: salt-and-vinegar chips
Burger Joint's Cheeseburger: yellow and white cheddar cheese, lettuce, tomato, onion, pickles, ketchup, mustard, and mayonnaise
Bonus side: fries
Cast Iron's the Wisco Bacon: Joe Widmer's Wisco cheese whiz, jalapeño pickles, special sauce, and Nueske bacon
Bonus side: tater tots with melt sauce
Cole's Greenwich Village's Ultimate Bar Burger: signature Pat LaFrieda–blend patty and Grafton cheddar cheese
Bonus side: housemade bread-and-butter pickles, red onions, and "awesome" fries and mayo
Commerce's All American: traditional burger on a homemade roll with bread and butter pickles
Bonus side: salt-and-vinegar chips
Kingsford presents Craftbar's Cheeseburger: Consider Bardwell Pawlet, bacon jam, pickled onions, oven-roasted tomato, and bibb lettuce
Bonus side: potato chips and bread-and-butter pickles
Custom Burgers' Goodfellas: fried Italian peppers, smoked mozzarella, mushrooms, and onions
Bonus Side: fried pickles
Distilled's Burger: 100 percent beef burger with organic American cheese, poblano relish, and crispy fried onions
Bonus Side: spicy garlic-dill pickles
Ditch Plains' the Sweet Cheesus: all-beef burger with our famous mac and cheese, bacon, and sweet and spicy relish
Bonus Side: whole-grain mustard potato salad
GO Burger Bar & Grill's Pickled Alpine: dry-aged burger with Emmental Swiss, pickled shallots, and bacon aioli
Bonus Side: autumn mulled cider
Guy's American Kitchen and Bar's Bacon Mac 'n' Cheese Burger: crispy applewood-smoked bacon, creamy four-cheese mac and cheese, all-natural ground beef, lettuce, tomato, onion, pickle, super-melty cheese, garlic butter, and toasted brioche
Hudson Common's Uncommon Bacon Cheeseburger: miso bacon, wasabi Peppadew white cheddar, spicy kimchee slaw, fermented garlic aioli, and pickles
Bonus Side: Szechuan poutine with duck-fat fries, Kung Pao duck confit, Sichuan slaw, and black bean vinaigrette
ilili's Shawarma Burger: cardamom-sesame bun, special sauce, beef patty, red onion, roma tomato, Lebanese jalapeños, sumac, and Aleppo pepper
Bonus Side: Phoenician fries with Aleppo garlic whip
Thomas' English Muffins presents Le Rivage's French-Onion Soup Burger: Pat LaFrieda–blend burger with stewed onions, béchamel, and Emmental cheese, and served on a toasted English muffin
Bonus Side: potato chips dipped in Jacques Torres chocolate
Martin's Famous Potato Rolls presents Myron Mixon's Burnt-End Burger: barbecue burnt ends mixed with ground beef, pepper jack cheese, horseradish, mayo, onion, dill pickles, brown mustard, and ketchup on a potato roll
Bonus Side: loaded baked potato salad with red potatoes, sour cream, chives, crumbled bacon, and chopped boiled eggs
Porter House New York's Turf & Surf: Prime Beef-Lobster Burger: dry-aged beef burger finished with Maine lobster butter
Bonus Side: waffle-cut potato chips dusted with Old Bay spice
Schnipper's Smoky Double Bacon Cheeseburger: American cheese, caramelized onions, smoky bacon, and bacon mayo
Bonus Side: blue-cheese cole slaw with toasted almonds
Shake Shack's SmokeShack: cheeseburger topped with all-natural applewood-smoked bacon, chopped cherry peppers, and ShackSauce
Bonus Side: Coffee & Donuts frozen custard
Smith & Wollensky's Dry-Aged Burger
Spice Market's Spicy Thai Short-Rib Burger: grilled short rib, Thai chili glaze, chili mayo
Bonus Side: crispy baby potatoes topped with chili mayo and crispy garlic
STK's Lil' BRGs: Wagyu beef, signature sauce, and a sesame bun
Bonus Side: sweet corn pudding
The Lion's "Smoked" Burger: proprietary blend, provolone, smoked cheddar, deep-fried pork belly, confit tomato, and sweet caramelized onions; served on a potato bun with homemade pickle relish; finished with a shot of smoke
Bonus Side: root-beer float
Old Homestead Steakhouse's Burger With Bite: a blend of USDA prime cuts, creamy Kentucky-style beer cheese, salty pretzel crisp, red onion shavings, and Dijon chipotle mayonnaise
Bonus Side: Koolicles, or Kool-Aid-brined pickles
Red Robin Gourmet Burgers & Brews' Bottomless Steak Fries
Desserts:
Ample Hills Creamery: Salted-Crack Caramel, Sweet As Honey, Ooey Gooey Butter Cake
Four & Twenty Blackbirds: Salty Honey Pie
Tate's Bake Shop: chocolate-chip cookies, gluten-free ginger-zinger cookies, and fudge brownies