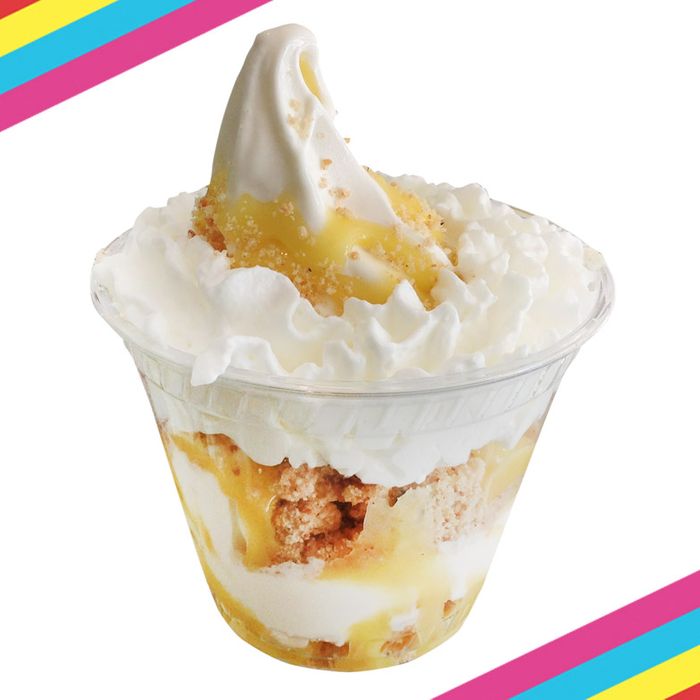 The Mermaid sundae got a makeover.
Photo: Douglas Quint
Back in March, Big Gay Ice Cream owners Douglas Quint and Bryan Petroff decided to scrap their commercial soft-serve base in favor of using a high-quality proprietary mix developed by Ronnybrook Farm Dairy. Now they're revamping the menu yet again by introducing homemade toppings. "Our mission as we open new locations is to keep improving the quality of our ice cream," says Petroff. "We're moving into everything being homemade, but we don't want that to result in any price changes."
Here's what to expect: The Mermaid sundae is now topped with homemade graham crumble and homemade key-lime curd (instead of premade graham crackers). That same crumble will be in the apple and pumpkin Gobbler sundaes, which also include apple butter, a bourbon-butterscotch topping, and local Coombs Family Farms maple syrup.
Two brand-new sauces will also be available by the end of October: an old-school hot fudge and a wet-walnut sauce. "We're calling the wet walnuts 'whiskey walnuts' because they have whiskey and maple in them," Petroff says. Awesome.
Lastly, a few temporary offerings are now permanently on the menu, too. Big Gay introduced the Rocky Roadhouse topping in honor of Patrick Swayze's birthday, and it was so popular that it's coming back full-time. The Affo'gay'to coffee drinks and the mocha-peanut-butter shake are also moving on to the varsity team and will be offered daily.