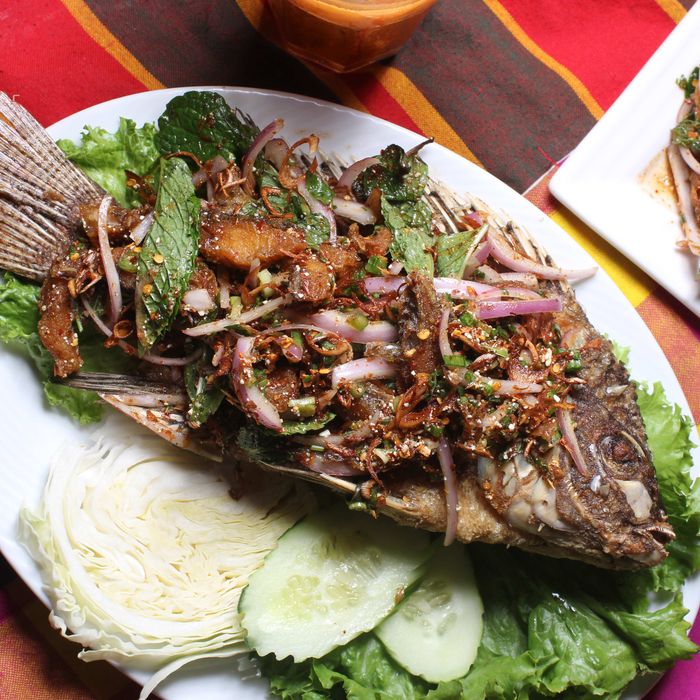 Larb Ubol offers a catfish variation.
Photo: Melissa Hom
Larb — a salad that's traditionally comprised of minced meat, fish sauce, lime juice, roasted ground rice, mint, and herbs — is a dish native to the northern parts of Laos and Thailand, and right now, thanks to New York's newfound love of all foods Asian, standout examples are everywhere. (The massive success of spots like SriPraPhai, Zabb Elee, and Pok Pok Ny probably has something to do with it.) It's the ultimate salad: hearty, spicy, and just a little bit sweet. While larb's usual base is chicken, beef, or duck, local chefs are mixing things up by making it with chopped lamb, catfish, and duck tongue. Here are the top spots to visit for the exotic dish, straight ahead.
Larb Ubol
The restaurant offers several variations of its namesake dish, with chicken, crispy pork, beef, mussels, duck, catfish, pork liver, and tofu. All of them are generously coated in lime dressing, and you'll want to sop up the spicy juice with extra rice.
Khe-Yo
Though Platt wasn't a huge fan of Marc Forgione's Laotian restaurant, he noted the Jurgielewicz Duck Laap-Peht — made with duck tongue, sliced duck breast, Vietnamese mint, cilantro, and lemongrass — as part of an ideal meal here.
Tung Thong Thai

This Inwood restaurant opened just two weeks ago, and one menu standout is Larb Gai: minced chicken, shallots, mint, and roasted rice powder in a chile-lime dressing. Be warned: It's super spicy.
Somtum Der
The first New York outpost of this Isan (northeastern Thai) restaurant only opened about a month ago on Avenue A, and it's already a big hit. There are four variations of larb on the menu: Larb Moo, with pork and green vegetables; Larb Pla Dook Yang, with grilled catfish; Larb Ped, with duck; and Larb Hed Kao Kuo, with mushrooms and peppermint.
Qi Esarn Thai Kitchen
In September, Qi in Union Square reopened as Qi Esarn Thai Kitchen, with a new space and menu. Chefs Claire Handleman and Pichet Ong are focusing on northwestern Thai cuisine, and their Laab Pehd salad includes minced duck and sawtooth coriander.
Prik Thai Kitchen
This small restaurant in Astoria opened in July, and you'll find a traditional preparation of Larb Gai made with ground chicken, scallion, red onion, mint, and toasted rice powder in a spicy lime dressing.
Uncle Boon's
Now that (some of) the hype has died down, it might be easier to actually score a table at this Thai spot in Nolita. The Laab Neuh Gae is made with chopped lamb, an unusual choice that nevertheless melds perfectly with the salad's other ingredients.
Tum & Yum

This Thai spot in Manhattan Valley on the Upper West Side just opened in August, and it's serving traditional Labb Gai with minced chicken.