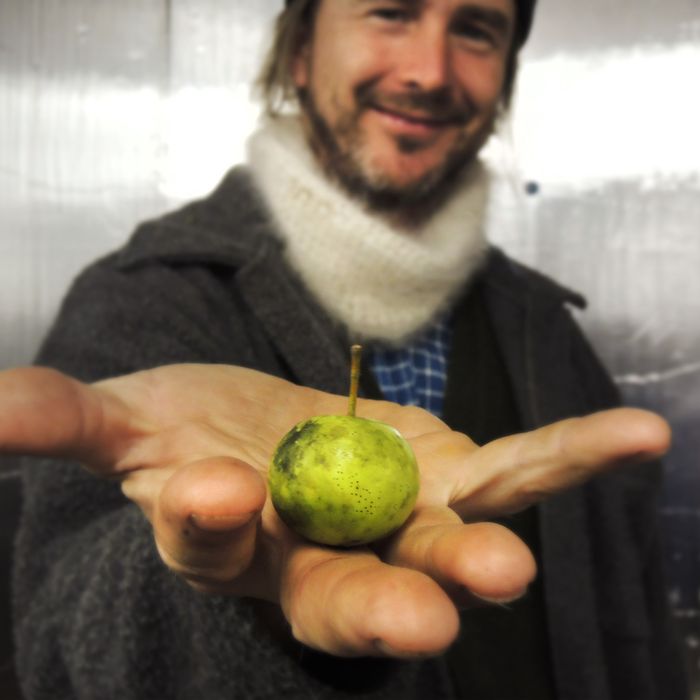 Andy Brennan shows off his main ingredient.
Aaron Burr Cider, a 90-minute drive north of New York City, doesn't look like much. The Wurtsboro, New York, outfit, consists of an old barn and a large backyard area where owner Andy Brennan has started to plant some apple trees. Brennan's saplings grow in patches of the forest that are stumpy, rocky, and otherwise hard to get to (unlike an orchard, where trees are planted in rows to ease harvesting and irrigation). But the inefficiency of Brennan's program is all by design. And it must be working, since Brennan is turning out some of the most highly praised hard cider in the country.
Brennan, a former architect, didn't set out to be a cider-maker. But two things happened: He and his wife Polly moved upstate, and as they hiked the trails near their house, the two were amazed by the variety and volume of wild apples growing in the woods.
The second, perhaps more crucial, revelation came when Brennan studied his grocery bill. After losing much of his savings in the financial crisis of 2007, he realized he was so broke that he could no longer afford to buy beer. Something had to be done.
So Brennan committed himself to making his own cider. He started in 2008, in his basement. He pressed his juice with an antique press and dosed it only with yeast. "We got all Johnny Appleseed on it," he says. In 2010, he upgraded his equipment and, after jumping through the legal hoops necessary to produce cider commercially, started selling bottles only last year.
Now Brennan, who still works part time as a woodworking designer, has quickly become one of the most critically lauded cider-makers in the state, if not the country. From the back of his barn and with only his wife Polly to help him, Brennan's "Aaron Burr Cider" is now featured on the menu at some of the city's premier restaurants.
"Just great balance, great acidity," says Sarah Monroe, beer director at Eleven Madison Park, where Brennan's cider is the only one on offer that's produced in New York. Gramercy Tavern beverage director Juliette Pope, has similar praise: "It has real austerity — a lot of nuance."
David Flaherty, beverage director at Hearth, uses words like "ethereal" and "journey" to describe Brennan's cider, which sells for about $40 per 500-milliliter bottle. "You have to really dig in and find out what secrets are in the glass," he says. "Andy is a hero to any beverage geek that praises authenticity and celebrates terroir in the glass."
Brennan gets his apples mostly via foraging trips. He and Polly scrounge around in the woods and collect the wild apples from branches or off the forest floor. Some are no larger than golf balls, and nearly all are ugly, bruised, bee-stung, and possibly home to worms or other varmints.
Relying on nature to grow apples does make it difficult to know exactly what kinds of apples are going into the cider. Brennan has studied up on cider-making since taking on this endeavor, but even still, the apples he collects are so imperfect and mysterious in origin that he's simply taken to naming the apple varieties himself: "Most are known by location," Brennan says. "Like, Bill's Fence-Line Crab." Bertha Stump Sucker, Bert and Ernie, and Old Pierre are among his other classifications.
If the apples are ripe and clean, Brennan doesn't bother with yeast and allows them to ferment naturally. If the apples are rotted, Brennan adds sulfite to the must and uses a yeast starter he's been cultivating and saving. There's no standard formula.
"It depends on the apples," he says. "One needs to ask nature what to do, not the other way around."
(Brennan does make other varieties of cider from apples that he purchases, but the foraged vintage — which he calls Homestead — is his trademark product.)
Typically, he ages the juice over the winter, blends and bottles it in the spring, and waits until the farmers' markets crowd up in the summer to sell the cider and hand off to his distributor.
The downside to the hyperpurist approach is that it's at odds with things like profit or scaling. Because Brennan relies on the wild apples, and because he presses the cider himself, he simply can't make his cider fast enough. "At this point," he says, "pretty much every bottle is accounted for."
He does have plans to hire more people and scale up his production, but those plans aren't definite. He worries that more people in the woods looking for apples, as well as a larger distribution, will only get in the way and "confuse the relationship I'm trying to discover with nature."
That relationship is what's at the heart of the Homestead line, which is drier and heavier in tannin than mass-market ciders. The natural bubbles are small, almost Champagne-like. The taste is not sweet or juicy. The flavors are subtle and understated, with a finish that carries a funky tang, a reminder of the forest floor the apples were picked on.
"These wild apples have survived out here for hundreds of years," Brennan says. "This is natural; this is what the apples taste like."