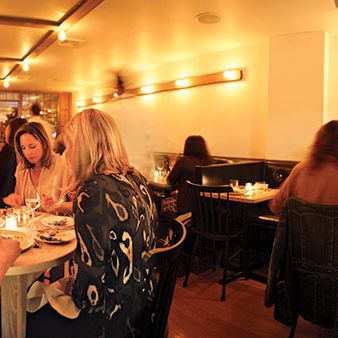 The East Pole Photo: Jenny Westerhoff/New York Magazine
In the fickle realm of restaurant and dining trends—as in the fickle realms of high art, luxury fashion, and almost everything else you can think of—the Upper East Side has always been a sheltered, cosseted backwater. Although we're more than a decade into the great comfort-food revolution, the avenues east of the Park are still mostly devoid of haute-burger joints (I'll go to JG Melon, thank you) and stripped-down, no-reservation dining bars (unless you count the old Irish ones). There are no neo-barbecue pits on the Upper East Side or trendy fried-chicken shacks (although you can find a decent facsimile of a lobster roll). That ancient term haute cuisine still has a fashionable connotation among many of my mother's friends, who like to dine on gently fallen soufflés at Daniel Boulud's restaurants, and many of the most successful establishments around the neighborhood have white linens on the tables, and some of them even have carpets.
So you can imagine our surprise—my mother's and mine—when we sat down to dinner at a popular new Upper East Side dining spot called the East Pole. The bare-bones space features a stand-up bar area in the front and a sleek dining room in the back designed with maximum, modish utility in mind. The hard surfaces (tables, floors, ceiling) are a mix of wood and plaster and lit with the kind of clichéd filament bulbs that went out of style downtown long ago. The menu is local and features a map on its back, in case you wish to locate the restaurant's suppliers. Our Amazon-size hostess looked like she'd just strolled off a fashion runway, and our waiter sported an impressive network of tattoos on his forearms and an apron made out of what looked like recycled hemp. Except for the somewhat stunned-looking clientele, the only sign of familiar local terroir was a lapdog tethered to the railing outside, lapping happily from a bowl of water.
Two proprietors of this operation also run the Lower East Side restaurant the Fat Radish (the other owners are from Brinkley's), and they've done a canny job of adapting their populist locavore formula to a more prosperous, self-serious audience. The prices have been elevated to levels that their old clientele might find egregious but that the legions of bankers and society wives who are currently jammed into the noisy little room will barely notice. My mother and her uptown friend were happy to pay $15 for sections of toast piled with peekytoe crab (a recipe lifted more or less directly from the menu at ABC Kitchen), followed by a selection of oysters that cost more than oysters do at the Fat Radish. The excellent Scotch egg is the same price at both restaurants, however, and you can complement it with a crunchy grilled cheese sandwich filled with deposits of melting Vermont Cheddar.
The man in the kitchen here is the former Fat Radish chef Nicholas Wilber, and he has a knack for imbuing his vegetal, farm-friendly compositions with a hefty dose of pulchritude. The aforementioned Scotch egg isn't the usual stodgy, recently microwaved cannonball that shows up at faux gastropubs around town. The yolk is vividly orange, the sausage encasing it is made from freshly ground, sage-scented pork, and the dish is cut lengthwise, with a little garnish of chervil on top. Instead of oily bread crumbs, the fried oysters are rolled in nori, sesame seeds, and rice, and instead of the usual romaine lettuce, the house Caesar salad is constructed with a giant, unwieldy net of kale. My mother had nothing but polite things to say about her fluke crudo (dressed with New York peaches), but the dish I couldn't stop thinking about was the heirloom-bean salad, which the kitchen tosses with expertly crispy-fried pig's cheeks and shreds of grilled scallion.
Healthy eaters will be happy to see an edifying steamed-vegetable Macro Plate entrée option on the menu at the East Pole, although some may blanch at the $22 Upper East Side sticker price. If you're hungry, however, my mother suggests you pay an extra few bucks for the elegant, garden version of chicken Kiev, stuffed with a mixture of garlic butter and broccoli, or the grilled strip loin, which is surprisingly tender by grass-fed standards, and arranged in decorous slices with a pile of crushed cauliflower. Among seafood dishes, that old New York locavore staple black sea bass is cut in a generous fillet (with summer squash and a nice kale pesto), and the Block Island swordfish tastes like it's just been hauled from the chilly waters off Montauk (it has). Best of all, though, is Chef Wilber's fish pie, which is constructed with fennel, tarragon, and generous chunks of fresh lobster, all sealed in a properly thick, buttery pastry crust.
The proprietors of the East Pole have apparently delayed installing ceiling padding in the dining room, in order to create opening-night buzz. Because the joint is currently being bull-rushed by virtually every fashionable cou­ple on the Upper East Side, this means the decibel levels in the hard-surfaced room are almost unbearable after seven o'clock. You can find relief in the cocktails (try the rum-based Tarrytown), but avoid the wine list, which features a radically overpriced bottle of Humbrecht Pinot Gris '11, ($97 on the evening I dropped in, compared with $22 at your local liquor store), and a glass of Italian red that we sent back because it was corked. I briefly contemplated sending my sour helping of goat cheesecake back to the kitchen, too, but was mercifully distracted by the "adult" ice-cream sundae (scattered with Pimm's-soaked cherries) and the bread-pudding special, which is riven with rich veins of melted chocolate and big enough to feed a family of three.

The East Pole
133 E. 65th St., nr. Lexington Ave.; 212-249-2222; theeastpolenyc.com
Hours: Sunday through Wednesday 5:30 p.m. to 1 a.m., Thursday through Saturday until 2 a.m.
Prices: Appetizers, $18 to $42; entrées, $17 to $32.
Ideal Meal: Peekytoe crab on toast, heirloom-bean salad with pig's cheeks, chicken Kiev or fish pie, ice-cream sundae or bread-pudding special.
Note: The noise can be unbearable, but there is a private dining room upstairs, which will be available soon.
Scratchpad: One star for the elegantly nourishing local cooking and another for the posh (if clamorous) downtown vibe.
*This article originally appeared in the October 14, 2013 issue of New York Magazine.