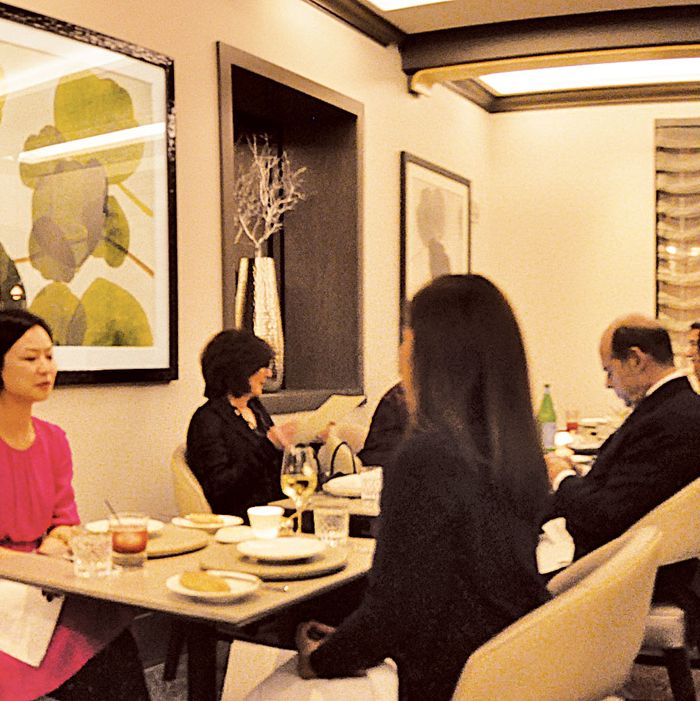 Photo: Jenny Westerhoff/New York Magazine
During the course of his promising, star-crossed career in Manhattan, the talented haute-fusion chef Shaun Hergatt has never exhibited much of an eye for real estate or the décor of his ­restaurants. His first, SHO Shaun Hergatt, which opened several years ago, in the teeth of the Great Recession, and closed last year, won good reviews from most critics (along with two Michelin stars), despite being situated in a building in the financial district so obscure that many of his fans required a GPS to find it. Once you located the building, it took some time to find the restaurant, which was on the second floor and could only be accessed via an elevator. The dining room was decorated with the kind of random trinkets ­(Chinese calligraphy brushes, necklaces from Tibet) that you find in anonymous international-airport hotels in places like Singapore and Dubai, and despite the excellence of the food, there were usually more wait staff in the room than clientele.
As an admirer of Hergatt's cooking, I'm sorry to report that his newest restaurant, Juni, appears to be even more feng shui challenged than the last one. The latest operation is on 31st Street, at the eastern edge of Koreatown, on the ground floor of the Hotel Chandler, which looks less like a grand tourist destination than a hastily refurbished flophouse. The restaurant has two rooms, the nicest of which is right off the lobby, where you can watch the motley collection of guests trundling to and fro with their roller bags. Both rooms are set with dull, slate-gray-colored tables, which are fringed with the kind of padded chairs that you see in the recreation rooms of ­second-tier suburban country clubs. The walls are hung with artsy photographs of what appear to be root vegetables, and the lighting in both rooms is flat in a dim, fluorescent way, like the inside of a bank vault.
But as usual with a Shaun Hergatt production, once you've adjusted to your challenging surroundings, there are all sorts of elaborate delicacies on the menu to enjoy. Hergatt comes from Australia, and he learned his craft working in kitchens in ­Sydney and the U.S. during the fusion boom in the nineties and early aughts. Unlike many of his talented colleagues from that era, he resolutely refuses to give in to many of the trends of our grim, post-gourmet era. You won't find rusticated pork chops ­featured in his restaurants, or fancy riffs on collard greens or southern fried chicken. His menus are complex, studied documents freighted with dated, esoteric terms ­("nasturtium emulsion," "anise hyssop," "truffle sabayon"), and the numerous tasting options (there are four at Juni, including a ten-course tasting one) can take some time to understand.
My dinner began with two tubes of ­Hudson Valley foie gras, which Hergatt and his assistants whip into a melting, ­toothpastelike consistency and plate with
a delicately diced apple composition sweetened with sugar, and a gentle scattering of something called almond dust. The enjoyment of this eccentric but technically impeccable dish was enhanced by a puffy brioche baked in a pan, which my guests and I complemented with delicious fresh-baked mini-baguettes served by a phalanx of almost comically deferential waiters wielding tiny silver tongs.
There was also a bowl of deeply green Tuscan-kale soup in this first group of appetizers (velvet smooth, but somewhat overwhelmed by a garnish of diced pork neck), along with Hergatt's interpretation of that de rigueur dish the farm egg, which the kitchen wreathes in a foamy corn soup dappled with bits of popcorn and serves in a round crystal glass the size of a small fishbowl.
Although Hergatt uses many local ingredients in his recipes at Juni, the cooking has a refreshingly polished, un-rustic sheen to it. The agnolotti I sampled tasted like it had been beamed in from one of the great gourmet capitals of Europe. So did the expertly prepared seafood entrées, like the slow-baked black bass (with gnocchi and truffle sabayon), and the soft brick of salmon, which the chef composes on the plate with crispy strips of fennel, cut chives, and a lemony square of savory yogurt "cotta" cheese. In Hergatt's hands, chicken isn't chicken in the usual ho-hum way. It's gourmet poussin, deboned into little rounds, gently poached, and garnished with, among other things, an emulsion folded with crème fraîche. My excellent veal entrée was prepared in a similarly elevated way and served with a medley of Japanese mushrooms all mingled together with a truffle-juice emulsion.
Will this kind of nostalgic, almost willfully unfashionable brand of cooking succeed in such a strange and marginal space? Given the chef's track record, the most optimistic answer, for Hergatt fans like me, is a hearty "maybe." But when I dropped in, the dining rooms at Juni were mostly full, with an eclectic mix of older gentlemen enjoying discreet dinners with much younger women, groups of addled tourists, and curious food professionals in their sauce-stained coats.
For dessert, we had gently baked whole apples sitting in pools of maple syrup and decorative bits of ­caramel corn mingled with lime and ­tarragon. But the dish I liked best was a strange chocolate confection, which looked like a half-exploded brownie stuck with what appeared to be bits of orange candy. The candy turned out to be different textures of weirdly delicious sweet potato, and if you squinted your eyes, the whole dessert looked like an elegant, if somewhat dated, painting.

Juni
12 E. 31st St., nr. Madison Ave.; 212-995-8599; juninyc.com
Hours: Dinner Monday through Thursday 5:30 to 10 p.m. Friday through Saturday to 10:30 p.m.
Prices: À la carte: appetizers, $20; entrées, $40.
Ideal Meal: Agnolotti with salsify crisps, veal tenderloin or Atlantic salmon with fennel, chocolate dessert.
Note: If you're feeling flush, the chef offers a four-course tasting menu for $90, a six-course one for $120, and a ten-course menu for $180.
Scratchpad: Three stars for Hergatt's cooking, minus a star (at least) for the room and location.
*This article originally appeared in the November 4, 2013 issue of New York Magazine.