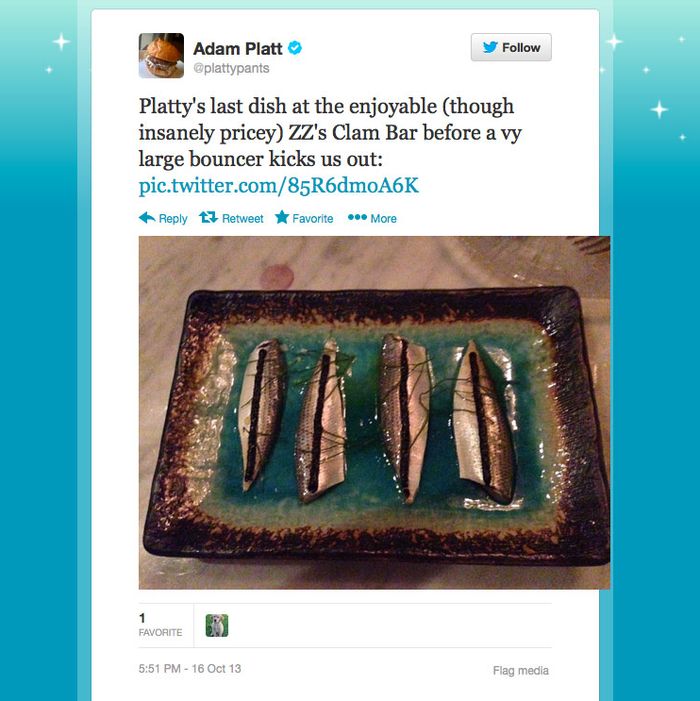 The sardines were the last thing he saw …
Photo: Twitter
If you follow New York restaurant critic Adam Platt on Twitter, you may have seen last night that he posted a photo of the cured Japanese sardines at ZZ's Clam Bar, along with these words: "Platty's last dish at the enjoyable (though insanely pricey) ZZ's Clam Bar before a vy large bouncer kicks us out." Wait … what? Owners typically don't make a habit of bouncing critics (though it has been known to happen in the U.K.), so Grub called Platt to see what went down. (We also reached out to the owners of ZZ's, and will update this post if they get back to us.)
So you're at ZZ's, minding your own business. What happened?
My guest and I showed up at like six, under an assumed name.
Was it crowded?
It's a small place. It's less of a restaurant than a highly curated experience. Four tiny tables and a beautiful bar — a classic whiskered mixologist from central casting, shaking up $20 cocktails, which were delicious by the way.
This is your first time there?
First time … and clearly my last time.
And you weren't misbehaving?
I don't think so. We weren't drinking to excess. We weren't breaking any crockery. I think we were on our best behavior.
So how'd the incident go down?
We order a variety of clams and oysters. The drinks are beautiful. We enjoy some uni on pretzel toast. Three pieces for $30, which frankly were almost worth it they were so delicious.
We're there for about two hours, and we're enjoying ourselves. We're almost finished when things dry up. Some courses I ordered don't arrive, and suddenly the very large bouncer shows up at our table. He's wearing his outside coat. He's got a Serious Bouncer Expression on his face. He hovers over us and says, "I'm sorry, but you guys are done."
So we say, "What do you mean?"
He just says, "I'm sorry, but you guys are done."
My guest works with chefs and restaurateurs around the city, and has never really been treated this way. He says, "What are you talking about? We haven't done anything." He starts to get red in the face. I just say, "They're kicking us out. We should go."
And they didn't let you pay the bill, right?
I said I'd like to pay my bill. The bouncer says, "No, it's on the owner." I say, "Really I should pay the bill." I say it three times. He says, "No, it's on us."
He was very polite about it. He had that professional bouncer tone: Nonconfrontational, very insistent, and the message does not change.
Did other customers see all this going on?
I don't think customers noticed — there wasn't anyone next to us. But clearly the wait staff noticed and they sort of backed away.
Any signs of the owners? [Mario Carbone, Jeff Zalaznick, and Rich Torrisi]
I don't think so. But I don't know them.
Why do you think it happened?
It's 8:15, we'd been there a while, and it took them some time to spot us and figure out it's me. I'm guessing this is retribution for my Carbone review.
That was a one-star review.
I'll say this a hundred times. My reviews are my opinion, and chefs and restaurateurs are more than entitled to be outraged if they don't agree with me.
But you were liking your meal at ZZ's before you got kicked out?
I've said nice things about their restaurants since the beginning. I thought Torrisi was one of the best meals in town when it opened, and suggested that Rob and Robin check it out, whereupon they wrote a glowing review. I said nice things about Parm, and when they redid the tasting menu at Torrisi, I gave it three stars. Carbone was the first one where I had a few questions — and clearly they didn't like that.
Has anything like this happened before?
People react in different ways. When Blue Smoke opened, I wrote a tough review. Danny Meyer's kids go to the same school as mine, so Meyer comes up to me and puts out his hand, and says, "I just want you to know that was a very helpful review and we're going to do better next time." So that's how the Meyer Hospitality Group handles a situation like this. Other restaurateurs have different methods.
I understand the outrage. I'm just a mere civilian, wandering the avenues from one restaurant to the next, offering my considered opinion. But this is the first time after, I'm guessing, a thousand professional dinners, that I've been booted.
Has anyone ever confronted you in the dining room?
No. Restaurateurs and critics generally keep their distance. But I've been confronted in the press, and I've received lots of irate letters.
When I reviewed Pulino's (which I see will soon close), Keith McNally wrote an indignant public letter. I think the question is the timing. If Mr. McNally had opened another restaurant right after Pulino's, it would have been my professional duty to go try it. He might have kicked me out, too.
Earlier: Platt: Herculean Portions and a Fervid Fan Base Define Carbone
Related: Platt Responds to McNally's Response to Platt's Review