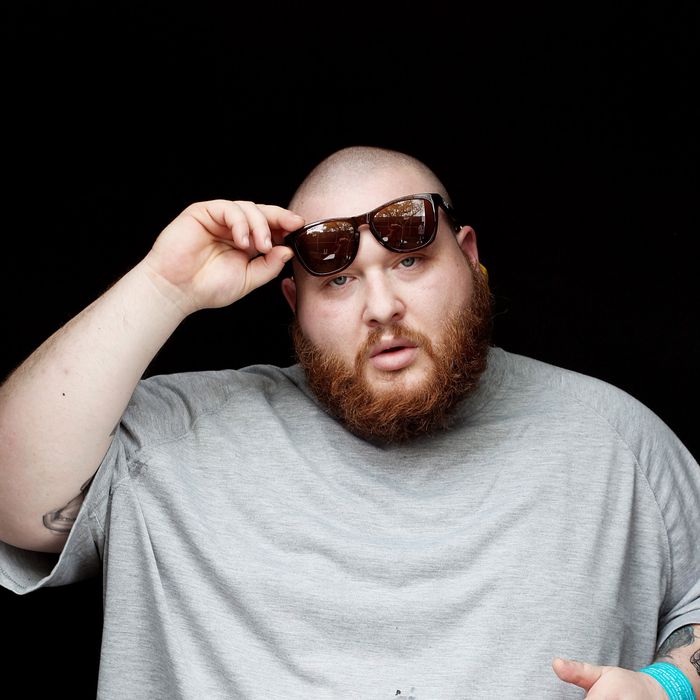 He likes it.
Photo: Roger Kisby/Getty Images
So Vice has a new food series featuring rapper Action Bronson, and judging from what's already online, the format goes like this: Action gets really, really high and then eats a big meal with a trusted friend, who dispenses "honest opinions" and critiques with him along the way. In the first episode, the Queens-based gourmand is joined by his chum Big Body Bes for a multicourse meal in the private dining room at Marea; Michael White even greets the guys curbside. Straight ahead, some of the best reactions to all that bone-marrow fusilli and seafood. NB: The language gets a little crudo.
• "Michael White is a one-of-a-kind guy, man. You wouldn't think he's into the things he's into. He's a real student of hip-hop, all around wild dude."
• "Damn, do I love cereal … Every time I eat cereal I have to have the picture of Phil Collins there for inspiration."
• "You know I'm about to go in heavy on the shrimp."
• "These shrimp right here? Yo, this shit got me ready to fuck."
• "The scallop with the fiddlehead … the sear on that is unheard-of, that shit tastes like straight gold, tastes like gold bars."
• "Yeah, I fuck with scallops, man. I'm into all that seafood."
• "All my jail babies out there, we know about eating with spoons."
• "Then surprising us with this Creekstone 50-day [aged steak]. Oh, man. The 50-day piece with that balsamic whatever gastrique, what it was."
• "Motherfuckers aren't cooking like this."
• "This ain't no Red Lobster shit!"
The entire video, for your delectation, is below.


VICE Eats with Action at Marea [Vice]
Related: Action Bronson Eats Blowfish at Morimoto, Pot-Infused Branzino at Home