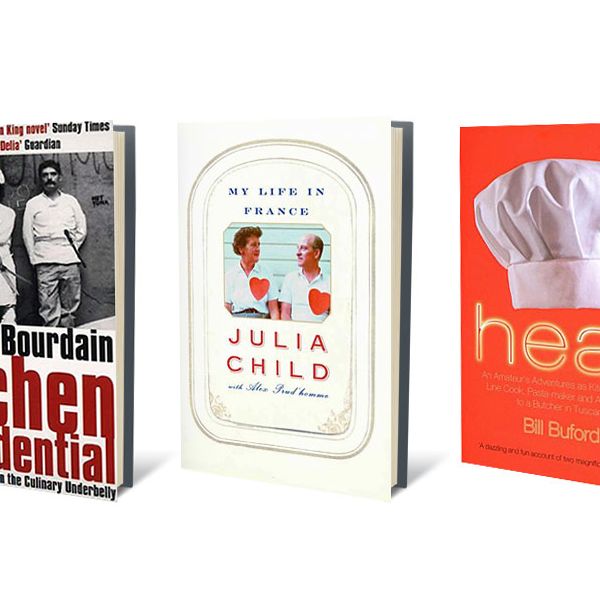 The food memoir is a dicey proposition for a writer: It takes real courage to sit down and decide that your individual eating experience is interesting enough for other people to care about. Will any readers care that you spent a week in Paris devouring caviar for breakfast? Or that a journey to the South Pacific resulted in personal discovery through street food? The job is easier said than done, but when written well, a food memoir can touch on universal feelings of growth, understanding, and self-awareness. (Plus, you have to make the food sound really delicious.) As publishers gear up to release a new crop of memoirs this fall — keep an eye out for Anya Von Bremzen's month-old Mastering the Art of Soviet Cooking (already generating a great deal of buzz), Paul Liebrandt's To the Bone, and even a small memoir portion of René Redzepi's multivolume A Work in Progress — Grub Street decided it was time to look back and assemble a list of the all-time best food memoirs.
Here's how the list was assembled: Though plenty of food memoirs include recipes, there are no cookbooks on this list, only narrative memoirs. We also limited inclusion to one book per author so no single writer could overtake things. The list itself is comprised of picks from a number of chefs and writers, as well as Grub Street's own choices. When ranking, we factored in a book's originality, lasting appeal, influence on the genre, and — most important — how enjoyable it is to read.
The result is a collection of books that any food lover should tackle immediately, or, if you've already read everything on the list, revisit and enjoy once again.
If all you want is the list, you can see that below. To read why each book is deserving of its spot — and, in turn, deserving of your time — check out the slideshow, straight ahead.
25. Fresh Off the Boat by Eddie Huang
24. Down and Out in Paris and London by George Orwell
23. The Devil in the Kitchen by Marco Pierre White
22. The Telling Room by Michael Paterniti
21. A Tiger in the Kitchen by Cheryl Lu-Lien Tan
20. The Sweet Life in Paris by David Lebovitz
19. Born Round by Frank Bruni
18. Blue Plate Special by Kate Christensen
17. The Apprentice: My Life in the Kitchen by Jacques Pépin
16. Climbing the Mango Trees by Madhur Jaffrey
15. Shark's Fin & Sichuan Pepper by Fuschia Dunlop
14. Home Cooking by Laurie Colwin
13. The Raw and the Cooked by Jim Harrison
12. The Man who Ate Everything by Jeffrey Steingarten
11. Alice, Let's Eat by Calvin Trillin
10. California Dish by Jeremiah Tower
9. When French Women Cook by Madeleine Kamman
8. Heat by Bill Buford
7. Tender at the Bone by Ruth Reichl
6. Between Meals by A.J. Liebling
5. My Life in France by Julia Child
4. The Gastronomical Me by M.F.K. Fisher
3. Toast by Nigel Slater
2. Kitchen Confidential by Anthony Bourdain
1. Blood, Bones & Butter by Gabrielle Hamilton