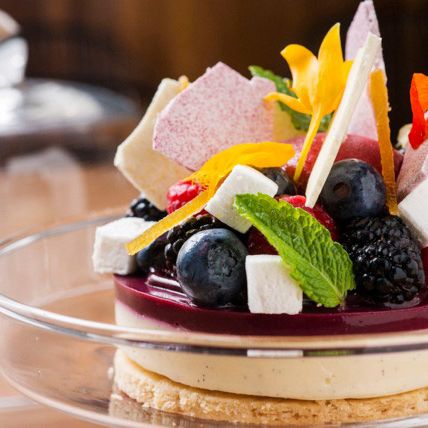 Richman's a big fan of this dessert.
Photo: Evan Sung
In this week's issue of New York, Adam Platt filed official reviews on Luksus and Betony — and also offered his thoughts on New York's new wave of omakase options. Meanwhile, Peter Wells caught the Fashion Week bug: He reviewed an establishment many New Yorkers didn't realize even existed, Armani Ristorante Fifth Avenue, and gave it two stars. This, and more, straight ahead.
Pete Wells, surprisingly, wrote a review of Armani Ristorante Fifth Avenue, which is tucked inside the midtown store. Chef Sandro Romano, an alum of the Modern, "has a sensitive hand with seafood," but isn't as successful with pasta. Wells's review is filled with fashion references: "Removing one accessory, Coco Chanel-style" from the green tagliolinii with mushrooms and truffles "would have focused the flavors and helped lower the ridiculous $38 price tag." (There's also this gem about water: "Does the bottle, skinny as a fashion editor and stamped with a big block A, justify $11?") Though the décor is outdated and not all dishes succeed, the restaurant still earned two stars.
Joshua David Stein filed an early review for new Williamsburg restaurant Shalom Japan, which he found time to visit twice despite caring for a newborn. It's run by Torrisi alum Aaron Israel ("he's like Hillel the Elder of smoked meats") and his wife, former Annisa chef Sawako Okochi. Each of the successful items on the menu (of which there many) "is a marriage between Japanese and Jewish cuisine": matzo ball ramen, the lox bowl, and sake kasu challa — "made with yeast that's left over after sake is made, it is baked to order with a golden raisin butter and is the best challah this Jew has ever eaten in Brooklyn." Sure, there are a few misses, but Shalom Japan "is more than the sum of its parts" (and, it seems, a better deal than couples therapy).
Alan Richman awarded three stars to Paul Liebrandt's the Elm. "His dishes here are considerably more accessible than those at Corton, and the cost is less," says Richman. Plates like foie-gras terrine and Tristar strawberries are "still lifes in vivd colors" and "masterpieces of miniaturization, the animal and vegetable sort." The skate-wing's one of Richman's favorites, but he can't look at it "without thinking of a bird with clipped wings plunging toward the earth like a WWII bomber shot down by anti-aircraft fire." Other ordering tips: Skip the chicken Kiev, but get an entire summer red-fruit tart for yourself. Don't expect a seductive atmosphere, as the restaurant's space feels like a "semi-basement apartment."
Steve Cuozzo dined on the Upper West Side at Anassa Taverna, a Greek restaurant that "makes Third Avenue matter again." The atmosphere's lovely, and although the chef tends to "de-ethnicize" traditional dishes, the food is okay: "perfectly grilled" salmon and "marvelous" char-boiled octopus are stand-outs.
Stag Sagner enjoyed an eight-course meal in the East Village at Feast. The vegetarian Market Feast includes both fried and grilled zucchini "resting on translucent marinated ribbons of the summer squash" and "buttery succotash, tasting like a summer garden." There are some service issues, but it's overall a pleasant and affordable ($46 to $49 with a $23 wine pairing) experience. Four stars.
The New Yorker's Amelia Lester filed a review on the "modern Mediterranean, maybe a little trend-obsessed" Atrium Dumbo, which opened in the former Governor space. Although the food's a bit too fancy — and heavy — that doesn't mean it's not satisfying. The bone-marrow appetizer is "irresistible, almost obscenely salty, but the preparation does strange things to the texture of the marrow, which is no longer appealingly viscous but more like taco beef." Lester's favorite dish is the quinoa-two-ways, with a cauliflower cream sauce that's a "savory take on cereal and milk."