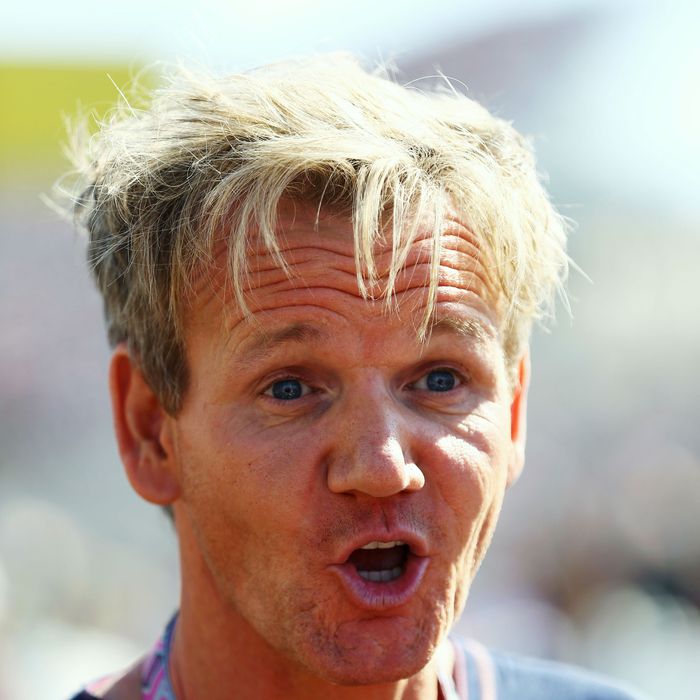 Mr. Popular.
Photo: Paul Gilham/Getty Images
In the new Vanity Fair, James Wolcott comments on recent crises faced by a cadre of bold-name TV chefs: Nigella Lawson was choked in public, and Paula Deen watched her multi-million-dollar empire disintegrate after a leaked deposition transcript implied she'd used racial slurs. Meanwhile, Guy Fieri unsuccessfully tried to hang ten in the aftermath of Pete Wells's New York Times takedown. In the piece, Wolcott confesses that he doesn't watch food TV much. He knows how to condemn it, though.

We won't rehash the issues facing Deen and Lawson, since they've been well covered. And the less said about Guy Fieri, the better. Wolcott's most interesting analysis comes when he turns his attention to Gordon Ramsay, who apparently lives his whole life as one giant PR crisis. But perversely, it's Ramsay's repellent behavior that gives him so much staying power: "In his rudest thunderings of alpha prerogative, Ramsay would seem to personify hubris, yet so far his hubris has gone unpunished," Wolcott writes. "TV can't get enough of his ass-flame tantrums." Despicableness wins, it turns out, because people tune in to see it.