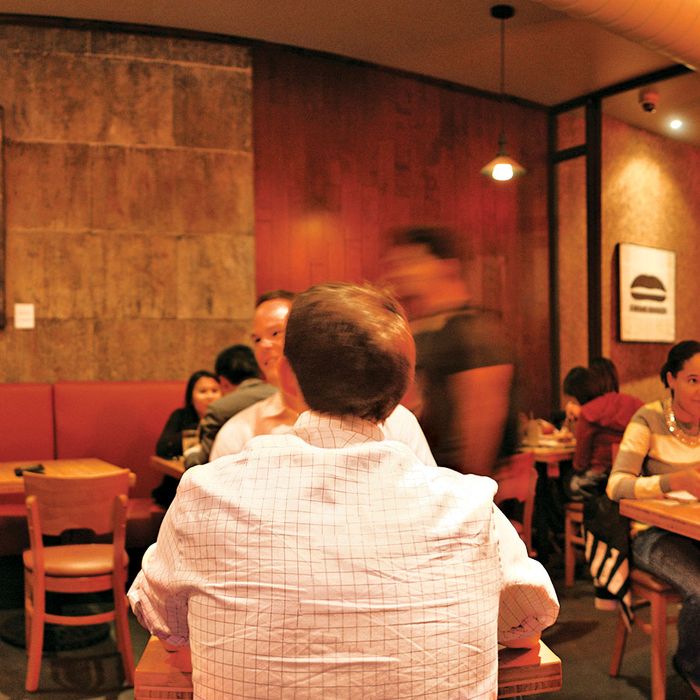 Photo: Jenny Westerhoff/New York Magazine

The first New York branch of the popular Los ­Angeles-based Umami Burger chain flung open its doors in Greenwich Village this summer, and judging by the three-hour opening-week waits and general frenzy of excited burger nerds, it's about time. In a nutshell, umami, or the elusive fifth taste (after sweet, salty, sour, and bitter), is the savory flavor sensation associated with foods like beef, soy sauce, and Parmesan cheese. And Umami Burger owner Adam Fleischman is its biggest fan. What Colonel Sanders is to eleven herbs and spices, Fleischman is to umami. Like the Colonel, Fleischman's also a bit of a marketing whiz. He sells a line of umami products including umami dust and umami spray on his website, and apparently he's never been spotted in public while not wearing an Umami Burger T-shirt.
Flaunting his brand and the umami lifestyle—as well as talking smack about Shake Shack to Adam Platt—hasn't exactly endeared Fleischman to local burger purists and umami skeptics. But these West Coast burger missionaries have to follow their bliss. And the fact of the matter is that the Umami burger lives up to the hype. The signature Original comes on a bun that's properly soft and squishy yet oddly clammy to the touch, as if it had been reheated like a 7-Eleven microwave ham-and-cheese. But its loosely packed six-ounce patty is abundantly juicy and beautifully cooked with a fantastic crust. It's painted, dusted, and sprayed with assorted -Umami-brand products like a backstage beauty-pageant contestant, then festooned with a veritable Who's Who of umami heavyweights: roasted tomato, shiitake mushrooms, caramelized onions, truffly housemade ketchup, and a Parmesan crisp. The well-proportioned final result is superrich and weirdly meaty and pretty much like no other burger you've ever tasted. Actually, we take that back. It kind of reminds us, in a way, of Daniel Boulud's $32 DB Bistro Moderne burger. That early-aughts masterwork, if you recall, consists of a sirloin patty stuffed with braised short-rib meat, black truffles, and foie gras, the whole thing topped with confited tomato and served on a Parmesan bun. Practically screams umami burger, right? You might even say that what Fleischman has done—and done brilliantly—is create a DB burger for the masses, tossing out luxury ingredients in favor of tasty food science.
Aside from the five or so other beef burgers (we're partial to the Hatch chile with housemade American cheese), there isn't a whole lot else to jump up and down and clap your hands about at Umami Burger. The turkey and veggie "un-beef" burgers are fine, but seem beside the point. The room feels generic, managing to be simultaneously dark and gloomy and also boisterously loud. And the cocktails will win no awards. One thing that especially drives Umami customers to distraction is the restaurant's belief that French fries and onion rings are appetizers and ought to be served as such. It's like going to a steakhouse and getting a baked potato a half-hour before your T-bone arrives. Looked at another way, though, this is merely an attempt to get you to focus on the glory that is the Umami burger. A star of its stature shouldn't have to share a stage with anyone.
As a culinary genre, the salad bar is inherently less sexy than the burger joint. But Sweetgreen, a chain founded six years ago in Washington, D.C., would like to change that. By design, Sweetgreen isn't so much a salad bar as a lifestyle. It's got the hip location, next to the NoMad Hotel; the prominently placed chalkboard that name-checks local purveyors (and the massive photo of kale farmer John Ploch); the one percent of proceeds earmarked for children's vegucation programs. It's got a manifesto ("Never get stuck … Find your extraordinary …" etc.). Granted, the Underground Gourmet is a sucker for such things, not least the glorification of kale farmers. Still, you can't eat a manifesto, no matter how well dressed.
Sweetgreen succeeds by serving good food. There is no air of quiet desperation, of joyless calorie counts or ingrained eating disorders. The greens are unfailingly fresh, the combinations inventive. Thought has been given to texture and crunch, to flavor blasts from fresh herbs and citrus, to dressings that are offered, as you make your way down the salad-assembly line, in "light, medium, or heavy?" applications, depending on the number of revolutions the squeeze bottle makes around the circumference of the bowl.
As is standard throughout the salad kingdom, diners can customize their meal, but we left it to the professionals. Of the eight core salads on offer, the kale Caesar is the one to beat. Even with the absence of anchovy and the unorthodox inclusion of grape tomatoes, the whole exceeds the sum of its parts, thanks largely to the savory Parmesan crisp that adds flavor and crunch. Crushed tortilla chips serve a similar purpose in the satisfying Guacamole Greens, and the morsels of good roasted chicken that populate both are plucked, warm, from a cast-iron Staub cocotte. In general, proteins stand out as well cooked and high quality, be they refreshingly shrimpy shrimp in the quasi-Greek Santorini, or the virtuously baked falafel in the Chic-P. True, they could have picked a sharper Cheddar, and the District Cobb, with its blasphemous clump of goat cheese and too-sweet agave-Dijon vinaigrette, is an insult to the iconic dish. But it's hard to hold a grudge. Sweetgreen is trying, largely successfully, to source good, fresh food and make it not only satisfying but cravable. And if you want, you can douse your salad in off-the-menu truffle oil. Umami doesn't only apply to burgers, after all.

Umami Burger
432 Sixth Ave., nr. 10th St.; 212-677-8626; umami.com
Hours: 11 a.m. to 11 p.m., Friday and Saturday till midnight.
Prices: Salads and sides, $3.50 to $13; burgers, $11 to $15.
Ideal Meal: Hatch, Original, or Truffle burger and smushed potatoes.
Note: Ask about off-the-menu burgers like French dip and duck.
Scratchpad: Four stars for the beef burgers. Minus a star for the dreary space and vibe.

Sweetgreen
1164 Broadway, nr. 28th St.; 646-449-8884; sweetgreen.com
Hours: 10:30 a.m. to 11 p.m.
Prices: Salads, $7.95 to $11.85.
Ideal Meal: Kale Caesar, blueberry-basil lemonade.
Note: There's wine and beer on the way.
Scratchpad: This is well-trod territory, but a very strong effort: two stars for ingredient quality and clever combinations and another for the civilized setting.
*This article originally appeared in the September 30, 2013 issue of New York Magazine.