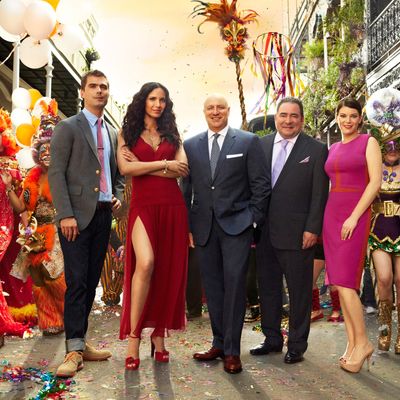 The Top Chef crew.
Photo: Justin Stephens/Bravo
As you may or may not know, Top Chef's upcoming season (premiering October 2) will be all about New Orleans. And so, in honor of the premiere — and get ready because this is pretty awesome — Grub Street teamed up with Bravo to arrange for the Top Chef food truck to hand out Café Du Monde beignets and Domilise's po' boys for free for one day only.
On October 1, the truck will make four stops in Manhattan. Exact locations will be announced that day via the official Top Chef Twitter account, but in the meantime, here's the menu: For breakfast, as mentioned, there will be fresh beignets and coffee from Café Du Monde. Lunch will include fried shrimp, roast beef, and smoked-sausage po' boys, all from Domilise's in New Orleans. Plus, there will be jambalaya, as well as red beans and rice.
Once again, the food is free. But for every meal served, a donation will be made to the New Orleans Center for Creative Arts. Also: Padma Lakshmi, Gail Simmons, and Tom Colicchio will all drop in on the truck at select stops throughout the day.
Earlier: Top Chef: New Orleans Announces Season 11 Contestants, Premiere Date