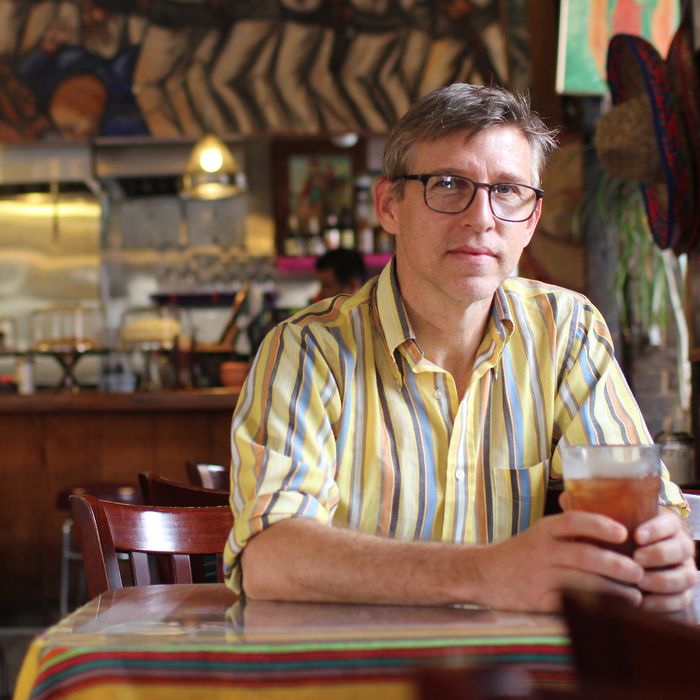 Oldham, at the Bigger Place, which he calls "beautifully designed and quietly eccentric."
Photo: Melissa Hom
Todd Oldham spent his week getting ready for brunch — yesterday, the designer's studio hosted a brunch where he debuted the first apparel and products for the Sundance Festival 2014. "We commissioned special products from Sundance fans and alumni," he says. "This year, Miranda July's making a scarf for us, Susan Sarandon made these dinner plates called pie plates, Wayne White did a snow globe, and Dave Grohl's doing a concert T-shirt." Though he didn't get a lot of food at the debut ("Good manners not to eat and talk, and I had to do a lot of talking"), he did manage to down plenty of good stuff this week, including perfect fries at the Odeon, plenty of produce from his garden, and an afternoon snack session with his pal Amy Sedaris. Read it all in this week's Grub Street Diet.
Friday, September 13
I went to the Coffee Shop in Union Square for a breakfast of eggs Benedict, hold the meat. This sounds odd, but one of my favorite things to add to eggs Benedict is avocado. It's really, really good on eggs Benedict, but usually you get really awful stares when you ask for it. But it is delicious, I promise you! It's a nice combo.
They have sandwiches at Pret A Manger where you can buy one half at a time, so I got the one-half cheddar-chipotle sandwich for lunch. Sometimes all I want is half a sandwich. It's perfect.
At home, we're overrun with tomatoes right now and tomatillos. I live in the country in Pennsylvania on the weekends, and I have a great garden, so right now I'm trying everything possible with tomatillos and tomatoes. Dinner was brown rice, Brussels sprouts, Beyond Meat fake chicken, and a great tomatillo sauce I made with just three sautéed onions and tomatillos.
And this was the best, best, best fake chicken, Beyond Meat. It's incredible. You're not just heating it or including it. This one can be cooked. Anyone that doesn't eat meat should know about Beyond Meat. You can get it at Whole Foods.
Saturday, September 14
When I'm in the country, I don't leave. I stop by Whole Foods on the way, I get everything I need, and I don't leave my house until I have to. So everything is cooked at the house. A tofu scramble for breakfast is really good. I love that.
Every meal has to include tomatoes, so lunch was a tomato-cucumber salad. These were also cucumbers from the garden, tomatoes from the garden, and basil from the garden, so it was all from the garden, 100 percent. I had the best crops this year. I planted these peach tomatoes, which are yellow, and they actually have skin like peaches. There's hair to them, and, oh, they're just incredible. I grew most of my tomatoes from seed this year, starting in the greenhouse in February. We had terrible blight in the Northeast, and it staved off the blight. It really seemed to be different this year, so I'm going to keep doing that.
For dinner, we made semolina-crust pizza with a really good recipe I got in the eighties from some interior magazine. I tore it out, and I make it myself, with mushrooms, tomatoes, capers, and onions. I got the pizza stone and the proper pizza peel to make it on, and if you use all the right ingredients, it really does work great. But the thing I learned, to protect the pizza from the peel in the oven, which is always the nightmare, is that you've got to leave a lot of semolina flour underneath the pizza dough. You really got to go overboard to get it to transfer right.
Sunday, September 15
I skipped breakfast because I was still full of tomatoes, and I woke up late. But more tomatoes for lunch with a tomato salad with capers and jalapeños. We didn't make the capers, but everything else came from the garden again. And to make a roasted tomato sauce for dinner, just slice the tomatoes and roast them with onions in the oven for a bit, toss them in some pasta, add some salad with feta, and it's delicious.
My boyfriend Tony's gluten-free, so we ate pagoda pasta, if you can imagine a pagoda shape, but in pasta. It holds sauces well because it has a lot of crevices, and stays quite saturated. It's quinoa and red lentils, I think, maybe some other binder, and it doesn't disintegrate. So many other gluten-free pastas, when you go to boil them, it's got to be like four minutes and 27 seconds and whip it off the stove. One second too late, and it's mush; or one second too early, and you can't even bite it. So it's nice to have this as a solution, because other fake pastas are pretty lame.
Monday, September 16
Breakfast was some oatmeal with banana.
Do you know about Terri's? Everything there is like a "BLT" or a "chicken" sandwich, all facsimile foods, but it's all vegetarian and very delicious. This place deserves a lot of attention, because I've never seen anybody do it so well. Like, if you weren't paying attention and thought you'd ordered the real thing, you'd be just fine. Like, if you thought you were ordering a real BLT and got the one with soy bacon — which is the one I had — you'd be fine!
My friend Amy Sedaris came over, and we started eating tomatillo sauce and Late July chips as a snack in the afternoon, and I ate so much that I just kept on going and skipped dinner. And then, because I didn't have dinner, I decided I needed cannoli. What's nice is there's an Italian bakery downtown called Cafe Bravo, and you can get cannoli at 10 p.m., if you need them! Good generic ones, just made well. I had three.
Tuesday, September 17
Breakfast was kale-spinach juice.
For lunch, I had a super vegetarian burrito at Lupe's. It's been an institution in New York for years. Do you remember the movie Something Wild? There's a scene where a character skips out on the check, and that was actually Lupe's. It's been around that long, and it's absolutely consistent and so cheap and perfect. I'm always surprised when people haven't heard about it. You've got to go there! And they have the most delicious guacamole.
For dinner, I went to the cheap and cheerful version of Candle 79, Candle Cafe on Third Avenue. It's their sister restaurant that's not fine dining, but it's super fine food. I had beet juice with a club sandwich, which is magnificent there, especially for people who don't get that stuff. Their club sandwich is grilled tofu, tempeh bacon, lettuce, and tomato with vegan mayo. If you haven't been there, it's a real treat.
Wednesday, September 18
For breakfast, kale-spinach juice, made fresh at my gym. Kale's just the best superfood, and I drink it all the time, and then I'm perfect all the way to lunch. It's pure green juice with some lemon in it, and I think it's really delicious, but I do recognize that it tastes like dirt to other people.
And then more spinach at lunch, when I went to the Odeon and had French fries with spinach, which is nice and greasy and garlick-y and lemony and buttery. That's the best lunch there. It's a medium-value food, and I try to stay in the high-value-food zone, but the medium value is worth something, too. And they do have the best French fries in New York, I'm pretty sure. They're properly done French fries, soaked in water and cooked in two temperatures. They're like perfect little down pillows on the inside and crispy on the outside. And if you walk to Odeon and back, you must have walked at least a little of the French fries off.
For dinner, I cooked brown rice and black beans and plopped onion jam on top. I love making onion jam. I make it once or twice a month, and I've been doing it for years. It's easy to do and only takes about an hour. It's like you've been cooking onions out of control for way too long. Sauté three onions down into a delicious glop. You don't have to really ginger it, just give it a stir every once in a while. It's just balsamic vinegar, a little soy sauce, red onions chopped finely — they have to be about the same size — salt, pepper, capers, a dollop of Dijon mustard, and let it go.