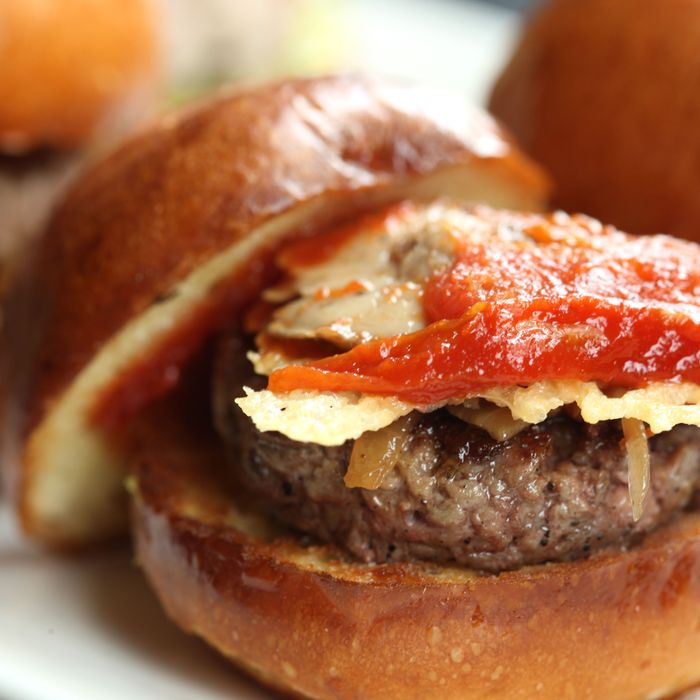 So much umami.
Photo: Melissa Hom
Though the idea of umami — a super-savory "fifth taste" that makes things taste rich and meaty — has been around since 1907 and familiar to food-loving folks for the past couple of decades, the Japanese word has recently proven more marketable than ever.
Consider, of course, the rise of Umami Burger, the California chain that's branching out to big success in Miami and New York. (Even Megu, the massive Japanese restaurant in Tribeca that you probably forgot existed, rolled out an "umami menu" to capitalize on the demand.) So desirable is the umami name that the burger chain tried to force Austin's Umami Mia Pizzeria to change its name. (The suit was tossed.)
This month, Wired goes deep on umami with a story that examines its appeal. The takeaway: It's a scientific miracle. In fact, umami tastes way, way better than you might think. Take, for example, this bit about umami-delivering MSG:
We taste MSG on our tongues, but umami receptors are also doing something in our pants: They exist throughout the digestive system, all the way to the colon. When our gut "tastes" MSG, it releases endocrine hormones like cholecystokinin that affect satiety—the sensation of being full. For example, babies are satiated longer by less when glutamates are present in their formula. These taste receptors show up in sperm and testicles too, but we don't know what function they serve.
Yum! Perhaps that's why MSG — often derided in the past as a headache-inducing flavor cheat used by cheap Chinese restaurants — is getting its due. Andy Ricker's new Whiskey Soda Lounge features MSG-marinated pork neck, MSG-packed Kewpie mayonnaise shows up on menus around the country, and Momofuku's David Chang this month (in the same Wired issue) offers a tribute to science in cooking that gives monosodium glutamate some serious love.
Umami — the term, not the actual concept — appears to have all of the elements that make chefs and food marketers excited: It tastes good, it shows up in all sorts of foods people already love (cheese, mushrooms), it aligns nicely with the rise of Asian hipster food (it's in dashi, soy sauce, fish sauce, etc.), and — even better — the term is unregulated, so people can apply it to pretty much anything they want.
Peak Umami [Wired]
Chef David Chang on the Joy of Cooking With Science [Wired]
Related: Flavor Ammo: The Real Reason Chefs Love Kewpie Mayonnaise