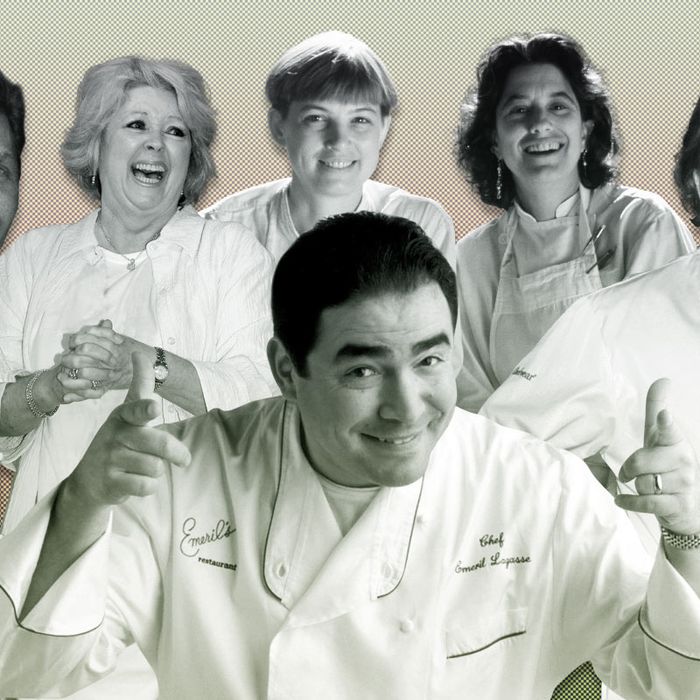 From the good ol' days, before Guy Fieri.
Photo: Getty Images, Photo-Illustration: Jed Egan
As with any TV channel, Food Network has experienced its fair share of controversies since its inception as the Television Food Network in 1993. While I was researching my new book, From Scratch: Inside the Food Network, I found plenty of juicy details from the channel's twenty-year history. Here are some of the best.
1. Paula Deen Could Have Settled Her N-Word Lawsuit Before It Went Public
Paula Deen's public meltdown likely could have been avoided: She could have settled out of court with accuser Lisa Jackson for between $150,000 and $250,000 before her devastating N-word desposition went public in June. But overconfident lawyers convinced her team to let the case go forward. A source close to Paula Deen says lawyers told her that her desposition went okay — "If I had read the deposition, I would have said, buy this off," the source adds. (Of course, the suit itself was settled in August for an undisclosed amount, after the damage was done.)
2. One Star Allegedly Juggled Multiple Serious Relationships
One host, who is still featured prominently on the network, has had some embarrassing aspects of his personal life revealed before. But according to a former business associate of the star in question, he was also engaged to a woman in one state while he maintained a marriage to another woman in a separate state.
3. The Network's "Reality" Shows Are Even Less Real Than You Think
This year, a former contestant from a show called Giving You the Business sued Food Network because he says he wasn't awarded a promised yogurt-franchise prize. Last year, producers for a restaurant-fixing show called Restaurant Stakeout were accused of faking plenty of things for the sake of TV drama. But even the network's early reality shows have faced allegations of fabrication: The premise of Date Plate in 2003 was basically Love Connection with food (two bachelors cook a meal for a woman, and she dates the person who made her favorite): One former female contestant told me she was only picked for the show because her friend was a producer, desperate for a woman willing to appear. She also told me that she was convinced the bachelor she eventually chose was gay.
4. Speaking of: Iron Chef America Contestants Aren't Guessing What Their Secret Ingredient Will Be
The big moment at the beginning of each Iron Chef America episode is the "reveal" of the secret ingredient that Iron Chefs and contestants will be forced to base their meal around. Even though the reveal plays on TV like a huge surprise, Iron Chefs are actually given three secret-ingredient possibilities 24 hours before the show is shot — giving the chefs themselves enough time to devise menu variations and practice dishes before the actual competition.
This has been revealed before, but as former Iron Chef Mario Batali told me, the chefs didn't have to come up with three distinct menus or guess which ingredient they might eventually get. He and his sous-chefs just practiced a single menu that incorporated all three potential secret ingredients, "no matter what, every time."
5. Early Call-In Shows Were Recipes for Disaster
During the earliest days of Food Network, live call-in shows were broadcast without tape delays — to disastrous effect. Check out this clip from a Recipe for Health where callers had unexpected questions about tuna and a cupping technique that doesn't have anything to do with cooking:
6. At Least One Longtime Star Had to Fight for a Going-Away Party
When Sara Moulton's show was canceled in 2005, Moulton had to fight tooth and nail for a farewell party — even though she'd been on the network for nearly a decade and taped roughly 1,500 episodes of Cooking Live and Sara's Secrets.
She says that, as taping for her final show approached, a producer informed Moulton that the network didn't have the budget for a wrap party.
"Are you fucking kidding me?" Sara said. She stood her ground and demanded that the network pony up for a wrap party. The network finally agreed to pay the $1,500 tab at a little Italian restaurant near the studio. One top executive sent Champagne but stayed away from both the taping and the party.
7. One Would-Be Host Got Busted Before He Hit It Big
After the success of Emeril Live in 1997, Food Network sought another male personality to host a nightly cooking show in front of a live audience.
It invested heavily in chef David Ruggerio, a Brooklyn native and former boxer. At the time, Ruggerio was running Le Chantilly, a high-end French restaurant in Manhattan, and by the time Ruggerio to Go debuted in October 1998, the network had produced dozens of episodes and spent a small fortune to market it.
But a few weeks after the first episode ran, Ruggerio was arrested and charged with $221,000 in credit-card fraud. Ruggerio plead guilty and was sentenced to five years probation, and had to do 500 hours of community service. Food Network debated keeping his show on the air but eventually decided to bail.
8. The Network Once Aired Hard-Core Pornography
Oops! During an early episode of Two Hot Tamales, as co-host Mary Sue Milliken instructed viewers to "pound the meat" for a recipe, the show's video feed switched over to a close-up shot of hard-core pornography. When an engineer at the network switched to a backup tape, it was discovered that that tape also contained XXX-rated material. All told, the footage aired for about a minute on TV. A federal investigation revealed the error had come from Food Network (as opposed to a cable provider), but it was never discovered who swapped out the tapes.