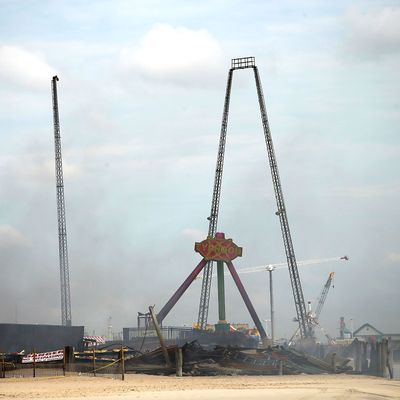 "After this … I don't know how much we can do without help."
Photo: Spencer Platt/Getty Images
A devastating blaze that swept along the Jersey Shore yesterday is now 95 percent contained but has in the process destroyed the boardwalk's attractions, leaving its restaurants, bars, ice-cream shops, and candy stores in ashes. The fire is thought to have started around 2 p.m. inside the Seaside Park Kohr's Frozen Custard shop before it spread to Seaside Heights. All 32 businesses on the affected stretch of boardwalk were completely destroyed; upwards of 50 total suffered damages, and local authorities are treating the entire area, which is still burning in pockets, as a crime scene.
The cause of the fire is pending investigation, but witnesses told CBS they heard pops from electrical wires outside the frozen-custard shop. Employees were reportedly cleaning the business for its end-of-season closure at the time.
Fueled by the 15 to 20 mph winds that accompanied yesterday's storm system, the fire spread rapidly to the mostly wooden structures and characteristic tar roofs of surrounding businesses. As buildings began to collapse, only the Saw Mill Café seemed like it might escape the flames, only to be eventually engulfed like the others, the Washington Post reported.
The destruction includes several vital food landmarks. Kohr's Frozen Custard has been serving cones since the twenties, making it older than the boardwalk itself. Other businesses destroyed, like Berkeley Sweets and Bubba's Dog House, were community institutions. Timothy Hussey, the owner of Kupper's French Fries, tried to put out parts of the fire at Kohr's, just minutes before he had to evacuate his own business, NJ.com reported.
The businesses were only just getting back on their feet eleven months after Hurricane Sandy. After spending millions to rebuild in time for summer's influx of tourists, their proprietors, many of whom never even received insurance payouts from Sandy, will face millions more in estimated damages from the blaze.
"I feel like I want to throw up," Chris Christie said, arriving on the scene and delivering a speech in which he hinted that the state would offer loans and grants to those without insurance, which would come as much-needed assistance to struggling businesses.
One restaurant owner saw her pizzeria burn only months after her first restaurant was lost in the storm. "We say after Sandy, we're gonna be strong and keep going," she told Pix 11. "But after this, I don't know how much we can do without help."

'Unthinkable' Fire Along Boardwalk In Seaside Park, N.J. Under Control [CBS]
Gov. Christie: NJ Boardwalk Fire is '95% Contained [KTVN]
Seaside boardwalk fire: Investigators begin work to find cause, as Christie vows to rebuild [NJ.com]
Almost all boardwalk businesses destroyed by fire in NJ town still recovering from Sandy [WP]
New Jersey Boardwalk Fire Eyed 'Suspicious' By Officials [ABC]
Seaside boardwalk fire destroys Kohr's Frozen Custard, spreads to multiple buildings [Pix 11]