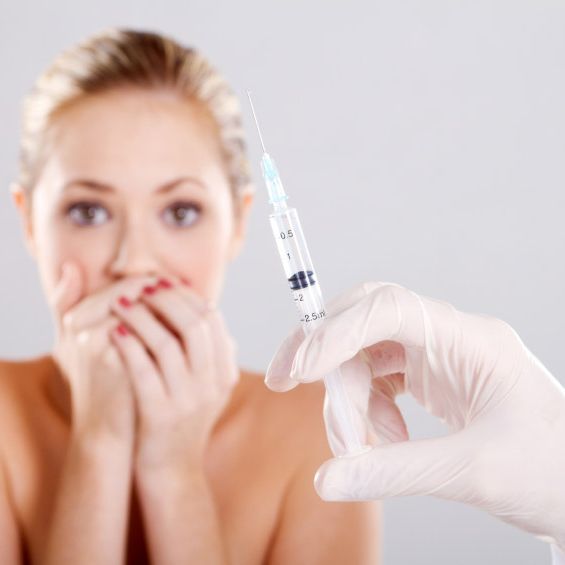 "But I just wanted to be a reservationist!"
Photo: iStockphoto
Law firms based in Rochester and Seattle have joined forces to file a class-action lawsuit on behalf of the four people who were infected with hepatitis A after eating food prepared at Bronx restaurant New Hawaii Sea earlier this month. An infected worker is thought to be the source of the illness, and Metro reports the lawsuit not only alleges New Hawaii Sea's proprietors were responsible for letting that sick worker handle fish, but also that they were "negligent in not mandating hepatitis A vaccines for employees," which is where it gets interesting. The vaccine is a highly effective precautionary measure that could have prevented transmission of illness. The thing is New York restaurant owners aren't currently required to mandate up-to-date shots for employees.
But New York has had several hepatitis scares in recent years, and these allegations aren't exactly coming from nowhere: The lawyers — prominent food-poisoning expert Bill Marler among them — estimate the class may eventually number some 2,500 people who dined at (or consumed takeout from) the sushi-fusion restaurant between September 7 through 19, the period under investigation by the New York City Health Department.
The city dispensed vaccinations in the Bronx over a few days earlier this week, and New Hawaii Sea, in the meantime, is complying, directing recent customers to the proper authorities while noting on its website it's been "serving this community for over 30 years without any incident and we intend to stay here long into the future."
"Outbreaks or scares linked to restaurants could really simply be easily solved by vaccinating people who work in restaurants," Marler says, noting that shots for food-service workers in St. Louis are a prerequisite for food-service work but that the practice is not widespread for economic reasons.
The underlying issue is that the hepatitis vaccine is two shots, typically delivered six months apart; restaurant workers tend to move from job to job in shorter spans, however, and Marler says he's been told that the move just isn't financially sound for owners who might spring for one dose only to lose the employee to another establishment before it's time for the next needle.
Hepatitis A is a tenacious virus that can survive without a host for months, so even if the cost was minimal or free, the idea of mandating vaccinations for restaurant workers would not be a guarantee against future hepatitis A outbreaks.
There are, of course, millions of other pathogens like salmonella, E. coli, and norovirus sickening thousands of diners on the regular, particularly through the medium of innocuous-seeming salads. But it would certainly be beneficial to attenuate one food-borne illness from the master list.
Several restaurants, particularly those with a large roster of employees working around the clock, already sponsor staff-wide flu-shot days, so could vaccine days for servers, sauté cooks, and pot-washers be next for New York?

Class action lawsuit filed against New Hawaii Sea Restaurant [Metro]
Earlier: Hep A Outbreak at Bronx Sushi Shop Sickens 5