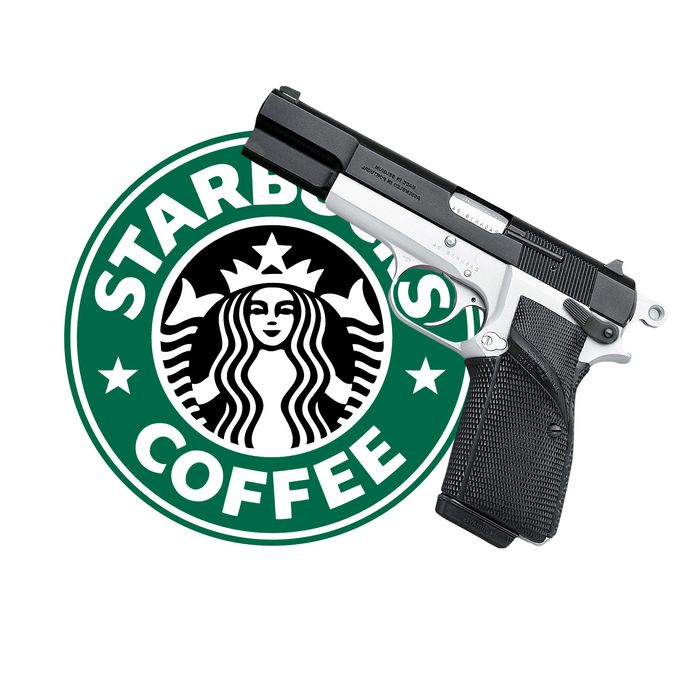 The chain allows firearms in stores based on local laws.
Starbucks CEO Howard Schultz is facing increased pressure from gun-control advocates to ban firearms from its stores. The coffee chain currently allows customers to carry guns and concealed weapons in its shops in accordance with local laws. But two Connecticut senators and one representative have now endorsed a letter — which the Hill reports was "spearheaded" by victims of the Sandy Hook school shooting in Newtown — asking Schultz to reverse the policy and ban guns to help "foster a culture of peace."
Starbucks defends its policy as merely respecting local laws, but in Newtown the local Starbucks has become something of a symbol for both sides of the debate.
Gun owners hold "Starbucks Appreciation Days" — not officially endorsed by the company istself — where they congregate over coffee while letting their holsters hang out. The Newtown location closed early in anticipation of the latest Starbucks Appreciation Day on August 9, but that didn't stop advocates on both sides of the debate from standing off in front of the closed store.
Schultz reportedly had a "nice conversation" on the phone with the father of one of the Sandy Hook victims, who was also a Starbucks barista, but has not yet committed to coming to Newtown or changing the policy.
Dems join push to bar guns in Starbucks [The Hill]
Related: Starbucks CEO Won't Cut Benefits in Advance of Affordable Care Act