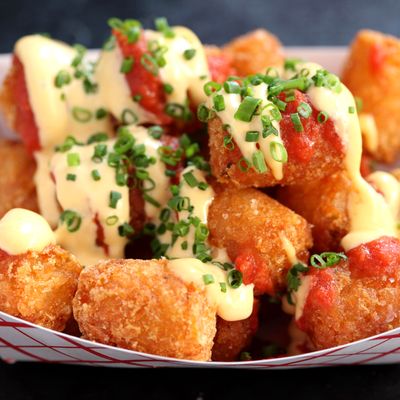 Tabasco Tots are topped with Tabasco mayo, tomato, and pizza spices.
Photo: Melissa Hom
Cooks from Parm will once again serve a limited-edition menu street-side during the annual Feast of San Gennaro, which begins today in Little Italy and continues through next weekend. Old favorites, like the char-siu-style Chinese ribs ($10) and the Tabasco tots seen above ($5), have returned. Elsewhere, team Torrisi has tweaked its festive hot dog, which is now served on a potato bun decked out with Sunday gravy simmered with Calabrian chilies, pickled B&G; Peppers, fried onions, and a sprinkling of Parmesan cheese. The FuggedaBAOdit ($9), which is a steamed Chinese bun filled with housemade Italian pork sausage, pickled fennel, and spicy mayo, is also back. Photos and more details, straight ahead.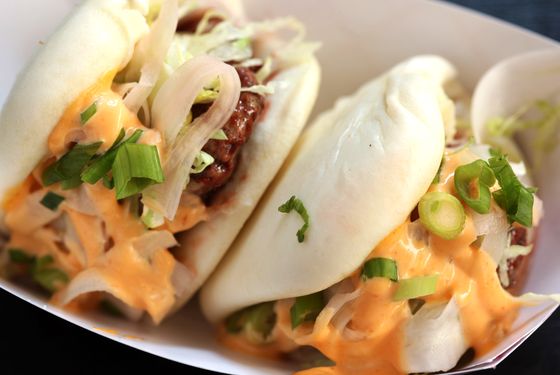 The "FuggedaBAOdit." Get it?Photo: Melissa Hom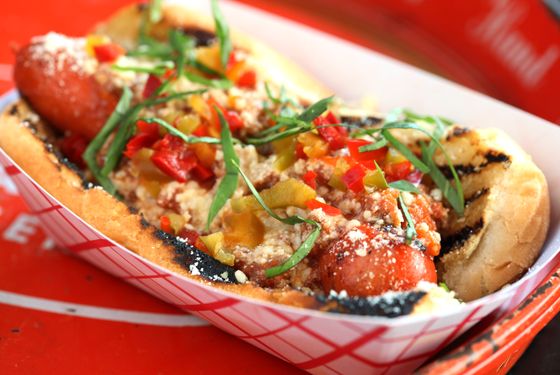 The mighty Calabrian Chili Dog.Photo: Melissa Hom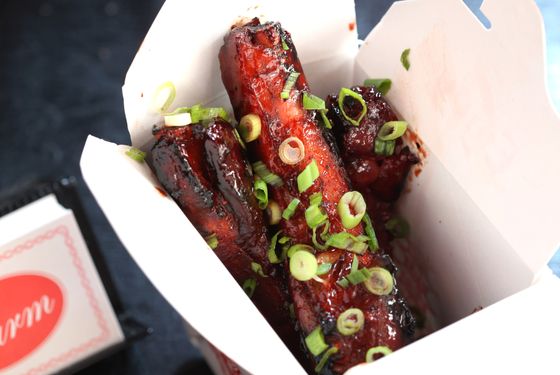 Grilled char-siu style spare ribs, served in a takeout container.Photo: Melissa Hom

The restaurant will debut one additional item this year: Chefs Bao Tran and Luciana Giangrandi of Carbone won the group's annual staff competition with their Eggplant Parm Sticks ($9), an innovative hybrid of a mozzarella stick and eggplant parmigiana that sounds pretty much like an idea whose time has come.
If you're over on Mulberry Street tonight, Parm begins serving its San Gennaro street food at 5 p.m.; tomorrow through Sunday, the stand will be open from noon until 11 p.m. for weekend hours. Since the Feast is a two-week thing, the menu will once again be offered next Thursday, September 19, beginning at 5 p.m., and will keep longer weekend hours on Friday through Sunday, September 22.