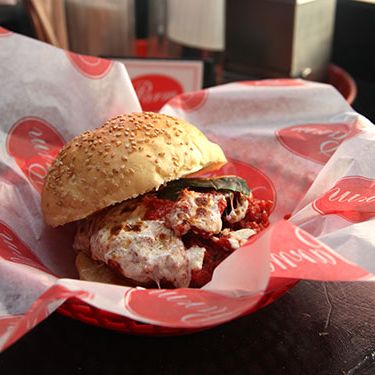 Coming in 2014.
Photo: Hannah Mattix
Looks like consistently busy Nolita restaurant Parm is on the verge of a major expansion: As Eater NY first reported, Jeff Zalaznick, Mario Carbone, and Rich Torrisi have just announced that Parm will open next year with the likes of Umami Burger and Dos Toros Taqueria at Brookfield Place in Battery Park City. But that's not all in Parm land: It also looks like Williamsburg will soon get its very own outpost of the restaurant.
An item for "PARM WILLIAMSBURG" appeared on the docket of last night's CB1 Brooklyn meeting, and underlying LLC information indicates that Brooklyn's first Parm is likely headed to 162 North 4th Street. When asked about the plans, Zalaznick only confirmed that the partners are working on a number of possible Parm projects.
The partners' growing portfolio of restaurants, which includes Carbone, ZZ's Clam Bar, and Torrisi Italian Specialties, first opened the red-sauce-inked love letter to all things topped with melted mozz on Mulberry Street in November of 2011, and while there's been a seasonal sandwich stand up and running in Yankee Stadium, the opening of Parm Williamsburg will be the group's first official foray outside of Manhattan.