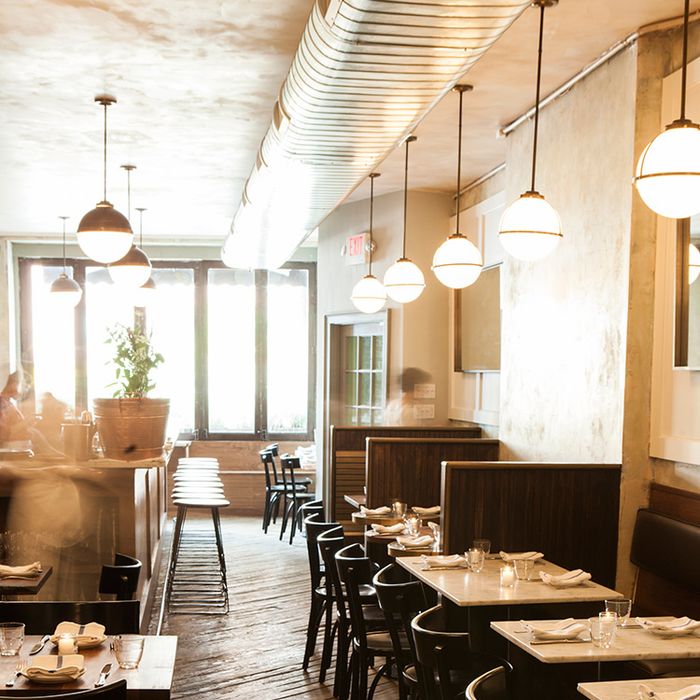 Another rave review for Estela.
Photo: Courtesy of Estela
This week, a few of the critics served up positive reviews for the post-Labor Day food rush. Daniel S. Meyer had a good albeit crowded time at Estela, while the Daily News' Michael Kaminer fell hard for East 12th Osteria. Pete Wells, meanwhile, opted out of a review in favor of a rumination on tipping. All this, and more, straight ahead.

In lieu of a review this week, Pete Wells opined on the problems caused by tipping, helping to further the cause of people in support of service-included pricing: "It is irrational, outdated, ineffective, confusing, prone to abuse and sometimes discriminatory," Wells writes of tipping, praising restaurants that have instead implemented a surcharge, or included the cost of service in the price of the meal.
Daniel S. Meyer filed a glowing review on Estela, a restaurant with a "rocking vibe." Ignacio Mattos's menu "pivots from the avant-garde toward intimate." The juicy rib-eye is "cherubic," and the anchovy "fine-tunes its funky pitch." He's also a fan of the roasted quail, which is served with a fig-anchovy-garlic jam "that makes regular preserves seem like a banal joke." But service "falters when the place is jammed" — meaning, most times. Three stars.
Michael Kaminer stopped by Robert Deiaco's East 12th Osteria. Calling it "one of the year's major debuts," Kaminer praises the "velvety, vibrant" pea soup, which "nearly thrums with vegetal intensity." He's even a fan of the "beautifully composed" spinach salad, and the "sweet, slight acidity of the orange essence" on the duck makes the meat rich and complex. Don't skip dessert: There's "brilliant architecture" in the fruit crostata. Simply put, Deiaco's "the real deal." Four stars.
The New Yorker's Hannah Goldfield visited Umami Burger, and found it lives up to the hype — especially because the wait for the restaurant is down to 45 minutes. The "underdressed" salads "will only disappoint," but that's not what you're here for, after all. Goldfield was more than satisfied with the signature burgers: "With little exception, they are supremely delicious, each juicy, messy bite enhanced by a carefully chosen combination of toppings." Her favorites are the Original and the Truffle.
Steve Cuozzo, Joshua David Stein, and Ryan Sutton did not file reviews this week.