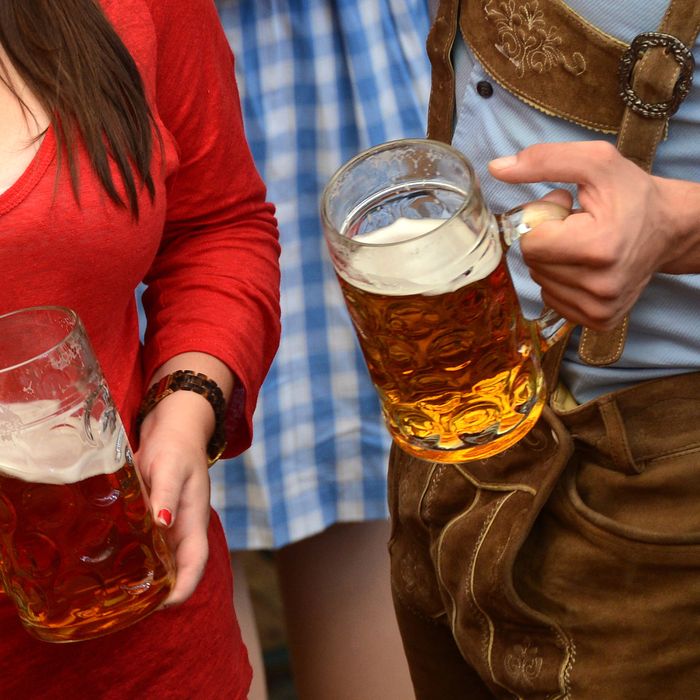 All the way to the top.
Photo: CHRISTOF STACHE/AFP/Getty Images
City officials in Munich have directed Oktoberfest bartenders in Germany to make sure they top off stein pours at this year's festival, or risk legal action, according to German newspaper Münchner Merkur.
Given the amount of beer consumed at the festival and the exorbitant prices paid for each stein — Quartz reports the average beer at this year's Oktoberfest will cost the equivalent of $13 — the short-pour scam actually adds up to a hefty amount.
According to German news site the Local, the most egregious offender last year served only 80 percent of the total beer that customers paid for. Even at the most generous beer tent, drinkers lost almost a dollar per beer.
Authorities, who will be the only ones sober enough to notice, are threatening to ban servers from the festival if skimpy pours continue after two warnings. If three offenders at one tent are banned, the Kreisverwaltungsrefera — responsible for order in the city — will seek legal action. Even planned, tourist-driven debauchery must be carried out in an orderly fashion in Germany.
German officials warn Oktoberfest tent operators to stop skimping on the beer [Fox News]
The price of beer at Oktoberfest completely defies economic logic [Quartz]