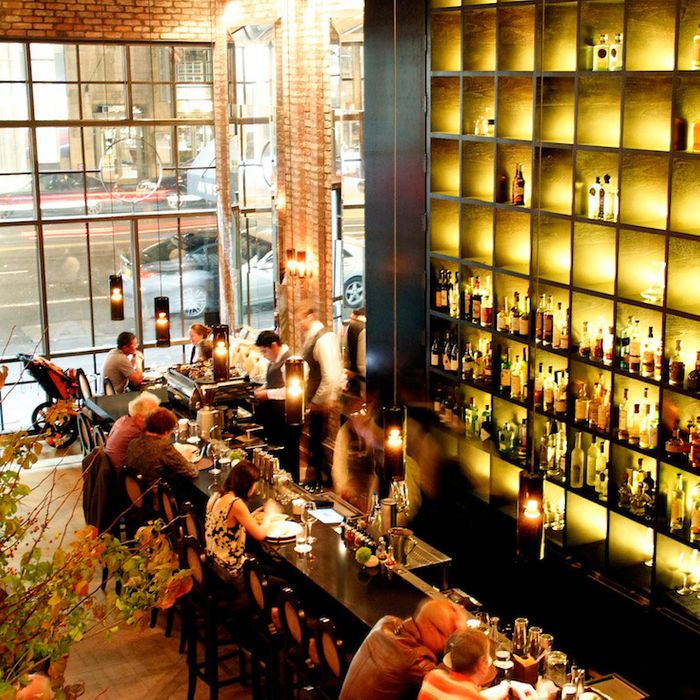 Since you're dressed to the nines and already in midtown, you might as well try to get into Betony.
Photo: Courtesy of Betony
Complaining about how stressed you are during New York Fashion Week has become a competitive sport. But it's hardly a badge of honor to proclaim, "Ugh, I'm so busy that I don't have time to grab a free Fiber One bar." When the presentations officially start tomorrow, everybody's going to be overworked, hungry, and probably a little moody, too, so it's important that the collective mass of showgoers eat (and drink) properly. Back in February, we surveyed the areas around popular Fashion Week venues and put together plans based on available time — and since many new restaurants have opened since then (especially in midtown), we've updated the guide. Even the most overbooked of editors will be able to find some sustenance.
The Venue: Lincoln Center
You Can Spare Ten Minutes
Épicerie Boulud: Order a preprepared sandwich, salad, or quiche at the counter at this takeaway spot, which is conveniently located across the street from the tents. The tuna niçoise salad is a reliable bet.
You Can Spare 30 Minutes
Hudson Common: Thrice-cooked fries and French toast grilled cheese aren't exactly light, but this burger joint also offers a kale Caesar and a watermelon, feta, and heirloom tomato salad. Bonus: OddFellows Ice Cream Co.'s Sam Mason crafted the excellent artisan custards.
You Can Spare an Hour
Ippudo Westside: The beloved ramen spot now has a midtown outpost. If you don't have time to properly slurp a bowl of Shiromaru Hakata, order the steamed Hirata buns (with your choice of pork, chicken, or eggplant and eringi mushrooms). And in the case that Ippudo's packed (it will be during peak lunch hours), Toto Ramen is only one block away.
You Just Want a Drink
The Smith — Lincoln Center: It's never too early in the day to have a cocktail, and the Smith is offering complimentary sparkling morning punch with any breakfast entrée.
You're Done for the Night
Betony: After receiving three stars from the Times, this is one of the hardest tables in the city to score right now. But since you're dressed to the nines and already in midtown, you might as well try. Michael Stillman's Quality Italian is also a great dinner destination.
Bonus dessert: Momofuku Milk Bar cookies and cake truffles are sold in the tents.
The Venues: Milk Studios and the Standard Hotel
You Can Spare Ten Minutes
Intelligentsia at the High Line Hotel: The newly opened High Line Hotel is home to Intelligentsia's first coffee bar in the city. You can enjoy an excellent cup of pour-over coffee in the lobby or, even better, in the hotel's back courtyard.
You Can Spare 30 Minutes
Nourish Kitchen + Table: In the far West Village, this eatery offers prepared food that's actually fresh. The menu changes every day depending on what's in season, but you can expect takeaway dishes like farro with apricots and grilled zucchini, kale in a sesame-ginger-lime dressing, and heirloom tomatoes with ricotta salata.
You Can Spare an Hour
Café Gitane at the Jane: There are usually a few shows inside the Jane Hotel, and this is a good place to linger and escape the madness, especially if you're alone. Avocado toast and baked eggs are available all day and night, and nothing's more comforting than breakfast for dinner.
You Just Want a Drink
Bar Naná: While it's not officially open to the public yet, this bar in the former Double Seven space is already booked for swanky Fashion Week parties. If you're looking for a scene, this is where you should be.
You're Done for the Night
RedFarm Steak: Joe Ng and Ed Schoenfeld recently opened a pop-up restaurant in the downstairs space, and it's only around until September 24. What better way to end your evening than by feasting on strip steak, coconut rice, and crab soup dumplings? You can brag to everyone that you hit this exclusive spot.
The Venue Area: Near the Garment District, West Thirties
You Can Spare Ten Minutes
Kati Roll Co.: You'll find elevated Indian street food in the form of protein-packed wraps. Plus: There are a lot of vegetarian options.
You Can Spare 30 Minutes
Piccolo Café: There's no waitress service here, but the Italian paninis, salads, and omelettes are made to order with homemade pesto, buffalo mozzarella, and a generous pouring of good olive oil.
You Can Spare an Hour
Larb Ubol: Food writers are praising this new Thai spot for its authentic, fiery dishes. The massive menu includes eight different types of papaya salad.
You Just Want a Drink
The Library Bar at the NoMad: Walk on over to the swanky hotel bar, which serves up a damn good cocktail and is a little calmer than the always-bustling Ace Hotel.
You're Done for the Night
Stella 34 Trattoria: Though you may raise a (perfectly groomed) eyebrow at the fact that this Italian restaurant is inside Macy's, don't let that deter you: The food is very good, and you can enjoy views of the Empire State Building.
The Venue Area: Pier 59, Upper West Chelsea
You Can Spare Ten Minutes
Blossom Du Jour: Vegan, organic food that's fast — sounds like a Fashion Week trifecta. The chickpea-quinoa salad is tasty, and there's also cold-pressed juice for all you crazy folks on liquid diets.
You Can Spare 30 Minutes
The Red Cat: Sit at the bar for quick(er) service at this artsy Mediterranean restaurant. The menu is a bit all over the place, but shrimp tacos, an oyster po'boy, and a sirloin burger will transport you to a place far, far away from uptight presentations.
You Can Spare an Hour
Pastai: This Chelsea restaurant specializes in homemade pasta, with varieties like whole-wheat torchio with roasted tomatoes and chicken sausage, and stuffed beet ravioli with walnut pesto. Bonus: It's open for breakfast, lunch, dinner, and late-night dining.
You Just Want a Drink
Bathtub Gin: On the outside it's an innocent coffee shop. But once you're in you can let your blown-out hair down and hit the dance floor.
You're Done for the Night
Montmartre: Gabriel Stulman's French bistro is lively enough to keep you awake if you're fading, and chef Tien Ho's food is only getting better with time. Kick back and enjoy a few cocktails in the restaurant's pretty outdoor garden.