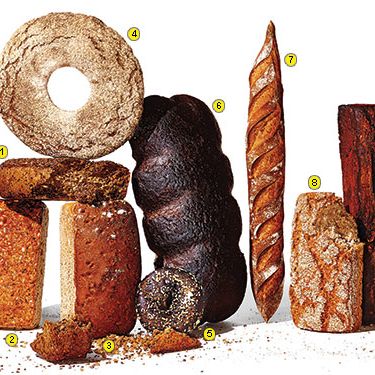 Photo: Bobby Doherty/New York Magazine
To most New Yorkers, rye bread means Jewish rye. But these days, Jewish rye is a mere shadow of its former self, at least according to old-time noshers, with so little actual rye character (not to mention rye flour) that the bread-eating populace most closely associates its flavor with its caraway-seed garnish. But all is not lost on the rye-bread front. Thanks to a confluence of factors—the rise of New Nordic cuisine, the renewal of interest in whole and alternative grains—New York is experiencing something of a rye revival. Some of our town's best new loaves are inspired by the rich rye traditions of Scandinavia, Eastern Europe, and Russia, regions known for the cold, wet climate in which the plant thrives. Without the gluten-building properties of wheat, rye yields breads that can be unapologetically dense and jaw-challengingly chewy, often studded with seeds and leavened with a sourdough starter, rough-hewn vestiges of a time before Wonder—or even Levy's.
1. Tørst and Luksus chef Daniel Burns's rye-bread recipe (adapted from his Noma days) includes, among other things, a yogurt-buttermilk starter, some Evil Twin Hipster IPA, enough flaxseeds to open a health-food shop, and a four-day technique too labyrinthine to get into here. Suffice it to say it will forever change the way you think about rye bread.
$9; 615 Manhattan Ave., nr. Nassau Ave., Greenpoint; 718-389-6034.
2. Breads Bakery's Uri Scheft learned his craft in Denmark, so he knows his Danish rye. His North Sea loaf is heavily interspersed with wheat and rye berries and flax and sunflower seeds and as seemingly good for your general health and well-being as a week at a Danish seaside spa.
$7.50; 18 E. 16th St., nr. Union Sq. W.; 212-633-2253.
3. Breads Bakery's 100% Rye is coarse, heavy, dull in color, and, with a swipe of sweet butter and a sprinkle of sea salt, absolutely delicious.
$7.50.
4. Simo Kuusisto grew up in Finland, where his idea of a "happy meal" was a bowl of beef stew and this 100 percent whole-grain rye, topped with butter and cheese. An early pioneer in New York's rye revival, the chef uses New York State flour, bakes his Finnish Ruis loaves in Long Island City, and has turned many a rye skeptic into a believer with his Greenmarket samples.
$5 for a large ring; for retail locations, see nordicbreads.com.
5. Bread guru Peter Reinhart calls pumpernickel "the definitive rye," and it's not too much to say that Melissa Weller bakes New York's definitive pumpernickel bagel. She uses half-rye-and-half-wheat flour and achieves an almost-black hue by adding malted-barley flour, a trick she picked up in Copenhagen. On hiatus from Smorgasburg, where she launched East River Bread last spring, Weller is planning to open a brick-and-mortar bakery.
6. John Melngailis believes his 100 percent sourdough Baltic Rye can cure all ills, from poor digestion to diabetes to crooked teeth. But ultimately, the flavor's the thing: deep and earthy, with an underlying sweet and tangy umami essence that's as addictive as a bag of Doritos. "It's my own little way of trying to reform the American diet," says Melngailis, a University of Maryland engineering professor who contracts the baking to Coney Island's New York Bread, where the five-pound loaves are sold as "Anniversary Bread." Elsewhere, it's packaged under the Black Rooster label in quarter-loaf hunks (about $5.75).
For retail locations, see blackroosterfood.com.
7. Bien Cuit's Zachary Golper created this rye ficelle after wholesale clients asked for something with a tighter crumb, mainly to prevent canapé toppings from slipping through holes and onto expensive eveningwear. With its low gluten content and inherent density, rye was the natural solution to this cocktail-hour crisis.
$4; 120 Smith St., nr. Dean St., Cobble Hill; 718-852-0200.
8. East Harlem's Hot Bread Kitchen's repertoire is as multiethnic as its mostly immigrant staff and includes not only a "New Yorker" rye that won't frighten the natives but this Grindstone Rye, an emphatically wholesome riff on a German Vollkornbrot. It combines Finger Lakes flour with more seeds, grains, and bran than you'd find in the cereal aisle.
$6; at Greenmarket and Whole Foods.
9. Good smørrebrød (the open-face sandwiches of Denmark) are nothing without good rugbrød (the hearty rye bread of that country). That's why the Tribeca smørrebrød specialist Aamanns makes its own dark, chewy, deliciously bitter 70 percent rye-flour rugbrød. Top a slice with some rare roast beef and freshly grated horseradish or a slab of blue cheese, and you're pretty much in smørrebrød heaven.
$12; 13 Laight St., nr. Varick St.; 212-925-1313.
This article originally appeared in the September 23, 2013 issue of New York Magazine.